Valve is many things, but "open" is not one of them. They're a hive of secrets. A hive maybe toiling away at Half-Life 3. Or Portal 3. Or Left 4 Dead 3. Or none of those!. Maybe Valve is working on nothing. We'd probably never know.
But now they host this event in Seattle called Steam Dev Days. Valve managing director Gabe Newell lets down his hair, the lights are dimmed, and he tells bedtime stories to a bunch of the industry's best developers wherein he spills all Valve's secrets.
All of them.
Or at least I assume that's how Steam Dev Days goes down. It's a "no press allowed" type of shindig, so I can neither confirm nor deny the presence of bedtime stories. Instead, I must rely on the help of tweeting developers and the amazing crew over at SteamDB.
Regardless, here are the secrets Valve spilled at 2014's Steam Dev Days, which is continuing through Thursday.
A new controller
Valve's original Steam Controller design, announced in September, prominently featured a touchscreen in the center of the device a la the Wii U. The touchscreen was supposedly Valve's answer to replicating the multitude of keys on a keyboard—the most important commands could be placed on the controller's actual hardware buttons, while less timely commands could be placed in some sort of list format on the touchscreen.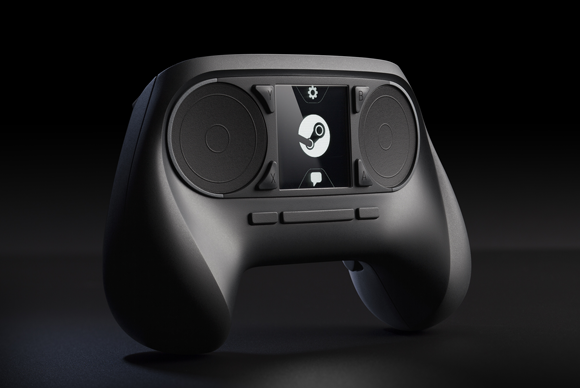 But Valve's prototype controller went out without the touchscreen—instead, it was simulated with four separate buttons—and now the original design shall never come to pass.
The new controller gets rid of the touchscreen entirely. It's replaced by "ghost mode." No, there's no need to rename your controller Casper. When you place your thumbs on the touchpads, you'll get an on-screen indication of what command each section is mapped to.
The new design also gets rid of the weird central placement for the ABXY buttons. Instead it'll have the more traditional diamond button placements associated with a D-pad and standard controller face buttons, arranged below the two touchpads.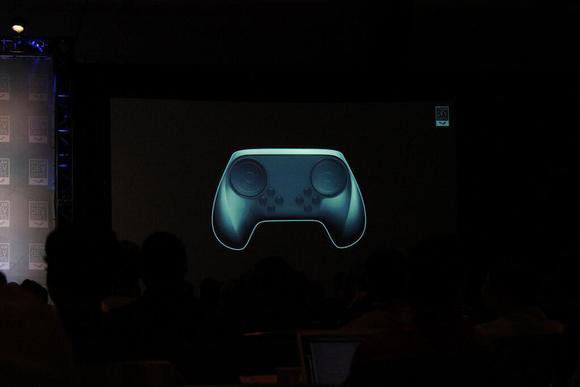 Valve claims they are factoring in how the controller will be used with virtual reality devices like the Oculus Rift, though there are no implementation details yet. It also will run on standard AA batteries, and up to sixteen Steam Controllers can be attached to a single Steam Machine—much higher than the traditional four for consoles.
And expect more changes before the end. Valve is treating its hardware beta very much like a real beta, taking feedback and iterating on it. Shocking.
A new player enters the field
Speaking of virtual reality, some tweets are floating around discussing Valve's own VR prototype and they're pretty crazy.
Valve's VR demo at #SteamDevDays felt like being in a lucid dream state and very much like a holo deck #mindblown #vr

— David Hensley (@TheDavidHensley) January 15, 2014
It's going to be hard to go back to my #oculus dev kit after experiencing #valve's #vr demo. Kinda like playing an xbox then 8bit Nintendo

— David Hensley (@TheDavidHensley) January 15, 2014
There's a virtual reality panel slated for later today, so hopefully we'll receive more details from Valve at that point.
UPDATE: Valve won't be selling its prototype virtual reality hardware, but it is teaming up with Oculus to improve the market as a whole. Read more in our report, here.
Alienware teases us
A small item, but important: Alienware announced its Steam Machine will launch in September. The box will be based around an Intel Haswell-generation processor and an Nvidia graphics card, though the company declined to provide more detailed specs.
See our earlier report for more information.
UPDATE: During a panel discussion Thursday, Alienware claimed its Steam Machine will be similar in price and specs to the Xbox One and PlayStation 4 consoles. If true, that's not nearly as pricey as we expected—and with such an attractive case, could be a huge sales boost for Valve's Steam Machine platform.
Steam hits a new milestone
Steam grew a lot in 2013. A lot. Don't believe me? Check out this graph (courtesy of Hot Blooded Games CFO Dave Oshry):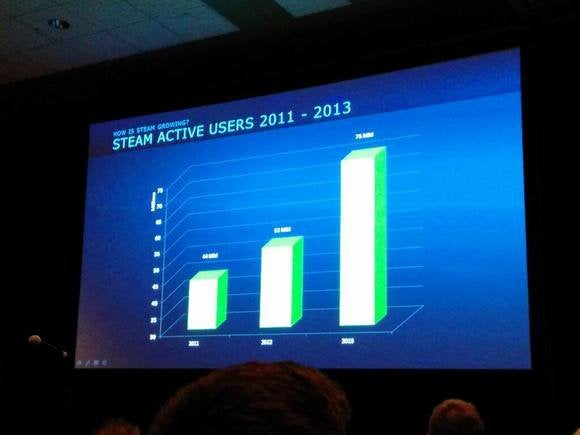 That's right. Valve added 23 million users to its service in the last year, for a grand total of 75 million.
Why? Well you can probably thank the extraordinarily long console cycle for the PlayStation 3 and Xbox 360. Both consoles looked long in the tooth by the time their replacements came around, and it's easier than ever to run PC games on even middling hardware thanks to the console stagnation.
Plus everybody heard about those killer Steam sales. Why buy one console game when you could buy twenty PC games for the same price?
New local currencies
Speaking of money, Valve wants more of it. US dollars, Australian dollars, Canadian dollars…they just want your dollars.
And they want it even if your country doesn't call it "dollars." Valve is adding a collection of new local currencies to Steam, including Australia, Thailand, Canada, Norway, Mexico, New Zealand, the Philippines, Malaysia, Indonesia, Singapore, the Ukraine, and Japan. And possibly Turkey, though we're not sure yet.
This should hopefully protect users against large price disparities, and it's good for Valve too—the company showed off this graph of how sales increased in Russia after rubles were added to the service: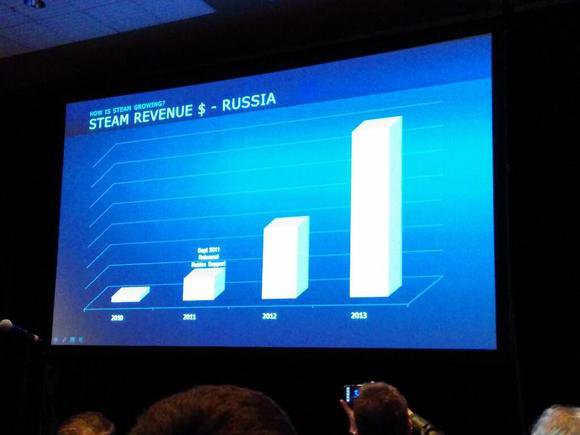 Greenlight gets guillotined
Valve's growing in more ways than one. The most noticeable lately is the absolute flood of releases at any given moment. Thanks to the growth of independent development and the rise of crowdfunding, there's a wealth of games out now. Just this week we got two Kickstarter darlings—Broken Age (developed by Double Fine, review coming soon!) and The Banner Saga (Stoic).
But that's not all! We also saw the launch of Realms of Arkania 1-3, 3089, Freedom Fall, War of the Human Tanks, Nidhogg, Galcon Legends, RaiderZ, Loren the Amazon Princess, and Assassin's Creed Liberation HD.
Thirteen games released on Steam since January 10. I didn't even go back a full week.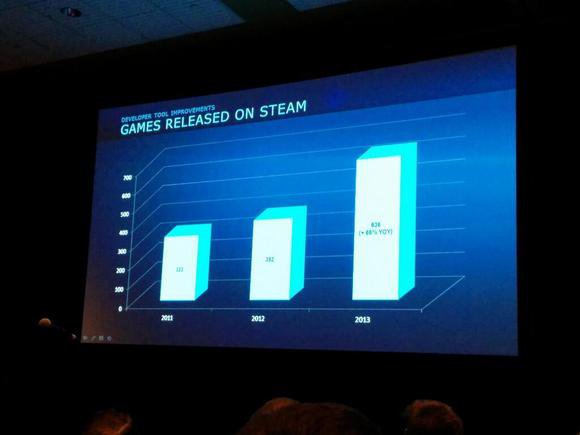 Getting on Steam used to mean you had a decent shot at success. Now getting on Steam is the bare minimum an independent title needs to do in order to sell through to consumers.
Steam Greenlight, Valve's "vote whether these games deserve to be on Steam" program, is less than two years old and now on its way out, albeit slowly.
The service has received plenty of criticism, especially from developers of less "traditional" (read: less shooty) games who felt the popularity contest nature of Greenlight was easily manipulated against titles that otherwise should've landed on the service.
Valve confirmed at Steam Dev Days that it plans to phase out the service. "Our goal is to make Greenlight go away. Not because it's not useful, but because we're evolving," said managing director Gabe Newell in his welcome address.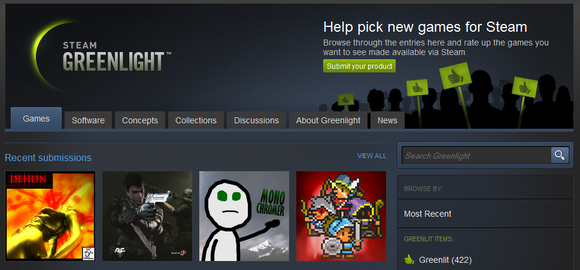 Whether this means Valve will move to a multiple-storefront system, as Vlambeer developer Rami Ismail predicted to PCGamer last week, it's hard to say—but I certainly won't shed many tears for Greenlight once it's gone.
Early Access
Early Access is, of course, the other big trend in PC gaming these days and it's looking fairly entrenched. It's popular among consumers because they can pay to play a game before its proper release and (potentially) have a say in the development process. It's popular among independent developers because it helps fund a studio prior to the game's release, gives the studio a built-in base for quality assurance and bug-testing, and allows the team to react quickly to feedback.
How popular, though?
Well, one in ten games released on Steam in 2013 fit under the Early Access banner. That's a lot of unfinished games. And since the standalone, Early Access version of DayZ just sold a million copies in a mere four weeks, don't expect this trend to disappear anytime soon.
Developer talent
Intel, probably sensing a new market, is standing strong behind Valve's Steam Machine initiative—the company gave a Gigabyte Brix Pro Steam Machine to each of the 1,200 developers in attendance, each of which includes an Intel i7-4770R processor.
That's a significant investment on Intel's part, and hopefully will lead to more Linux-native games in the future. While the Steam Machines will play Windows-native games by streaming them off a separate desktop machine over a home network, that's far from efficient. Valve would prefer more developers port to Linux—or, in a true dreamland, develop on Linux as the primary platform.
That future's a long way off, but 1,200 machines in the hands of developers is a good place to start.
Steam Dev Days is still going, so we'll update this story all day with more details as they come in. Also, we'll let you know whether Gabe Newell read "Goodnight Moon" or "The Giving Tree" to attending developers.