More than a year after early hints that Google Now was coming to PCs, Google's digital personal assistant has finally hit Chrome's alpha build.
For anyone that wants to try it out, Google Now is available as an option in the latest Chrome Canary build for Windows and Mac, as first noticed by the unofficial Google Operating System blog. Canary is Google's experimental version of Chrome, chock full of cutting-edge features and more instability than the official version of the browser.
Get Google Now right now
To enable Google Now in Canary for Windows, make sure you're signed in to your Google account. Then, copy and paste chrome://flags/#enable-google-now into Canary's address bar and hit Enter.
A settings window will appear and you'll see a heading for "Google Now Mac, Windows, Chrome OS." Click on the drop down menu underneath that heading and select "Enabled." Finally, scroll down to the bottom of the page and click "Relaunch Now" to restart your browser and enable the feature.
(NOTE: You can find the same flag in the stable build of Google Chrome, but in our tests we weren't able to get Google Now working.)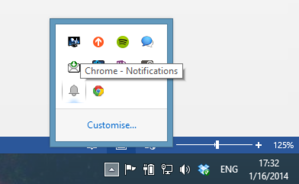 Google Now doesn't show up as an app or an alternative to Chrome's New Tab page, although that would be pretty awesome. Instead, Windows users need to open the system tray in the taskbar and then click on the Chrome notifications bell icon. Google Now cards will then pop up on the desktop in the lower right-hand corner, along with other Chrome notifications.
Google Now cards act independently of Chrome, so you can see them even when the browser is minimized or closed.
Not quite a full deck of cards
You'll only see a subset of the Google Now cards you get on mobile devices, according to Google's help pages. Nevertheless, the cards available to the desktop are still pretty good and include options such as weather, sports scores, commute traffic, and event reminders.
Newer Google Now features such as the website card and the revamped news topic card don't appear to be part of the desktop feature. Whether you'll even see all the basic cards in this early version of Google Now for Chrome will probably vary by user.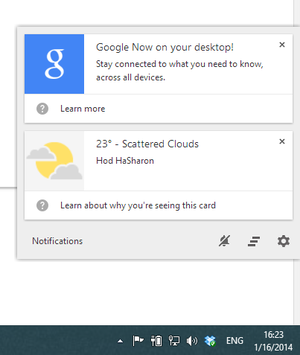 So far in my tests I've only seen the weather card on the desktop. Other cards that are on my mobile devices right now—like a reminder about an upcoming soccer game—haven't shown up.
Speaking of mobile devices, you'll also have to be a Google Now user on Android or iOS to use the service on the desktop. Google Now for the desktop relies on your mobile device's location to deliver relevant cards like weather and commute traffic, according to Google.
That's an odd choice considering that Chrome is perfectly capable of learning your PC's location (as long as you allow it). Perhaps there's some technical issue that prevents Google Now on the desktop from acting independently of your mobile devices… or perhaps Google Now on PCs is just a way to encourage you to use Google Now on an Android or iOS device.
Whatever the reason, it's nice to see Google Now finally showing up on the desktop. We'll be looking forward to how this feature develops as it winds its way to the stable build of Chrome and how it works in the new Chrome OS interface on Windows 8.