Valve's vision of your PC gaming future would seem to entail the most complicated web of hardware ever devised. On one side, Valve has an entrenched digital sales platform pointed at the typical Windows gaming crowd. But on the other side, the company is pushing those crazy, living room-oriented Steam Machines, which are aimed at more mainstream console gamers.
And then there's Valve's relationship with virtual reality—and it came to a head Thursday at the Steam Dev Days conference in Seattle. Twitter is now abuzz with developers discussing Valve's virtual reality prototype. It doesn't yet have a name. Or even specs. But when Valve talks hardware, people perk up and listen.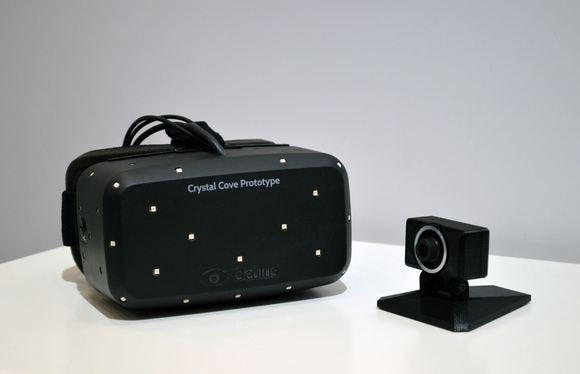 The device is designed for use in a room tailored specifically for virtual reality, with cameras on the front of the unit tracking patterns on the wall for precise positional tracking. Valve told reddit user Harabeck that its system is better than the new Oculus Rift model (codenamed Crystal Cove) unveiled at CES.
Some of the reaction has been over the top with praise:
Valve's VR demo at #SteamDevDays felt like being in a lucid dream state and very much like a holo deck #mindblown #vr

— David Hensley (@TheDavidHensley) January 15, 2014
It's going to be hard to go back to my #oculus dev kit after experiencing #valve's #vr demo. Kinda like playing an xbox then 8bit Nintendo

— David Hensley (@TheDavidHensley) January 15, 2014
Even OculusVR co-founder Palmer Luckey reportedly called Valve's tech "the best virtual reality demo in the world." With that sort of endorsement, well, let's just say I suddenly got very excited at the prospect of a Valve-produced virtual reality headset in my apartment.
Hold your virtual horses
And now for the reality check: This unnamed technology isn't coming out any time soon. News out of Valve's virtual reality panel at Steam Dev Days is that this prototype is for research purposes only. Research that will then be shared with Oculus.
Yes, it's a virtual reality dream team. Oculus's new Crystal Cove prototype is in part a collaboration between Oculus and Valve. Specifically, Valve contributed its superior position-tracking system.
By 2015, Valve claims virtual reality headsets will reach 20 millisecond latency, 110 degree field of view, and millimeter-accurate tracking.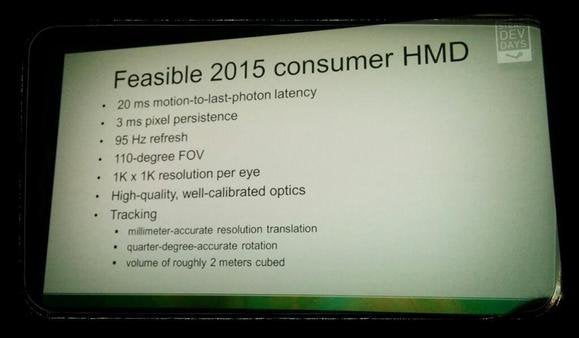 Those specs would solve a lot of today's most pressing VR problems, though Valve also has a list of future developments it's looking into. The most welcome path of development involves a wireless model. Today's wired virtual reality headsets are easy to get tangled up in, but those wires are currently necessary to achieve lower latency. Achieving low latency wirelessly (perhaps through a system mounted to the headset itself) would be a huge advancement.
Hopefully, this Valve/Oculus collaboration will continue to pay dividends. Virtual reality is by far the most fascinating space in PC gaming these days (sorry, Steam Machines), and it's great to see a company like Valve pitching in on development.
And now, back to waiting impatiently for the consumer version of Oculus…