Some 100 American Eagle clothing stores may not need greeters anymore: Soon they'll be saying a different kind of hello on your smartphone, advertising the latest deals.
On Thursday, the retailer announced a partnership with Shopkick, a company that makes a transmitter that can communicate with smartphones using Bluetooth low energy signals. To go with it, Shopkick also makes a mobile shopping companion app for iPhones and Android devices.
For people who have the app installed on their smartphones, participating American Eagle stores will now detect when customers walk through the entrance by using shopBeacon transmitters that have been placed in some of their most high-traffic stores in New York, Los Angeles, Chicago and other cities.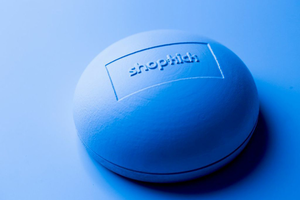 The integration has several pieces. The beacon that Shopkick makes is built on top of Apple's iBeacon protocol, a new technology designed to extend the basic location services in certain iOS devices. Over the past several months other major retailers such as Macy's and Apple's own stores have announced similar rollouts using the technology. American Eagle's project marks the largest iBeacon deployment for a clothing retailer.
The trial project is designed to increase American Eagle's sales and potentially give the retailer more data about how customers shop in its stores. The app that Shopkick makes could help generate those sales: It's designed to alert customers to location-specific discounts and free rewards while they're shopping inside stores that have linked up with it.
Meanwhile, "this trial is designed to deliver the most data and learning on how consumers enjoy shopBeacon," Redwood City, Calif.-based Shopkick said in its announcement.
As far as what type of data might be collected from consumers, a spokesman for Shopkick said the company only shares with retailers aggregated information about shoppers' activity, such as how many people have walked into a store, and no data about individuals. The goal of data collection, he said, is "to help retailers understand how Shopkick positively impacts business metrics and to create a better shopping experience for customers."
American Eagle's integration comes as more brick-and-mortar retailers are trying out technologies to learn about how customers shop. With that information, the idea is that retailers could make inventory changes, or adjust the layouts of their stores, if they could get big data showing that certain areas receive more shopper attention than others.
At the moment, American Eagle probably is not able to go that deep. Shoppers are only alerted to deals and product recommendations when they walk through the front door. In the future, the retailer could add sensors in each department and offer more localized deals. Then, offers for jeans could appear on people's smartphones when they're near the jeans rack, Shopkick said.
Another factor that could limit the trial's usefulness for American Eagle is that shoppers need to have the Shopkick app installed on their phones for the beacons to wake the app up when they walk through the front door.
In spite of those limitations, American Eagle's project is yet another rollout in a hot emerging market known as location-based marketing or indoor mapping. Besides Shopkick, other app makers, analytics companies and beacon makers have sprung up with products of their own.
Still, privacy issues could put a crimp in retailers' plans. In American Eagle's case, customers need to give permission for the app to use their current location and send push notifications. But other retailers can be more devious, such as by using basic Wi-Fi signals on people's phones to track where they are. Last year, Nordstrom ended a Wi-Fi-based experiment after receiving negative feedback from customers.
American Eagle's trial kicks off next month.