At a Glance
Expert's Rating
Pros
Seamless Google Drive integration with effortless citations
Easy management system for articles and PDFs
Lets you share articles and reference lists with others
Cons
Requires a Google account
Supports only Chrome browser
Our Verdict
Paperpile is a reference manager that's worth its price, and will only get better from here.
Are you a student or working in academia? Do you have to tackle loads of research papers? The Internet is full of tools that try to make this arduous task somewhat easier, and Paperpile is the newest addition to the gang. If you're hooked on Mendeley, Zotero or ReadCube, don't look now, but a better and slicker solution could be just around the corner.
Paperpile is a reference manager that resides entirely on the Web. There's nothing to download except a Chrome add-on, and no account is needed aside from your existing Google account. Unlike reference managers that charge you extra to cloud-host your PDF files, Paperpile makes use of cloud storage you already have—Google Drive—and with 15GB of free storage, you won't run out of space quickly. This means that once you upload your PDFs to Google Drive via Paperpile, you can access them from anywhere. But let's not get ahead of ourselves.
To start using Paperpile, you first need to add some papers. Do this by adding PDF files you already have, searching for papers on the Web, or importing your library from your current manager. You can also add papers directly from search results on websites such as Google Scholar or PubMed.
Paperpile analyzes your papers and acquires all the necessary metadata by itself. When it can't find it, it's easy to manually add it on your own. When you find a new paper online and add it, Paperpile will automatically download the PDF for you, and all your PDFs can be synced to Google Drive with one click. Paperpile supports folders, subfolders and labels, and organizing your papers into them is a matter of dragging and dropping.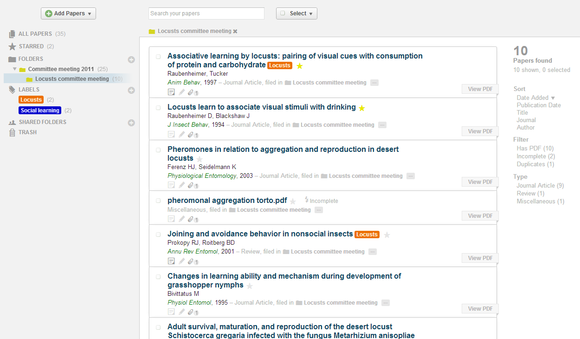 Going through your library is a breeze. The search function is instant, and the abundance of filtering options makes it easy to view papers by certain authors or from certain journals and sort them any way you want. For better organization, you can add notes to your papers or star them for even quicker access. All this browsing and editing is easily done with your mouse or using keyboard shortcuts.
Paperpile makes it unbelievably easy to view PDFs from your library, copy citations (simply mark one or more articles and press Ctrl+C), view who cited an article, and share articles with colleagues or friends. You can also set up shared folders to collaborate on a reference list with others, even if they don't use Paperpile themselves—great for journal clubs and lab meetings.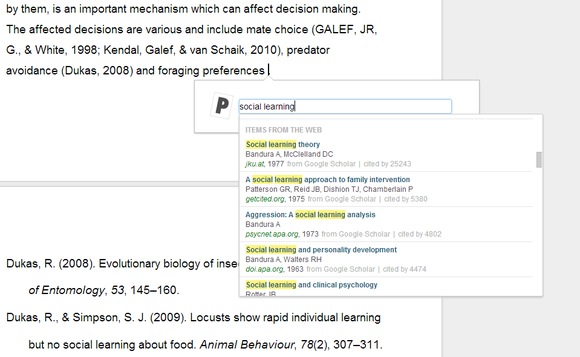 All this, however, is just scratching the surface of what Paperpile can do. Remember the Google Drive integration I mentioned earlier? It's not just for cloud storage—you can also use it to write and collaborate on manuscripts, papers, or even your entire thesis. The Google Drive plugin (which you will need to authorize separately the first time you use it) lets you add citations of any format to a document you're working on. These can come from your library or the Web—simply type in some keywords and pick the right result from the list. The bibliography will be automatically added to the bottom of the document and will adhere to your chosen citation style. You can change this style at any time and have Paperpile re-format accordingly.
Sounds too good to be true? It did to me too, but except for a very minor and rare glitch in adding notes to articles, the only issue I encountered happened when I was signed into two Google accounts at the same time. Logging out of both and signing in again to the one associated with Paperpile solved this completely, and the service's help files are thorough, clear, and pretty much solve any problem that may arise.
Paperpile is not free—you will have to pay $2.99/month after the first 30 days—but once you try it, you won't mind one bit. There are enough hardships in academic life without having to fight with references and citations, and Paperpile is the first service I've used that makes this truly painless. In future updates, Paperpile plans to add its own PDF annotation tools as well as better support for tablets and phones. When that happens, the service will be indespensible.