I'm not much of a gamer, but I still play about 15 minutes of Diablo III on my notebook every day. (I figure I should finish the game just in time for Diablo IV to come out.) One annoying thing about the game—an irritation that also affects desktop programs and Windows 8 apps—is that if you've connected your notebook to a second monitor, newly opened programs still default to your primary display.
If you've paired your laptop to a nice 24-inch 1080p monitor, that often means you're squinting at your 12-inch clamshell display instead of the larger, nicer screen. Let's fix that by making our external monitor the center of attention.
To adjust our monitor settings, we're going to need to open up the Control Panel. From the Windows 8.1 desktop, right-click the Start button—Windows 8 users should right-click the Start icon in the lower left corner—and then select "Control Panel" from the Quick Access Menu. Windows 7 users can just get at the Control Panel from the Start menu.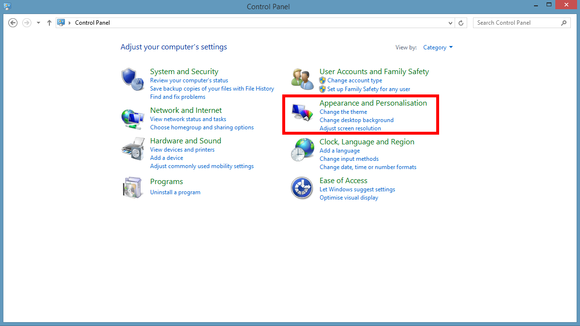 Once you've got the Control Panel open, check that the "View by:" drop down menu in the upper right-hand corner is set to "Category." Then, under "Appearance and Personalization," select the "Adjust the screen resolution" option.
We're almost home! Assuming you have just two monitors, you should see a small icon with a number one on it for your laptop screen and a number two on a larger icon representing your external monitor.
(TIP: If you don't see two separate monitor icons, click the "Multiple displays" drop down menu and select "Extend these displays," then click Apply.)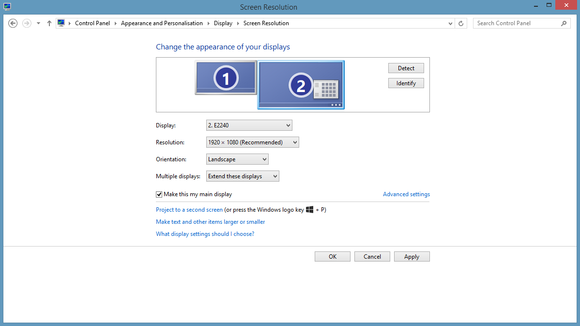 Click the larger monitor icon with the number two on it. See that checkbox below the "Multiple displays" menu that says Make this my main display? Click that checkbox, then click "Apply," followed by "OK" to dismiss the window.
You should notice that the system tray (that section to the far right of the taskbar that includes the date and time) has now jumped from your laptop to the external monitor. That means you're all set. If you don't see apps and games defaulting to the larger screen right away, you may have to reboot your PC.
Don't worry about disconnecting the display. Windows is smart enough to know that when the external monitor isn't present to default everything back to the smaller laptop screen.
So relax, fire up your favorite games, desktop programs, or Windows 8 apps, and enjoy the big screen experience without the screen-shifting headaches.
Lead image: Rafael Castillo via Flickr/Creative Commons