At a Glance
Expert's Rating
Pros
Integrates with most major browsers
Automatic password generation
Memo storage
Our Verdict
Sticky Password is full-featured and actively supported, so it is well worth the reasonable price.
It's a multi-device world. It's not uncommon to have a work PC, a home PC, a smartphone, and a tablet, often with different operating systems. It's also an increasingly insecure world, where every week seems to bring news of a new data breach.
With more and more day-to-day work moving from the desktop to the browser, and the expectation of a seamless shift as you move from one platform to another, these two facts converge dangerously: A password shared among multiple sites means all of your data, and perhaps your entire online identity, is only as safe as the most poorly-secured site you visit. Sticky Password can help.

Sticky Password Cloud runs as a standalone application under Windows, but also integrates itself into multiple browsers. The user can exclude some supported browsers, if desired. It also has Droid and iOS apps, all of which can share a common database of passwords, memos, and so on, through your personal, albeit unfortunately named, StickyPortal. When a new device attempts to connect to the shared cloud data, a one-time PIN is sent to the email address used when you set up the account.
Sticky Password helps you manage dozens, or hundreds, of passwords. You don't need to remember a thing — except your master password for Sticky Password itself, of course. While Sticky Password doesn't force you to use a different password for each site, it makes it very easy to do so. It recognizes (most) login or account setup screens, and if it sees something that looks like it's asking you for a password, it can generate one, including mixed case, numbers, and symbols.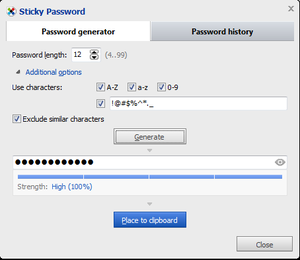 Sticky Password integrates well with most major PC browsers. It appears as a clickable icon in the menu bar or status bar (depending on browser and preference), and thankfully does not add a toolbar. Support for browser upgrades is prompt. Sticky Password is very actively supported; the company recognizes that this is a vital utility to its users and, in my experience, reported bugs are addressed promptly.
An obvious downside is that if your Sticky Password database is lost (through catastrophic drive failure, for example), you may be in serious trouble. There are some solutions to this: You can do an export (plain or encrypted) of your password database, and store this in a secondary location (if it's not encrypted, it better be very secure). Further, it produces backup database files regularly. You can back these files up (or make sure your favorite backup program or service, such as Carbonite, includes them), instead of doing an export yourself. And, with Sticky Password Cloud, you can now sync your passwords across multiple devices, with the encrypted data stored remotely. The user is in control of if data is synced.
This is something each user must weigh carefully. Any time all your information passes through a single bottleneck, there's a risk. No matter how secure the servers are, there is always a chance of an unknown exploit being discovered, or a user error leaving an opening. On the other hand, failing to use unique passwords on each site opens up even more points of risk.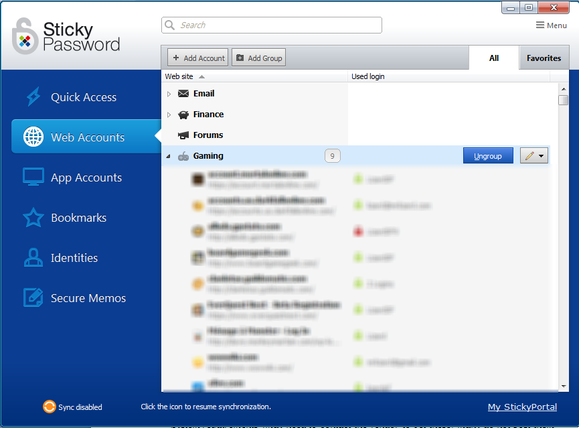 Sticky Password Cloud adds in a few new features beyond the cloud functionality. Lamantine Software has added grouping for secure memos, improved support for import of bookmarks and passwords from additional browsers, and updated Sticky Password Cloud to the latest look and feel.
Licensing for Sticky Password Cloud is a bit unusual: It covers all devices for a single user for one fee, 20.00, which is good, but it must be renewed annually, which is less good. For those who are not multi-device users or who do not want syncing, there is Sticky Password Desktop, which has no time limits on its license, and no cloud functionality.
Lamantine Software donates a portion of Sticky Password Cloud sales to helping endangered manatees (Oh, the huge manatees!).
Sticky Password is a permanent part of my computing life. I have been using it day in and day out for two years now, and I have encountered only small issues, rapidly resolved. If you are using another password management tool, compare feature sets. If you aren't using a password management tool, you should be, and Sticky Password is one of the best.