At a Glance
Expert's Rating
Pros
Solid build quality
Light weight for an all-in-one with a 19.5-inch display
Reasonable price tag
Cons
Low-resolution display
A lowly Core i3 is your only CPU choice
Not enough I/O ports
Our Verdict
The Lenovo Flex 20 makes a lot of compromises to achieve its light weight and low price. Most people would be better off saving a little more cash to buy a machine they won't outgrow so quickly.
PC manufacturers seem convinced that everyone wants a Windows tablet, be it 8 inches or big enough to double as a TV tray. The larger models are effectively all-in-one PCs that can lie flat to allow several people to interact with the touchscreen at once.
Lenovo scored a 4-star win with its 27-inch Horizon. The Flex 20, which the company describes as a "dual-mode desktop," is smaller, lighter, and less expensive than the Horizon, addressing two of the complaints we lodged against that machine. Regrettably, in the Flex 20 those advantages come at the cost of performance and resolution, two shortcomings that pretty much ruin the table-gaming experience.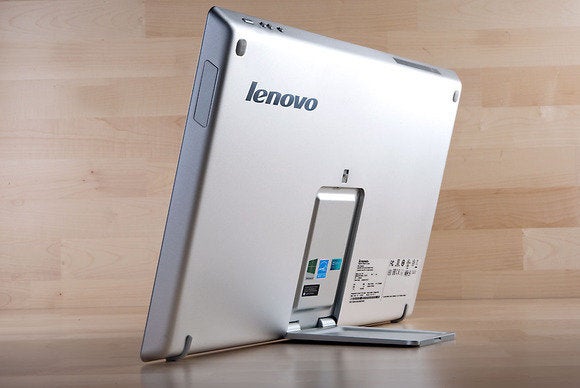 The Flex 20's specs read more like those of a bargain-basement cheapie than of a machine you'd expect to play games on. Powering the Flex 20 are a dual-core fourth-generation Intel Core i3-4010U processor, integrated Intel HD 4400 Graphics, just 4GB of DDR3/1600 memory, and a 500GB mechanical hard drive that spins its platters at 5400 rpm. The saddest spec of all is the screen resolution of 1600 by 900 pixels—a 19.5-inch IPS display needs 1080p.
The performance is what you'd expect of a machine with such specs. The Flex 20 managed to post a WorldBench 8.1 score of just 78. That's 22 percent slower than the benchmark results of our reference all-in-one desktop, an Acer Aspire U A5600U-UB13 powered by a third-gen Intel Core i5-3230M. The 27-inch Horizon, meanwhile, delivered a WorldBench 8.1 score of 111. And Dell's XPS 18 Touch—another all-in-one tablet/hybrid—scored an impressive 171 (with the assistance of its 32GB SSD cache drive).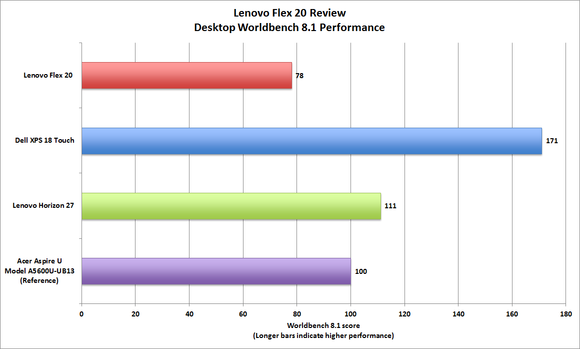 What does that mean for family game night? A lot of waiting. Lenovo created a custom interface called Aura, designing it in a ring so that users can control the tablet from any side of the screen. Launching a game in Aura left me on a blank screen long enough for me to start wondering whether the game was actually launching or if the whole thing had crashed (which it did, on occasion).
Battery life is adequate for a quick evening of gaming. The Flex 20 lasted 3 hours, 25 minutes playing high-def video in our run-down tests, which means the kids could grab it for movie night—and considering that it's just 7.7 pounds, they could probably get it to their room without your help. Gaming will eat that up a little faster: In our tests, 2 hours of play left the battery with a 25 percent reserve.
Lenovo offers some interesting wireless accessories to enhance the Flex 20's gaming capabilities: joysticks (which attach to the touchscreen with suction cups), air-hockey strikers (small paddles that glide over the touchscreen), and the E-Dice (a die that tells the computer which side is up after a roll). Unlike with the Horizon, you must purchase the Flex 20 accessories separately: A package with one pair of joysticks and one pair of strikers costs $50, and the E-Dice costs $60. A wireless mouse and keyboard are included with the PC.
The gaming accessories are cool enough; but when it came to the bundled games, the ones that took advantage of them were some of my least favorites. The fishing game that uses the joysticks is slow moving. The air hockey game is decent fun, but it can have up to four controllers on the screen and the computer doesn't control any of them, so you can't play alone. Lenovo Tycoon, which relies on the E-Dice, is a painfully slow, overly animated, overly complicated version of Monopoly. My favorite games, King of Opera and DrawRace 2, don't require the extra baubles at all.
After the Flex 20 failed to win me over during family game night, I set it up in my office to serve as an all-in-one desktop. It wasn't so great in that role either. Of all the computers I've tested, none has had a problem connecting to my Wi-Fi router two floors below. The Flex 20 couldn't hold a connection.
It's priced about right
The included keyboard and mouse connect to a unified USB receiver, which is good because the dongle takes up one of the machine's two USB 3.0 ports. That leaves you with just one USB port for everything else you might want to hook up. The machine has no memory card reader, no HDMI input or video-out, and no optical drive. It really is like an oversize tablet in that sense.
The idea of a touchscreen all-in-one that you can lay flat on a table is relatively new, so manufacturers are still looking for the right balance of performance, price, portability, and features. Lenovo went all out with the Horizon and then scaled back with the Flex 20. I think the company scaled back too far. Even with the lower-resolution screen, the Core i3 processor isn't enough to support fluid tabletop gaming, which is where such machines should excel.
The Flex 20's only saving grace is the fact that Lenovo is selling this computer for cheap. You'll find it at Best Buy for $800, but at the time of this review I saw it on Lenovo's own online shopping site for $750. At those prices, it might find a happy life in your child's playroom.