Wireless service providers in the United States are constantly battling each other over which has the largest or fastest wireless network. Verizon, AT&T, Sprint, and T-Mobile are just big fish swimming in a small pond, though, because none of them can come close to what wireless providers are delivering in South Korea—not even on their best day.
In South Korea, LG Uplus is rolling out 300Mbps wireless service. Meanwhile SK Telecom will reportedly demonstrate 450Mbps wireless at the Mobile World Congress in Barcelona. Those speeds are four to six times faster than the theoretical maximum speeds of U.S. wireless providers and 10 times faster or more than real-world speeds achieved by most US wireless customers.
The current marketing campaign for Verizon centers around its 4G/LTE coverage. The commercials show random people trying to make sense of different maps of the United States that depict the 4G coverage for the major wireless providers. Verizon—because it seems to have the broadest coverage—is the only one instantly recognizable as a map of the United States. The question, though, is what does that coverage get you?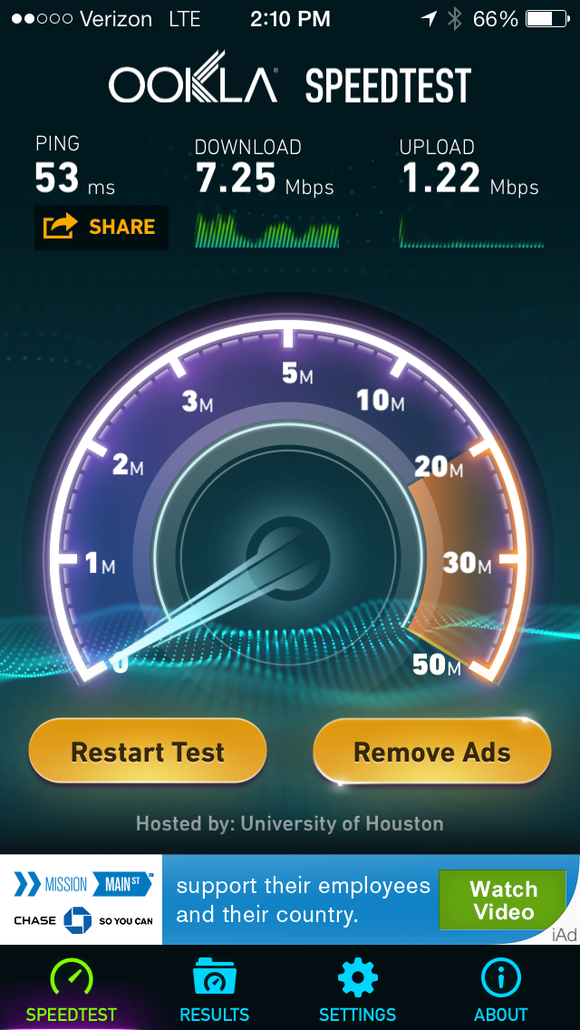 A study from the summer of 2013 found AT&T to have the fastest 4G network, however Verizon's 4G service was found to be more reliable. More recently, T-Mobile claimed the crown for itself, declaring max download speeds of up to 72Mbps.
The reality for most users is significantly slower than that, though. There are a number of factors that come into play, including relative signal strength or distance from the antenna, as well as how many people are trying to use the service at a given time. Under the right circumstances, I have experienced speeds around 40Mbps with Verizon 4G/LTE, but sitting in my office on a typical day the speed is typically between 5Mbps and 10Mbps.
The news of South Korea's blazing wireless speed is relevant for two reasons. First, it's interesting to note that South Korean wireless providers are not using significantly newer or more advanced technologies. The 300Mbps and 450Mbps services are still essentially the same 4G/LTE as what U.S. wireless providers use. In other words, with a few tweaks in how it delivers service, it would seem that U.S. wireless providers could also deliver much faster speeds without having to implement completely new network technologies.
That brings us to the second reason it's relevant. A federal appeals court last week shot down the Net Neutrality rules implemented by the FCC. Verizon, AT&T, and others trumpeted the ruling as a win for innovation and investment. However, the broadband and wireless service providers—many of which are the same companies, such as Verizon and AT&T—have never demonstrated a willingness to invest or innovate beyond the bare minimum necessary. If U.S. wireless providers were innovating, South Korean wireless service wouldn't be leaving U.S. service in the dust.
Maybe SK Telecom can start competing in the United States and show Verizon and AT&T how it's done.