For about two years, Microsoft and its partners have quietly developed sites that transcend the Web, crossing over into what appear to be dedicated apps. Now, Microsoft is making a concerted effort to show off what it's accomplished, with code and other resources to allow others to follow suit.
If you've been following Microsoft's efforts on the Web, the new "Rethink" site will look awfully familiar, with references to Contre Jour, Everest: Rivers of Ice, and the Red Bull Rampage. The Web version of Contre Jour, for example, went live in October 2012, co-developed with Maksym (Max) Hryniv as part of Microsoft's "Beauty of the Web" campaign. Played on a tablet, the puzzle game strips out the address bars and other navigational elements, as does another app, Hover, which is a Web port of the old Windows 95 game.
The point of the original campaign, according to Roger Capriotti, senior director of marketing for Microsoft's Internet Explorer browser and SkyDrive service, was "trying to convince developers and consumers alike to expect more from the Web." Microsoft always had the intention of collecting the sites it helped develop into a shared resource for developers, and has been working on doing so for some time, he said.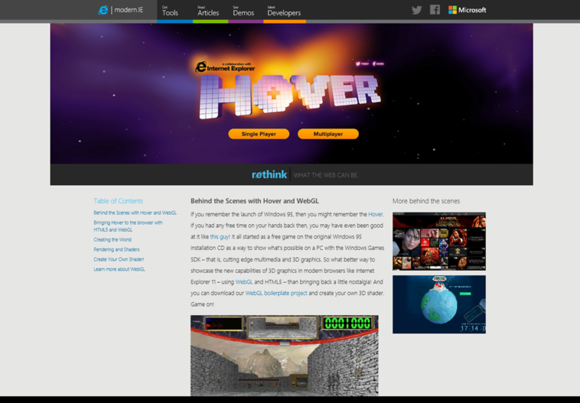 And so far, IE is winning. According to NetMarketShare, IE controlled 57.9 percent of the desktop browser market in December, followed by Firefox with 18.4 percent and Chrome with 16.2 percent.
At this point, one might argue, the browser race has become irrelevant, with HTML5 and other open standards dissolving the differences between browsers, which have become separated by just fractions of seconds in rendering times. Instead, the battle is being fought on different fronts. Microsoft's message for Internet Explorer has been that "touch is the new fast," and that consumers want a browser designed for the touch-centric environment of Windows 8. Google, whose Chrome browser reacted slowly to the touch movement, has settled on an ecosystem approach: bringing ChromeOS to Windows 8, and then signaling its intent to bring Google Now to Chrome as well.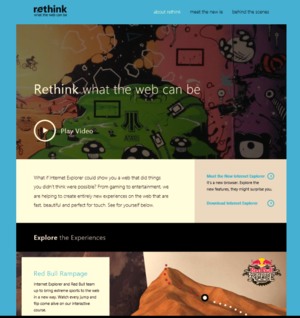 For those who believe in Microsoft's approach, however, there's good news: Microsoft designed "Rethink" with developers in mind. Under the Santa-tracking site Microsoft developed with NORAD for the holidays, for example, the company provided an introduction to the Cesium open-source map engine that powers the site, complete with links to editors, code resources, and a walkthough describing the basic process for how Microsoft developed the site itself. Microsoft promised similar "developer teardowns" for other sites, including The Hunger Games, the Atari Arcade, and more.
Microsoft's "Rethink" sites will run under Chrome or Firefox, just not as well—something Capriotti said has resonated with developers. More and more developers are coming out of the woodwork, he said, asking to work with Microsoft. "Two years ago we were looking for partners," he said. "Today, partners are looking for us."