If you're looking to upgrade your PC's hard drive in the next few months, you might want to take a look at an interesting blog post from online backup provider Backblaze. After shining a general light on how long hard drives actually last late last year, the company took to its blog on Tuesday to provide a detailed look at how consumer-grade hard drives from Hitachi, Seagate, and Western Digital performed in Backblaze's storage pods.
By the end of 2013, Backblaze had more than 27,000 consumer-grade hard drives spinning away in its storage facilities, backing up photos, mp3s, and important documents for its users. Those may not be Google-sized numbers, but tens of thousands of drives are certainly enough to glean a few trends.
The company took a look at the failure rates for a wide range of specific models in its storage pods, as well as uptime and overall lifetime by brand. The end result? Hitachi and Western Digital were workhorses, while Seagate drives were more likely to fade after a few years.
That doesn't mean Backblaze is swearing off Seagate drives. In fact, the company has high hopes for Seagate's new 4TB Desktop HDD.15 (ST4000DM000). Other Seagate drives are also big favorites with the Backblazers.
Here's a quick look at the highlights from the company's HDD breakdown.
Failure rates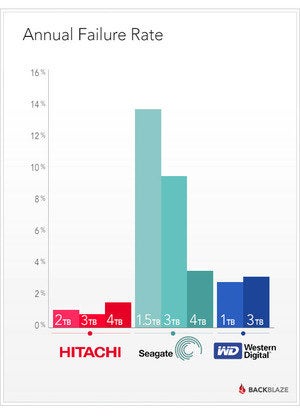 For this report, Backblaze took a look at 15 different HDD models from the three aforementioned major brands. Earning impressive marks for reliability was the Hitachi 3TB Deskstar 7K3000 (HDS723030ALA640) with a 0.9 percent failure rate and an average lifetime of about 2.1 years. That model was followed by another Hitachi, the Deskstar 5K3000 (HDS5C3030ALA630) with an average lifetime of 1.7 years and a similar failure rate. (Remember, these drives are putting in some serious overtime that your PC would likely never see.)
The worst of the bunch, meanwhile was the 1.5 TB Seagate Barracuda Green (ST1500DL003), with an average lifespan of 0.8 years. Ouch!
Backblaze said this particular model is pretty bad, but it cautions not to read too much into it. The company received these specific drives as warranty replacements, so they were probably refurbished with wear and tear on them by the time they met Backblaze's HDD taskmasters.
Overall, Seagate drives had the highest failure rates by brand in Backblaze's environment reaching close to a 14 percent annual failure rate for 1.5TB drives, around 10 percent for 3 TB drives, and 4 percent for 4TB drives. WD 1TB and 3TB drives stayed under 4 percent, while all Hitachi drives (2, 3, and 4 TB) failed less than 2 percent of the time on an annual basis.
Over a 36 month span, Hitachi drives had a 96.9 percent survival rate, followed by WD at 94.8 percent and Seagate way below that at 73.5 percent.
So what's a home shopper to do?
Backblaze's data may look like making your next drive a Hitachi is a no-brainer, but it's important to remember that Backblaze runs drives harder than the average PC user ever could. So while Seagate products may go down all the time at the company, a PC user may never notice a problem during the lifetime of their PC.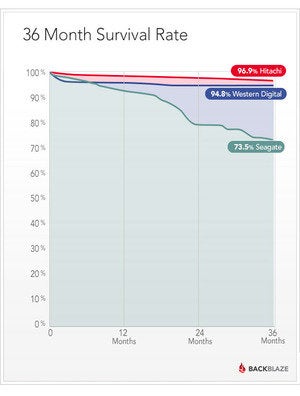 For example, Backblaze said it will stop buying Seagate LP 2TB drives and Western Digital Green 3TB drives, because they just don't work in the company's environment. Part of the problem, Backblaze says, is these drives are designed to spin down when not in use to save power. That's a great feature for a home PC user, but in an industrial environment Backblaze says the drive would spin down only to spin back up a few minutes later. The end result being more wear and tear on the drive than it was designed for.
Then there's cost. The only thing holding Backblaze back from going with all Hitachi drives was the price, which was one reason why the company sticks with Seagate drives.
Your risk of a complete hard drive failure over the long-term might be higher with Seagate than Hitachi, Backblaze's numbers suggest at first glance but there's no guarantee that will happen. In fact, Backblaze's earlier study showed that hard drives are actually pretty reliable overall over a four-year stretch, even in a server farm. And hey, a number of individual Seagate models actually had a longer average age than Hitachi products!
Maybe the lesson from Backblaze's data is that choosing the right hard drive is all about tradeoffs. (Isn't it always?) Nevertheless, it's an interesting look at the reliability of many internal hard drives you might be considering for your next PC. Be sure to check out the full Backblaze post if you want to dive even deeper into the nitty-gritty numbers.