At a Glance
Pros
Excellent protection
Polished, Windows 8–ready interface
Our Verdict
Norton is a solid choice, thanks to its excellent detection rate and polished, touchscreen-friendly interface.
Norton Internet Security 2014 ($80 for one year of protection on up to three PCs) looks great—and it offers excellent protection against all threats. Internet Security 2014 also provides mobile security, comprehensive parental controls, and system insights, so advanced users can track their PCs' performance. But Symantec's suite isn't perfect: Its menus, settings, and features are geared a little more toward advanced users than toward security newbies.
In our protection tests, Norton Internet Security 2014 was excellent, on a par with Eset Smart Security 7, F-Secure Internet Security 2014, Kaspersky Internet Security 2014, and Trend Micro Titanium Maximum Security 2014. Norton successfully defended our test systems against all zero-day malware attacks and all zoo malware assaults. Norton's algorithms didn't block or erroneously warn against any safe websites, nor did it flag any legitimate software as dangerous.
In AV-Test's performance test, Norton received a mark of 8, tied with Eset Smart Security 7 for the highest mark among the ten suites in in our roundup, and an indication that you can expect to see a significant performance hit—slower startup and shutdown times and lag when opening and installing programs—when the software is running.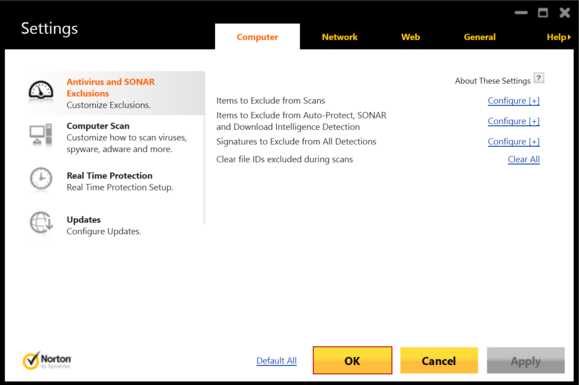 Installing Norton is a breeze, unless you have other security suites on your system (including trial versions). You must uninstall other antivirus programs before you can proceed with your Norton installation. Fortunately, Norton lets you uninstall incompatible programs from within its installer. The uninstalling process may require a restart, but a straight Norton installation does not.
Norton's interface blends perfectly with Windows 8, with large buttons and toggles instead of tiny checkboxes. The main screen presents you with four large squares, for status (colored bright green if you're protected, and red if you're not), scanning, updating the malware library, and access to advanced settings such as network protection and parental controls. Along the top of the window are text links to other settings and services.
The settings menu is clearly designed for relatively advanced users. When you click the little question-mark boxes next to certain items, you jump to explanations on Symantec's main support site, but Inline explanations—like those used in Kaspersky's security suite—would have provided a more seamless experience.
Norton Internet Security offers excellent protection, albeit at some cost to PC performance. Its polished, touchscreen-friendly interface is a plus, but it isn't especially accessible to novices.