After hijacking several of Microsoft's Twitter accounts and compromising its official blog over the past two weeks, the Syrian Electronic Army hacked into the Microsoft Office Blogs site Monday.
The Syrian Electronic Army (SEA) posted a screenshot on Twitter of the Microsoft Office Blogs site with a rogue article titled "Hacked by the Syrian Electronic Army." The article has since been removed from the site, but is still visible in Google's cache.
The Official Microsoft Office Blogs Hacked by the Syrian Electronic Army | http://t.co/hI6OQUUktZ More to come.. #SEA pic.twitter.com/IuO17nMfzz

— SyrianElectronicArmy (@Official_SEA16) January 20, 2014
The attack happened as Microsoft unveiled a new design for the site Monday. The hacker group posted a screenshot on Twitter of what it claims was the site's old administration panel when it was running on software from Telligent, a developer of online enterprise collaboration and community platforms, and a screenshot of the site's new supposed admin panel, suggesting that it's now running on WordPress.
The screenshots seem to suggest SEA had access to the site before and after the CMS (content management system) switch and support the group's previous claims that it had access to various Microsoft employee accounts.
"Dear @Microsoft, Changing the CMS will not help you if your employees are hacked and they don't know about that," the hacker group said Monday on Twitter.
Following the compromise of the official Microsoft blog on Jan. 11, the company admitted that the email accounts of some of its employees had been compromised.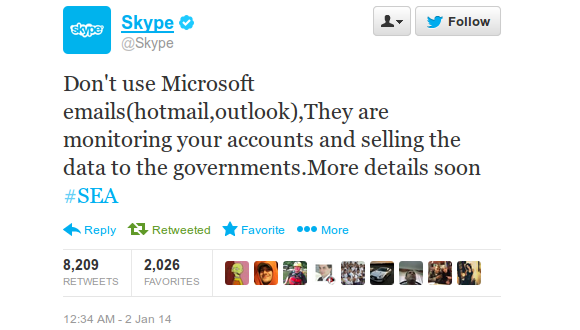 "A social engineering cyberattack method known as phishing resulted in a small number of Microsoft employee social media and email accounts being impacted," a Microsoft representative said Thursday via email. "These accounts were reset and no customer information was compromised. We continue to take a number of actions to protect our employees and accounts against this industry-wide issue."
The new compromise of the Office Blogs site suggests SEA still has access to some Microsoft employee access credentials that haven't been changed.
"A targeted cyberattack temporarily affected the Microsoft Office blog and the account was reset," a Microsoft representative said Tuesday in an emailed statement. "We can confirm that no customer information was compromised."
SEA is a group of hackers who in the past declared their loyalty to the government of Syrian President Bashar al-Assad. The group has targeted various media organizations, including The New York Times, Financial Times, the Associated Press, The Guardian, BBC and Al Jazeera. Its primary technique for breaking into Twitter accounts and websites is social engineering, primarily phishing.
This article was updated at 10:24 a.m. PT with a statement from Microsoft.