AMD's success in the game console business drove the company to its second consecutive profitable quarter, as the company easily beat Wall Street analyst estimates. Next up: prolonged success.
AMD on Tuesday reported net income of $89 million or 12 cents per share, compared to a loss of $473 million in the year-ago quarter. Revenue increased 38 percent year-over-year to $1.59 billion. Analysts polled by Yahoo expected AMD to report a profit of 6 cents per share on revenue of $1.54 billion.
AMD president and chief executive Rory Read said that the goal for the company now is to demonstrate revenue growth and profitability over the entire year, rather than just a single quarter. AMD reported revenue of $5.3 billion for the entire year, down from $5.42 billion from 2012. For the year, AMD lost $83 million.
Over the past several quarters, AMD has repositioned itself away from the general PC market, targeting dense servers, professional graphics, the embedded space, and a semi-custom operation. Like Intel, Read said that AMD has seen some indications that certain segments of the PC market may be rebounding, but that it is planning for the 10 percent decline in shipments that analysts have predicted. If the market does, he said, "we are ready and able to take advantage of any recovery," he said.
Last October, AMD reported a profit for the third quarter, fulfilling a July promise from Read to return to profitability. Then, as now, AMD's earnings were buoyed by the fact that each of the the top three game consoles uses the company's silicon inside of it, giving it a relatively stable base of recurring revenue. For the just-completed fourth quarter, AMD was helped by the launch of the Microsoft Xbox One and Sony PlayStation 4, which use what AMD calls semi-custom systems-on-a-chip (SOCs) that are offshoots of a common design.
"We expect this momentum will continue," Read said of the game console market, also noting that "new wins" in the semi-custom space were "in the pipeline".
"Strong execution of our strategic transformation plan drove significant revenue growth and improved profitability in the fourth quarter," Read added in a statement Tuesday. Tuesday. "The continued ramp of our semi-custom SoCs and leadership graphics products resulted in a 38 percent revenue increase from the year-ago quarter."
AMD is still on track to sample its first ARM-based CPUs later this quarter, Read said.
So far, AMD's problems remain in its PC computing business. Revenue from AMD's Computing Solutions segment decreased 9 percent sequentially and 13 percent year-over-year to $722 million, with an operating loss of $7 million. AMD blamed lower chipset and notebook revenue for the drop.
AMD has pinned its hopes on "Kaveri," the next-generation CPU/graphics chip that the company first announced at the Consumer Electronics Show this month in Las Vegas. AMD has also disclosed two new low-power chips for tablets and other low-power devices—Beema and Mullins—which it also showed off in prototype form at CES in a superslim design. (AMD has published its 2014 roadmap on this downloadable PDF document.) And sales of the AMD A8 and A10 series of processors reached record levels, Read said.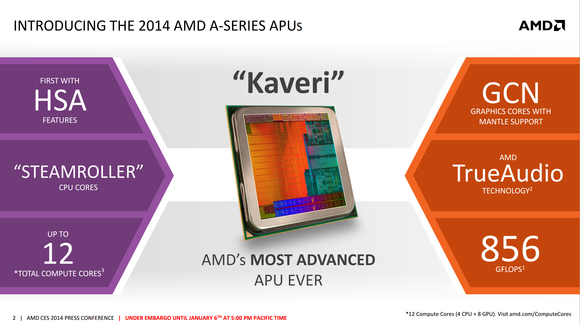 However, AMD's Graphics and Visual Solutions segment revenue was the foundation of AMD's success. Revenues increased 29 percent sequentially and 165 percent to $865 million, on $121 million of operating income. AMD also said that the average price of its GPU devices increased, helping boost its income.
AMD's holiday successes aren't expected to continue, however. The company said that it expects revenue for the current first quarter to decrease 16 percent, plus or minus 3 percent, sequentially. Analysts expect a loss of a penny per share in the coming quarter.
Updated at 3:59 PM PDT with additional details from AMD's conference call.