Intel unveiled two reference designs on Wednesday aimed at the education market: a clamshell notebook and a tablet, each outfitted with intriguing peripherals and software for educators.
Both the "Clamshell EF10MI2"—part of Intel's "Classmate PC" family—and the 10-inch, ECS TR10CD1 Education Android tablet won't be sold by Intel directly. Instead, it will be up to a network of unnamed partners to deliver both to classrooms.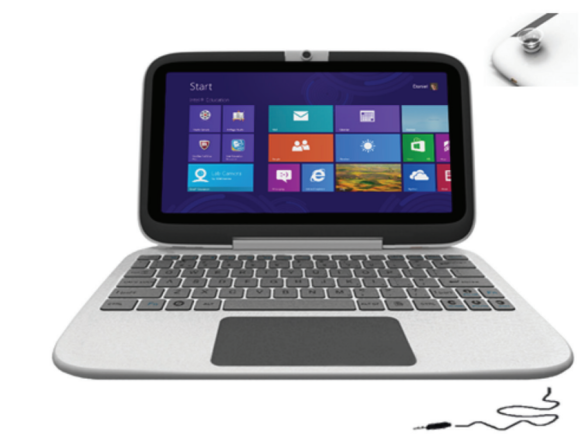 "Education leaders everywhere are passionate about driving student achievement and encouraging lifelong learning," said John Galvin, vice president of the sales and marketing group at Intel and general manager of the World Ahead Program, in a statement. "At Intel, we believe the right technology can be transformative. That's why we are focused on designing tools that bring learning to life, helping to make students more engaged. The result is a future where people have the skills they need for opportunity and growth."
Intel first launched the Classmate PC program in 2007, at the time part of a flurry of announcements by both Intel and Microsoft to bring computing to developing countries. Intel joined the One Laptop Per Child program that same year, which aimed to develop a similarly low-cost computer. Intel's latest EF10MI2 runs Microsoft's Windows 8 operating system, although a Windows 7 and Linux version is also planned, Intel said. The Windows 8 version is expected to be available this month in the Americas, Europe, Africa, and the Middle East, and later this spring in the Asia-Pacific region.
Meanwhile, rivals like Google have designed their Chromebooks as low-cost computing devices, convincing Malaysia, among others, to adopt Google Apps running on Chromebooks inside their classrooms.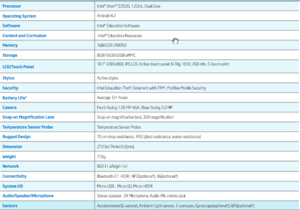 Intel didn't say how much either the tablet or clamshell notebook were expected to cost. The notebook uses Intel's Celeron N2805 and N2806 processors, while the tablet is based on its 1.2-GHz Z2520 "Clover Trail+" Atom platform.
What's interesting, however, is that Intel has made a concerted effort to load up both with a suite of software and peripherals designed to actually make each useful. For example, both ship with a thermal probe as well as a snap-on magnifying camera allowing students to use both the tablet and clamshell to explore the outside world. The tablet includes two applications by Intellisense—Education Lab Camera and Education Media Camera—which include tools to use the built-in magnifier to shoot pictures, and later edit and share them.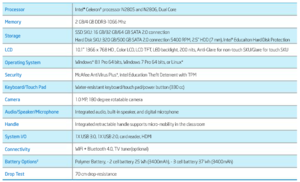 Intel's clamshell also includes an AirRage graphics package; Sparkvue, a data analysis package aimed at math and science; McAfee antivirus; and an Intel-developed classroom management app for distributing lessons, as well as a theft deterrent application. Intel's tablets also include Foxit PDF readers, Kno textbooks, and eLearning tools by Mythware.