Microsoft is helping users cut through the clutter in the latest version of the Word Web App, with a new "Tell Me" feature for quickly finding options and settings, along with a handful of additional new features and a flat, more eye-pleasing design.
Tell Me is sort of like a virtual assistant for Word, appearing as a search box near the top of the screen. You just type what you're trying to do into the box, and Tell Me provides shortcuts to a few possible options.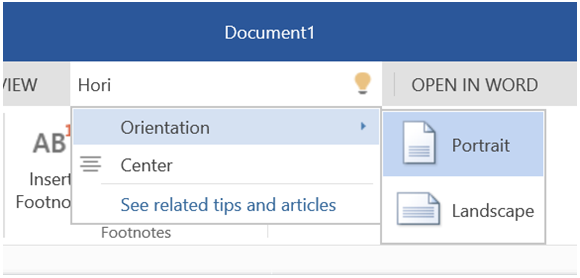 The neat thing about Tell Me is that you don't need the exact wording for what you're trying to find. For instance, searching for "make text larger" brings up a "grow font" option, and searching for "horizontal" brings up a landscape orientation button. It's easy to see Tell Me becoming a key feature in future versions of Office, especially for a Metro version, where tablet users might wish to keep deeper settings hidden from view.
Microsoft has also tweaked the interface in all of its Office Web Apps to make them slightly easier to use. A redesigned header shows the file name in the middle, and you can change it just by clicking on the text. There's also a big "Share" button in the upper-right corner, and Microsoft says it will offer a button in the upper-left corner for quickly switching to the company's other apps and services. (This menu hasn't appeared on our end just yet.)

As for features, Microsoft is adding support for footnotes and endnotes in the Word Web App, and is improving rendering support for Shapes, Textboxes and WordArt.
Although Microsoft once viewed its Office Web Apps as companions to the desktop software rather than standalone services, the company's attitude is changing. John Case, the Office division's corporate vice president, told TechCrunch in November that Microsoft would be investing more heavily in Office Web Apps, with new features and more marketing. Not only that, but with the addition of Tell Me, it's possible that Office Web Apps can be a test bed for future features in Office proper.