When it comes to keeping a family, team, or staff organized, nothing works better than everyone having access to each other's schedules. One of the easiest ways for everyone to stay on the same page is to use Google Calendar.
The search giant offers several ways for everyone to share calendar data. Here's a look at two particularly helpful options.
Group calendar
The easiest way to keep everyone on the same page is to create a group calendar that everyone puts their schedule on.
Open up Google Calendar and in the left-hand navigation column, click the downward facing arrow to the right of the "My calendars" heading. In the drop down menu that appears, select "Create new calendar."
In the new page that opens, we'll create a calendar for the Paul Family. So in the "Calendar Name" entry field we'll put "Paul Family Calendar." Put whatever you want in the description field.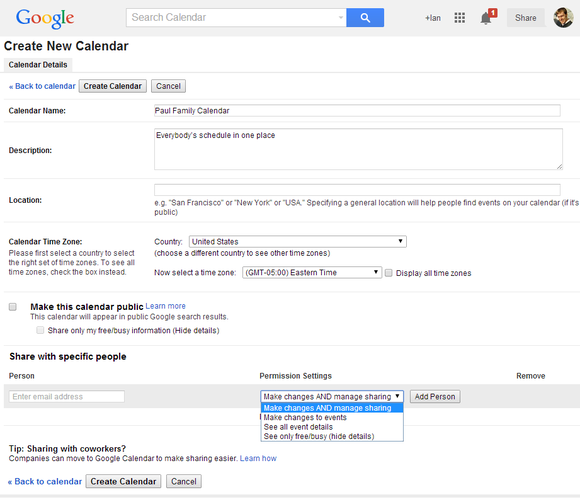 Then fill out the location if you want, and set the calendar time zone to your local time. Note that Google Calendar does not automatically choose a time zone based on what you put in the location entry field. Since this is a private calendar for one family, we won't check off "Make this calendar public."
The last thing to do is send this to everyone in the family by filling out each family member's email address under "Share with specific people." Fill out the first person's email—let's say we're adding SallyPaul@gmail.com—then choose her editing rights under "Permission Settings."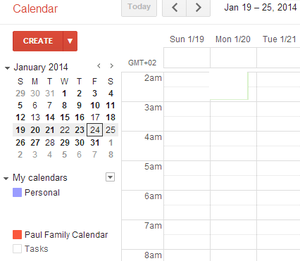 In this case we want every person who has access to the calendar to have full edit rights, so we'll click the drop down and select "Make changes AND manage sharing." Click "Add Person" to wrap up with Sally, then continue adding other people using the same process.
When you're done, click the "Create Calendar" button to, well, create the calendar.
Google will now shoot you back to the main calendar page, and in a few seconds you should see the new group calendar under "My Calendars."
Finding an event time that works
Another way to manage schedules if everyone prefers to keep separate calendars is to use Google's "Find a time" feature. This will help you figure out the best time to schedule a meeting, party, or other occasion.
For this feature to work everyone has to be sharing their calendars with each other. To find out how to share your private calendar with specific people check out Google's Calendar help page.
First, create a new event by clicking the aptly named "Create" button on the main page of Google Calendar.
Now just create your calendar event as you normally would: fill out the name of the event, select the date and time (we'll change it later), add a location, and select the Calendar you want to use. (Note: this is where teams and families would choose the group calendar from the drop down menu.)
Before we finish you have to add guests to the calendar by entering their email address and clicking "Add."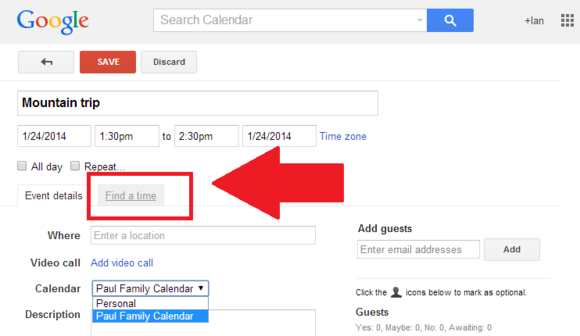 Once you've invited everyone you want to attend, click the "Find a time" tab to see everyone's public schedule, and more importantly, which time slots are open for everybody. Clicking on an open block of time will automatically replace the previous time you'd selected.
Finally, click "Save" at the top of the page to finish creating the event. A pop-up window will appear asking you if you want to send out the invitations; click "Send" and just wait for people to respond, secure in the knowledge that it doesn't overlap any of their previously scheduled events.
There you have it: Two different, yet equally functional ways to keep your friends, family members, and coworkers on the same page. Enjoy!