Most U.S. Internet users enjoy unfettered access to the Web. But that could be changing, if the upwardly creeping percentage of throttled BitTorrent users is any indicator.
For more than five years, a Google-backed organization called Measurement Lab has offered a throttling detection program called Glasnost. The latest data from M-Lab, compiled by TorrentFreak, shows that 14 percent of U.S. Glasnost users experienced slower speeds while using BitTorrent between December 2012 and December 2013.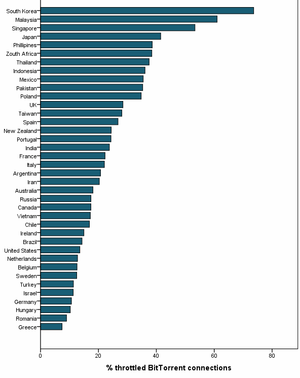 The United States fared well overall, ranking 10th among countries where at least 100 tests were performed. But compared to last year's data, U.S. service providers appear to be slowing down a greater percentage of BitTorrent connections.
Cox, for instance, throttled 13 percent of connections over the last year, compared to 6 percent in the first quarter of 2012. Verizon jumped from 3 percent to 6 percent over the same period, though its percentages are still the lowest of the major service providers. Comcast, whose large-scale BitTorrent throttling in 2007 inspired M-Lab's research, jumped to 13 percent in the last year, from just 3 percent in the first quarter of 2012.
It's unclear why throttling rates among Glasnost users has increased in the last year, but the odds of service providers scaling back their slowdown efforts now seems less likely than ever. Earlier this month, the D.C. Circuit Court of Appeals struck down key provisions of the FCC's net neutrality guidelines, including rules against "unreasonable discrimination." That means service providers can slow down different connection types as they see fit, not just for network management reasons, but for business purposes as well.
The FCC is now facing pressure from net neutrality advocates to reclassify broadband companies as "common carriers," which would allow for stricter regulations on network discrimination.
If net neutrality falls apart in the United States, BitTorrent use may not even be the biggest concern for Internet users. As streaming services such as Netflix and YouTube account for a greater portion of Internet traffic, Internet providers could slow down these services in favor of their own offerings. They could also demand payment from streaming services—or from subscribers—in exchange for guaranteed faster speeds. (Netflix says it will protest if any of these scenarios unfold.)
The appeals court didn't strike down the FCC's rules on transparency, so Internet service providers will still have to disclose any throttling policies they put in place, but you can be sure these policies will be buried or obscured. Data from groups like M-Lab will become more crucial as a way to monitor what service providers are actually doing.