Wikimedia wants today's voices to echo through the ages. The non-profit foundation responsible for Wikipedia and other crowd-sourced online resources announced recently that it would add voice samples from notable people to their respective Wikipedia biographies.
The new project is called "Wikipedia voice intro project" (WikiVip) and seeks to catalog the voices of the world's famous (and not so famous) people immortalized with their own pages in the online encyclopedia.
The idea behind WikiVip is to let "Wikipedia's readers know what they sound like and how to correctly pronounce their names," according to the Wikimedia UK blog.
For several years, Wikipedia has added short sound files that offer proper pronunciation of a subject's name. But WikiVip is the first time the online encyclopedia is seeking our original voice samples for its Wikipedia biographies.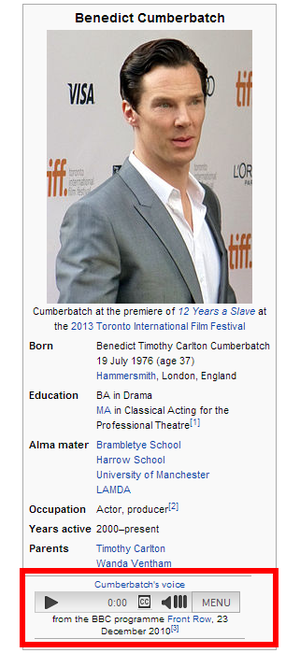 When available, you will find WikiVip clips at the bottom of the Infobox (the summary section in the upper right hand corner) on each Wikipedia page.
Wikimedia hopes that anyone with a Wikipedia page—whether they are Hollywood super stars, renowned scientists, or lowly journalists—will contribute a short, 10-second sound recording of their voice.
Relying on the thousands of people with Wikipedia entries to voluntarily submit voice samples is probably not the best strategy to improve Wikipedia as a resource, so the Wikimedia Foundation is also proactively seeking out voice samples through other programs such as the BBC Voice Project.
Working together with the British broadcaster, Wikimedia is hoping to add over three hundred voice samples to the online encyclopedia. Wikimedia says this is the first time the BBC has openly licensed content from its broadcast archives.
So far, 133 of the more than 300 voice samples have been uploaded by the BBC for insertion into Wikipedia articles. The BBC's contributions include samples from notable people such as the inventor of the World Wide Web Tim Berners-Lee, Sherlock star Benedict Cumberbatch, autho rJohn Updike, and Myanmar politician and Nobel Peace Prize winner Aung San Suu Kyi.
While Wikimedia is off to a good start with WikiVip, it has a long way to go before the majority of biography pages include a voice recording. At this writing, there were less than 200 voice recordings available on Wikipedia via the WikiVip project—you can find all the voice recordings on Wikimedia.org.