At a Glance
Expert's Rating
Pros
Very high TCP throughput—at least at close range
USB 3.0 interface and cradle
Internal and external antennas
Cons
Only average TCP throughput at longer ranges
Bulky and fragile when external antenna is attached
Expensive
Our Verdict
The Asus USB-AC56 delivers top-shelf performance, but it's also one of the more expensive 802.11ac Wi-Fi USB adapters you'll encounter.
Asus has been trouncing the competition with respect to wireless routers, and now it has the fastest 802.11ac Wi-Fi adapter, too. The USB-AC56 is a fancy devil, with the same glossy black diamond-plate texture that Asus routers have. In addition, the USB-AC56 boasts not just a tethered USB stand but also an oversize, hinged, detachable antenna that I thought would give the adapter a significant edge at longer distances. Imagine my surprise when it didn't.
Like most of the adapters in our latest roundup, the USB-AC56 has a WPS (Wi-Fi Protected Setup) button, so you can connect it to your router without having to remember the router's password. This was the only adapter I looked at that had a USB 3.0 interface, and it delivered the fastest throughput when the client was close to the router, reaching 404 megabits per second when the client was in the bedroom, 9 feet from the router. The second-place finisher—Netgear's A6200—was 23 percent slower, achieving TCP throughput of 310 mbps.
The Asus adapter proved to be the fastest of the test group when the client was in the kitchen, too. With the client and router 20 feet apart, the USB-AC56 achieved TCP throughput of 347 mbps. Netgear's A6200 was the second-fastest adapter at this spot—in fact, it was slightly faster here than it was in the bedroom, though the difference was less than 1 percent.
Given the size of the USB-AC56's antenna, however, I was surprised to see it land in fifth place when the client was inside the double-thick walls of my home theater. And it finished fourth when the client was in my home office, 65 feet from the router. But with data rates of 163 mbps and 213 mbps on those respective tests, the Asus adapter should have no problem streaming high-def video to any location inside the typical house.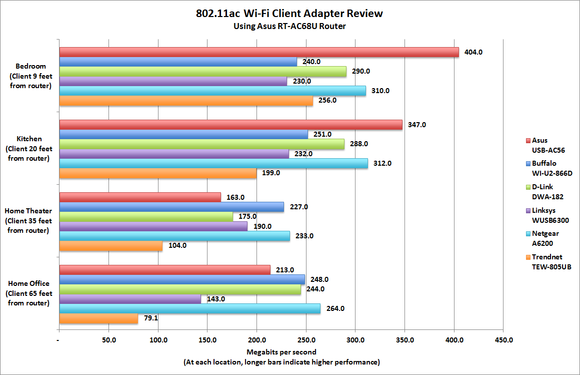 The USB-AC56 is a bit unwieldy, whether you use its external antenna or not (it also has an internal antenna, so the external one is not an absolute requirement). Without the antenna, the adapter will protrude about 3.875 inches from your computer's USB port. Remove the cap protecting the threaded antenna connection and attach the antenna, and that length extends to nearly 4.5 inches.
When you average each adapter's throughput at all four test locations, the USB-AC56 finishes first—but it's less than 1 percent faster than the second-place Netgear A6200.
Note: This review is part of a roundup of six 802.11ac Wi-Fi client USB adapters. For more, read the introduction to the roundup.