One of the unfortunate hassles of storing data in the cloud involves the time that data takes to synchronize. But with the improvements Evernote completed on Tuesday, that synchronization is now up to four times faster.
About a year ago, Evernote said, the online archiving service began a massive overhaul of its synchronization process, as the service ramped up from just a few servers to more than 700. The process was completed transparently, without any downtime, and without breaking third-party apps or requiring them to be upgraded, according to Evernote.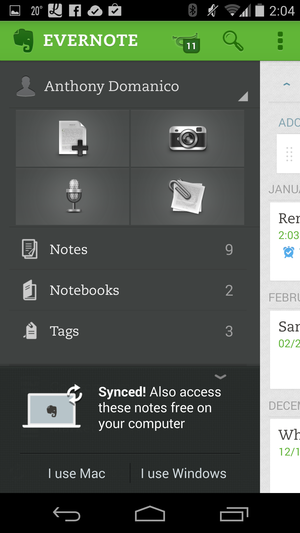 "Synchronization is now about 4X faster than ever before," Phil Libin, Evernote's chief executive, said in a blog post. "This applies to any version of Evernote that you use. Sync now often takes a couple of seconds to complete, and when you get a new phone or computer, downloading your notes will take much less time. If you have a small account, you might not notice that much of a difference. On the other hand, if your account is large, or you've been using Evernote for many years, or you share notebooks with other users, or your entire company uses Evernote Business, you'll see massive improvements."
Libin explained that the longtime employees of the company, with accounts dating back to the early days of the company, had seen the speedups, too.
Evernote also described the technical wizardry behind the upgrade: moving from hard disks to SSDs, and improving indexing via a master "sync index" table.
Although the sync improvements were made without the need to upgrade apps, that's the next step. "Next, we'll be upgrading all of our apps to take advantage of additional capabilities of the new sync architecture," Libon said. "This will make sync even faster. We'll also be updating our APIs and developer guidelines so our partners can turbo-charge sync, as well."
Libin also promised that the sync improvements will set Evernote up for "important capabilities that you'll see later this year."
Evernote boasts 80 million users, so fundamental upgrades like this should have a dramatic impact on the usability of the service. Have you noticed any improvements? let us know in the comments.