Move over, Google Now. Slide down, Siri. Make way for… an intelligent Yahoo Mail, powered by Incredible Labs' Donna app?
According to an Incredible Labs blog post, Yahoo purchased the assets of Incredible Labs, meaning that the seven-member app developer will be no more. Unfortunately, that also means that the Donna personal-assistant app for iOS will be shut down, leaving users in the lurch.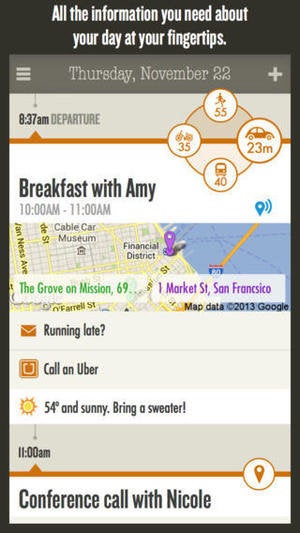 "We can't begin to express how thankful we are for your support throughout this journey," the Incredible Labs team wrote. "What we've accomplished thus far is just the beginning and we hope you stick with us through the next chapter."
As impressive as personal digital assistants like Google Now are, Donna arguably offered similar or even better functionality. As the screenshot indicates, Donna not only provided information about upcoming appointments, how to get there, and what time to leave, but added contextual information such as the weather and even offered to send a text if you were running late. Additional capabilities included dialing into scheduled conference calls. The app only worked with iOS 7, however.
Now, apparently, it won't work with anything. "Following closing, Donna will be removed from the app store and discontinued as a service," the Incredible Team wrote.
Five of the seven team members will be joining Yahoo Mail, a spokesman for Yahoo told TechCrunch, where they'll presumably add the same sort of contextual information to calendar appointments made via Yahoo Mail. Whether or not they'll be able to keep Yahoo Mail up and running and avoid hacks probably isn't their responsibility.