Yahoo reported a 6 percent drop in revenue for the fourth quarter, as sales of its display and search ads dropped compared to last year.
Revenue for the quarter ended Dec. 31, 2013, was $1.266 billion, down 6 percent compared to the same period the previous year, Yahoo said Tuesday. Excluding traffic acquisition costs, revenue was down 2 percent, though in line with the expectations of analysts polled by Thomson Reuters.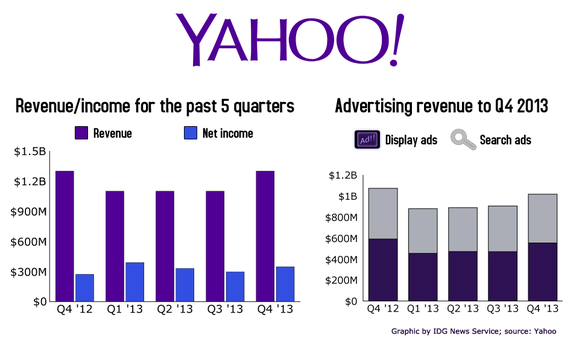 Yahoo's net earnings for the quarter rose by 28 percent to $348 million, including a $49 million net gain from the sale of patents. GAAP earnings per share were 33 cents.
For the full year, Yahoo's total sales also dropped by 6 percent to $4.68 billion, the company reported. Yahoo's net earnings for 2013 were $1.366 billion, a 65 percent drop compared to 2012, when Yahoo reaped big rewards from selling a chunk of its shares in Asian e-commerce giant Alibaba.
Yahoo has struggled in recent years to grow its digital ad sales while competitors like Google and Facebook have made gains in those areas. Since Marissa Mayer took the helm as CEO in 2012, she has aimed to make Yahoo cool again with a string of redesigns, acquisitions and some high-profile hires like TV personality Katie Couric. Some of those moves, like Yahoo's acquisition of Tumblr, may have netted the company more users and more developer talent, but not yet an upswing in advertising sales.
Yahoo's investments and its products, which now include revamped versions of Flickr and Yahoo Mail, have helped to establish "a strong foundation for revenue growth," Mayer said Tuesday in the company's earnings announcement. "I'm encouraged by Yahoo's performance in Q4 and 2013 overall," she said.
But for the fourth quarter, Yahoo's performance in the area of digital advertising was not stellar. While the Internet company reported some increases in the number of ads sold, the money Yahoo generated from those products dropped.
In display, the number of ads sold increased by roughly 3 percent (excluding Korea, where Yahoo shuttered its business at the end of 2012), but display ad revenue dropped by 6 percent to $553 million, Yahoo reported. Over the past year Yahoo has tried to energize its advertising business, partly by introducing "native" ads to some of its properties.
Meanwhile, Yahoo also reported a 17 percent increase in paid clicks in search ads, excluding Korea. The price per click, however, dropped by about 3 percent (excluding Korea), while search ad revenue also fell by 4 percent.
Shares of Yahoo stock were trading at $38.22 after the market close on Tuesday, up slightly from closing at $36.65 on Monday.
Mobile machinations
One way Yahoo has sought to attract users, and ultimately boost ad sales, is by revamping its mobile properties. That approach seems to be working to add users. During a webcast to discuss the results, Mayer said in the fourth quarter the company increased its monthly users on mobile to roughly 400 million. That represented approximately half of Yahoo's overall network of 800 million users, she said.
Yahoo also nearly doubled its revenue from mobile products last year, Mayer said, although she noted that the amount was still "not material" to the company's business. In 2013 Yahoo released new versions of its sports, finance and weather mobile apps, among others. Over the next year, the company plans to figure out ways to better monetize those sorts of products.
Stream ads, which are designed to blend into users' regular content streams, are a primary driver of revenue on mobile, Mayer said.
Yahoo also seeks to make more money from social networking, where it is a bigger player now as the owner of Tumblr. The blogging site began placing sponsored content into users' feeds this past April. The revenue Tumblr generated in the latter half of 2013 was not material to Yahoo's total sales, Yahoo's chief financial officer, Ken Goldman, said during the earnings call.
However, "we are hopeful that in 2014, it will be an important element in our revenue," Goldman said.