Something very interesting is going on at Nokia: The company apparently believes that the look, feel, and underlying services of the Microsoft Windows Phone operating system may be more important than, well, the OS itself.
According to reports, Nokia is finalizing development on "Normandy," the code name for a low-end Android phone. Reports published this week say that the phone will be marketed as the Nokia X, but built upon much the same hardware platform as the Lumia 520, Nokia's cheapest Lumia smartphone. Not surprisingly, representatives for Nokia declined to comment.
But screenshots from Twitter leaker @evleaks reveal a surprise: an Android UI that's much closer to Windows Phone in form and function, rather than the typical Android layout of carefully organized icons. Instead, if the screenshots are accurate, the Nokia X will feature icons that nudge up against each other, Windows-Phone style. The leak shows a mix of apps: Nokia's own HERE maps, Microsoft's Skype, plus games like Jetpack Joyride and Plants vs. Zombies.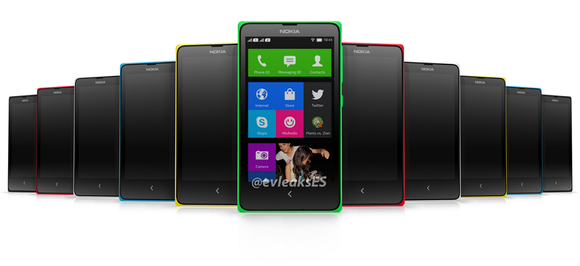 The operating system is Android. But the user interface is "Windows Phone." The data is owned by… well, that's a bit unclear at the moment. But the Nokia X's design philosophy appears to be a provocative one: What's running on top of the operating system is more important than the operating system itself.
Entry-level investment
Reportedly, Normandy is based on a fork of the free, open-source Android OS, offering Nokia an entree into the Android ecosystem without the constraints that Google might place on the company. @evleaks suggests that the Nokia X/Normandy will be an entry-level phone:
Nokia X: 2 x 1GHz Snapdragon, 4" WVGA, 512MB / 4GB / microSD, 5MP, 1500MAh, Nokia Store + 3rd party, dual-SIM, 6 colors.

— @evleaks (@evleaks) January 28, 2014
Amazon tried this strategy, too: Its Kindle tablets use their own version of Android, offering moderate performance at competitive prices. Amazon then rakes in the rest of its profits over time, capitalizing on transactions from its online store.
The Nokia X might not follow directly in Amazon's footprints, but the company apparently sees value in capturing a user's data inside the Windows ecosystem and monetizing it later. Once a customer has committed his or her data to the platform, they may naturally upgrade to a "full" Windows Phone experience.
According to Charles Golvin, formerly with Forrester Research and now an independent analyst, when consumers purchase a modern smartphone, they essentially invest in it in four ways. First, there's the hardware and the price paid for it. Second, consumers invest their data, everything from the address book to documents stored in the cloud. Third, consumers invest their time, learning the most productive ways to navigate the user interface and their data stored within it. And finally there's the social element, connecting users within the same ecosystem to one another.
Aside from the social aspect—Nokia lacks a social network, and Microsoft's social play, So.cl, is barely breathing—Golvin's investment thesis nicely justifies the Nokia X's development.
Welcome to the Microsoft cloud
The phone's leaked specifications suggest a low-cost, entry-level phone, with a minimal barrier to entry. That's a plus. And we also know that Nokia has invested in developing an emerging market strategy around its third-world Asha phones—which, to be fair, have struggled. Nokia's recent fourth-quarter report noted that sales of its mobile phones had fallen "due to increasingly lower price points and intense competition at the low end" of its product portfolio. So Nokia needs a low-cost phone to entice customers, but more than just price to keep them in the fold.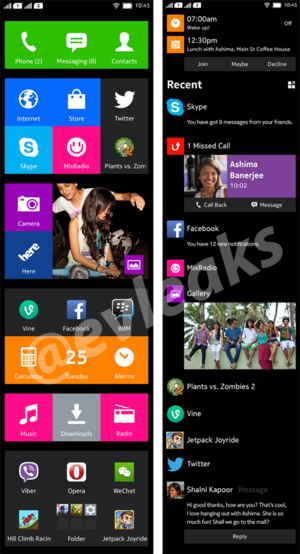 What the Android-based Nokia X offers the Windows Phone ecosystem is a path into Microsoft's cloud services. Microsoft already offers Android versions of SkyDrive, Outlook.com, Skype, Bing, and Office Mobile. And as most users know, once the data is inside those services, it's much easier to stick with them than to export and upload that data to a competing service, and start fresh.
If you take the @evleaks as gospel, however, Nokia hasn't given itself over completely to that philosophy. What the screenshots reveal is a rather neutral selection of services: The only Microsoft-owned service that appears is Skype. A missed opportunity? A screenshot that doesn't represent the default configuration? Or Nokia just playing it safe? Possibly a bit of all three. If Nokia, and later Microsoft, don't supersaturate the mix with Microsoft services, they're missing the boat.
(Nokia will have to be careful, however, so as not to risk the ire of Google. Reports have said that Google will tolerate tweaks and forks of the Android OS. But try and replace Gmail, for example, and Google could dig in its heels.)
Not a perfect solution, by any stretch
But it's the UI that, if "Normandy" is real, will grab headlines. This isn't quite Windows Phone, obviously. While the layout is decidedly Microsoft-inspired, it's not clear whether Android can emulate the urban energy of the constantly-refreshing Live Tiles. The Normandy UI is essentially "training wheels," helping customers bridge the gap between Android and Windows Phone.
As Golvin notes, there's some value in learning the look and feel of a UI. I'm simply not sure that Nokia can mimic Windows Phone closely enough with Android to allow customers to benefit from that experience.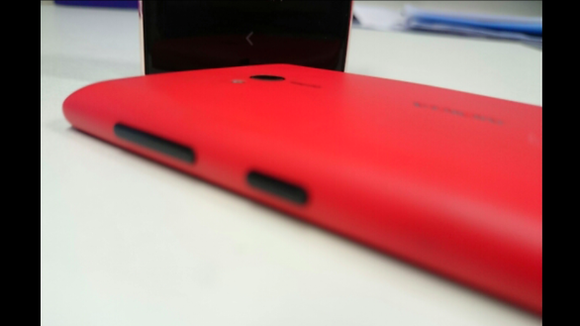 But what's the real reason for layering the Windows Phone UI on top of Android? Apps.
The Windows Phone app market still struggles, especially in comparison to Android. But if Microsoft can capture most of the data—email, searches, documents, among others—it can cede some of the less-important applications to the Android platform. Let's face it: Even the most devout Windows Phone enthusiast probably wouldn't mind a bulletproof YouTube app, for example, or the ability to use Snapchat or WhatsApp.
Normandy likely wouldn't be a bulletproof solution. Location data, presumably, would be still fed to Google, and it's unclear whether the phone would still require establishing a Google profile. So much of this is still speculation.
Nor am I in love with the Normandy's design, which looks like a 16-bit take on the Windows Phone interface. We also don't know for sure whether the leaks are accurate, if Nokia will ever bring the phone to market, and whether Microsoft views an Android-based Windows Phone UI as a bridge or an abomination.
But whether the Nokia X exists as a product or only as a concept, it's still an intriguing experiment in rethinking priorities. And that might be one way of marketing the phone: as a low-key experiment, or perhaps a "hobby," like the Apple TV.
Microsoft's gone down this road before. Microsoft pitched the Kin, a direct descendant of the Danger Sidekick, as a phone for the hip, connected consumer: taking pictures, storing them in the cloud, and sharing them with social networks. On paper, the phone was ahead of its time. In reality, the Kin's subpar hardware lagged badly, and polling social networks for updates every 15 minutes simply undermined its premise.
The Nokia X would likely fail as well, if launched as a mainstream smartphone. Under the harsh light of the tech press—"it's a knockoff Windows Phone!"—the phone would surely wither.
Reports claim that the Nokia X will be unveiled at Mobile World Conference in a few weeks' time, one drop in a flood of smartphones. That's fine. Experiments like the Nokia X deserve a little time in the shade to establish themselves.
The Nokia X won't change the world. Microsoft won't hitch it to the future of Windows Phone. But convince customers in Eastern Europe and Southeast Asia and South America to adopt it, and Nokia and Microsoft may just establish themselves as the favorite platform of the next-next generation of smartphone buyers.