At a Glance
Expert's Rating
Pros
Attractive industrial design
Bright, responsive high-res touchscreen
Cons
Mediocre benchmark performance
Mechanical hard drive
Flimsy, unevenly backlit keyboard
Our Verdict
Dell's Inspiron 14 7000 series notebooks perform much less impressively than they look.
Dell's Inspiron 14 7000-series laptops are sexy-looking beasts boasting forged-aluminum, beveled-edge chasses; 14-inch Gorilla Glass touchscreens; and backlit keyboards. But the absence of an SSD (as a cache or otherwise) has a significant impact on their performance.
These machines look like Ultrabooks, but they're not being marketed as such. Intel controls that standard and while it doesn't explicitly state that a notebook must be equipped with an SSD to carry the Ultrabook moniker, the Ultrabook definition requires a notebook to operate in standby for at least seven days, and awake from standby with fresh data in less than three seconds. The Inspiron 14 7000 series (I reviewed the Model 7437) can't do that with a mechanical hard drive, and it can't be configured with one at time of purchase.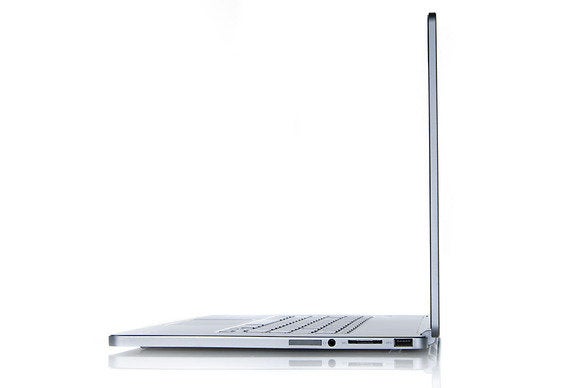 Apart from the absence of an SSD, this $850 laptop has a number of good components under the hood, including a fourth-generation Intel Core i5-4200U processor and 6GB of DDR3/1600 memory. But its 500GB mechanical hard drive spins its platters at only 5400 rpm, and its Intel Dual Band Wireless-N 7260 Wi-Fi adapter can connect only to 802.11n networks at a maximum physical link rate of 300 mbps. You'll need a USB adapter if you want to network at 802.11ac speeds.
The Inspiron 14 produced a generally unimpressive Worldbench 8.1 score of 132. That renders Dell's machine 32 percent faster than the Asus VivoBook S550CA that we've been using as a reference point, but leaves it far behind the consumer-oriented Lenovo Flex 14 (which has an SSD) and slightly behind the business-oriented Toshiba Tecra Z40 (which has a 7200 rpm mechanical drive).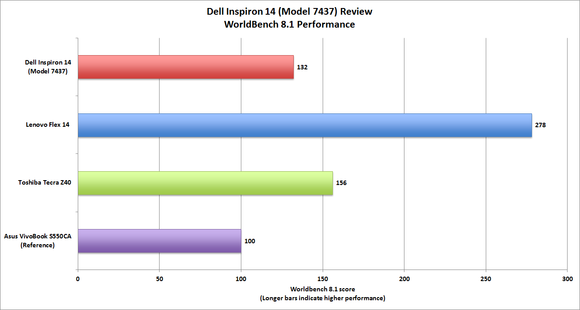 Looking at gaming performance—specifically, BioShock Infinite at resolution of 1024 by 768 with low visual quality—the Inspiron 14 slightly outperformed the Lenovo and the Toshiba, even though all three machines rely on the same integrated graphics processor (Intel HD Graphics 4400). It's no gaming powerhouse, but it's fine for less-demanding games like World of Warcraft.
The Inspiron's 14-inch touchscreen is bright, beautiful, and clear, with excellent color accuracy, deep blacks, and crisp text and images. HD video looks very good on the Inspiron's display, too. I noticed just a few artifacts in high-motion scenes. The touchscreen is smoothly responsive to multi-touch gestures, and the edge-to-edge glass allows for Windows 8 gestures to be performed quickly and easily.
The Inspiron 14 doesn't have the most powerful speakers, but they sound better than most laptop speakers. They're mounted on either side of the chassis, and they deliver just the right mix of bass and treble.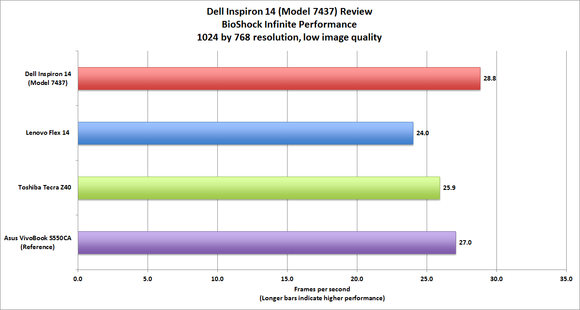 I did notice some anomalies in the Inspiron 14's otherwise excellent industrial design. The chassis is much wider than necessary to accommodate a 14-inch display, with an unusually wide bezel at the sides and bottom of the display and more than an inch of dead space on the left and right sides of the keyboard. The island-style keyboard sits dead center in the chassis, a placement that renders the wrist rest cramped and uncomfortable. And why are the top row of function keys so tiny—they're less than 0.25 inches tall—when there's two inches of unoccupied space right above them?
The keyboard deck itself is flimsy—aggressive keystrokes cause the whole thing to sink slightly—and the flat keys provide very little tactile feedback. The aforementioned backlight provides very uneven illumination, giving the keyboard a marbled look. The touchpad, on the other hand, is quite good, providing swift, accurate movements and mostly smooth multi-touch gestures.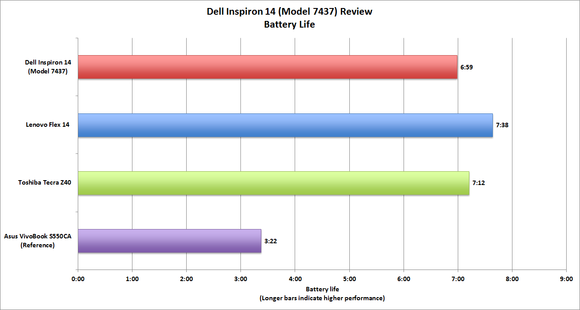 I'm a sucker for thin, pretty laptops that deliver great battery life, and the Dell Inspiron 14 7000 Series certainly fits that bill (although it's not particularly light, weighing in at 4.4 pounds). Since my computer life revolves around word processing, browsing the web, and watching the occasional online video, this model's mediocre benchmark performance isn't a showstopper.
You'll need to decide for yourself if that—or its $850 price tag—are showstoppers for you. Lenovo's Flex 14 costs $100 less, but it has a lower-resolution display and isn't nearly as pretty. Toshiba's Tecra Z40 costs considerably more, but its CPU has Intel's vPro management feature set and it's more than a full pound lighter.