Synaptics executives say that they plan to build the fingerprint sensors that made Apple's latest iPhones famous directly behind the glass of Android and Windows smartphones, removing the need for a dedicated hardware button.
In October, Synaptics acquired fingerprint ID provider Validity for $255 million, giving it an entree into the fingerprint identification market that had, for years, languished in relative obscurity. With the iPhone 5 that Apple launched in September, however, biometric sensing to unlock the phone via fingerprint suddenly became the hot new thing.
In fact, one report released Tuesday claims that the Samsung Galaxy S5, expected to be launched in Barcelona at Mobile World Congress, will include an Apple-like fingerprint sensor.
Apple internally developed its fingerprint-sensing technology, based on work done by Apple engineer Wayne Westerman and Fingerworks, which Apple acquired in 2005, according to Macrumors. But it placed the sensor behind the home button, apparently both for convenience and for security, so that the "elements of the fingerprint recognition sensor are not immediately visible to the user," according to a November patent application filed by Apple.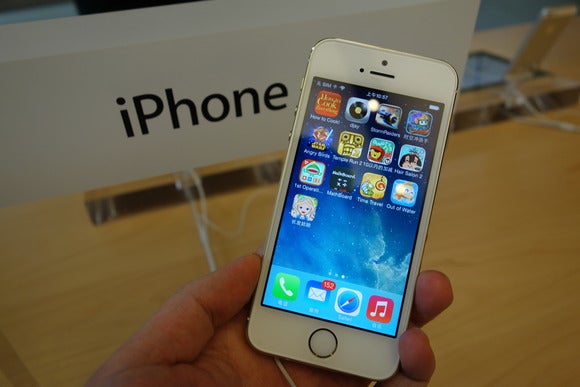 The problem with that approach, is of course, the need for a dedicated home button. With many Android and Windows phones either shrinking or eliminating hardware buttons altogether to minimize the otherwise-unusable bezel, carving out a dedicated space for fingerprint recognition is simply not possible.
A "soft" fingerprint sensor
What Validity plans to offer is a clear sensor that can be placed directly under the LCD glass. Instead of actually creating a dedicated hardware button, an operating system could simply draw a box on the screen for a user to touch with his finger or thumb, according to Andrew Hsu, director of concept prototyping at Synaptics. (A year ago, at the 2013 Consumer Electronics Show, a Samsung Android phone was demonstrated which included a fingerprint sensor underneath its screen. Biometric Update reported. Users could log in with a simple swipe of their finger.)
According to Hsu, Synaptics plans to be the independent supplier of fingerprint recognition technology to the remainder of the industry, including vendors of Android and Windows phones. Synaptics first launched what we now call touchpads in 1995, and its capacitive touchpad technology is now used by most notebook PC manufacturers.
"The motivation to acquire Validity was that they were a very complementary fit with Synaptics," Hsu said. "Their underlying sensor technology is actually capacitive-based as well, and we believe their approach has benefits that, in the long run, could outshine even Apple's implementation.
"The key one being is that the sensor is not on the chip itself," Hsu added. "So what that means is that there's a separate printed circuit, that has the sensors, that then run into a chip. There's two advantages of doing that. The first is just chip size: You can get a bigger sensor without necessarily growing your chip. With a chip-based sensor, the electrodes are on top of the chip, so to get a bigger electrode array, you've got to have a bigger chip."
The implication is that Apple's sensor will always be tied to the chip itself, while Validity will work to separate the sensor and the chip itself. Validity is also moving closer to a clear sensor that could sit behind the smartphone glass. Hsu also said that the Validity technology can probe past the outer layer of skin, as Apple's sensor can, using internal skin features that can't be marred by cuts or dirt.
The future is clear
"There's a lot of clear electrode technology that we're investigating as part of the ongoing materials science investigation that we do for our touchscreens, that we're investigating thinner processes and thinner electrode material," Hsu said. "So that would lend itself to a clearer fingerprint sensor that you wouldn't be able to see over a piece of glass over a display. Contrast that with a chip-based one, where you'll always see the glass if it's exposed because the electrodes are right there."
But when will Validity be able to manufacture a sensor embedded in a clear substrate? "I think we're getting closer, let's just say that," Hsu said. "I think you'll start seeing announcements as it gets closer."
If tradition holds, the next generation of non-Apple smartphones usually attempts to assimilate its latest innovation. KGI analyst Ming-Chi Kuo, for example, believes the Galaxy S5 will include a sensor of some kind. And as for Apple? As AppleInsider notes, Apple has also filed a patent for embedding a fingerprint sensor behind the LCD, implying that future smartphones—from Apple, Samsung, or other vendors—may include fingerprint sensors as readily as ambient light sensors or gyroscopes.