At a Glance
Expert's Rating
Pros
Durable glass-fiber chassis
Hot-swappable battery
All the I/O ports you could ask for
Cons
Disappointing 1366 by 768 display
Keyboard not up to ThinkPad standard
Weak speakers
Our Verdict
The solidly designed Lenovo X240 Thinkpad features fourth-generation Intel Core processors and hot-swappable batteries. But its display resolution of just 1366 by 768 is disappointing at this price point.
If Lenovo's spendy ThinkPad X1 Carbon is the laptop every corporate drone craves, Lenovo's thrifty ThinkPad X240 is the laptop their employer is more apt to spring for (assuming, of course, that the company's IT department has standardized on Lenovo and not Dell, HP, Toshiba, or some other commercial laptop builder).
You might think the ThinkPad X240 is too thick and too heavy to qualify for Ultrabook designation, but it's only 0.79 inches thick and it weighs just 3 pounds. And there's a very good reason why the X240 doesn't taper to a knife edge like the X1 Carbon does: The X240 is outfitted with two batteries and a battery bridge that enables you to swap a depleted battery for one that's fully charged without turning the machine off. That's slick.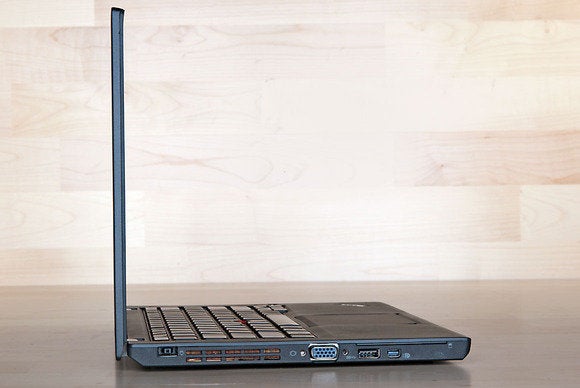 PCWorld's Worldbench suite rewards laptops equipped with SSDs—the configuration reviewed here includes a 256GB model—but the X240's score of 282 leaves it slightly behind Dell's XPS 12 Ultrabook Convertible (which has the same dual-core CPU) and Samsung's Ativ Book 7 (which is powered by a third-generation Core i5-3337U, another dual core). This is a little surprising considering that the ThinkPad had twice as much DDR3/1600 memory: 8GB versus 4GB in the Dell and the Samsung.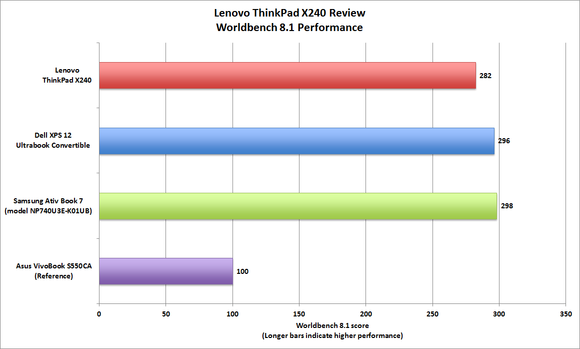 The x240 packs a fourth-generation Intel Core processor, so you can expect strong battery life. Our eval unit came with a Core i5-4200U, but you can make other choices when you place your order. The three-cell battery in this one ran for 6 hours and 26 minutes, which is typical of Haswell-powered notebooks, but Lenovo also offers an optional six-cell battery that should run much longer than the average workday. That large battery will add weight and about a half-inch of thickness to the X240—it will protrude from the bottom rear of the laptop.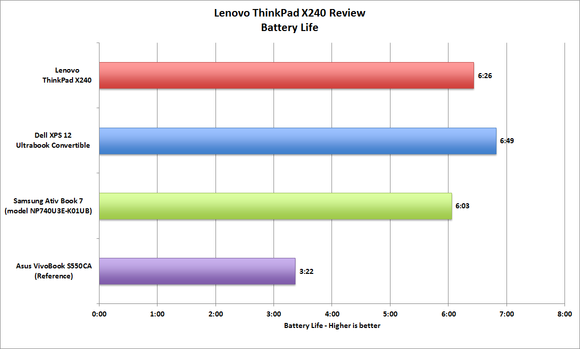 The X240 has a number of I/O ports you won't find on the 2013 X1 Carbon, including a gigabit ethernet port, a smart card reader, 34mm Express card socket, a VGA port, an always-on USB 2.0 port, and a docking port on its bottom. Like the X1 Carbon, it also has two USB 3.0 ports, a mini DisplayPort, an SD card reader, and a fingerprint reader (an included option our eval unit).
You can also order your machine with several different 12.5-inch displays, but I recommend staying away from the 1366-by-768 touchscreen I evaluated. It's a bright IPS panel that's very responsive to touch, but it looked fuzzy and grainy to my eyes. Place it next to a laptop with a 1920-by-1080 display and you'll experience severe pixel envy. Ordering one for this machine will add $330 to its $1555 price tag.
I was also a little disappointed in the X240's backlit, island-style keyboard. I've used a number of Lenovo keyboards, and this one just doesn't feel as nice (for lack of a better term). The spacebar has an oddly stiff feel that made me miss-tap it frequently, and the key spacing didn't feel as comfortable. It's not a terrible keyboard, but it's not as outstanding as I've come to expect from a ThinkPad.
TrackPoint fans will still find the nubby red dot in the center of the keyboard, but the dedicated buttons are gone. You'll need to depress the whole glass trackpad and hope your finger is in the right zone (there are five) to get the type of click you want. I found middle clicks especially hard to hit accurately. Speaking of the one-giant-button trackpad, it depresses easily and quietly. Its generous size enables you to make the most of Windows 8's multitouch gestures, but I ran into a few frustrating moments when it registered two-finger scrolling when I only had one finger down. Apart from that, I found it to be smooth and responsive for navigation.
If you're looking for a workhorse laptop with incredible battery life, Lenovo's X240 is a solid choice. Its graphite-black chassis won't turn heads, but it will help you travel light and get a lot of work done. Just think hard before you order one with the 1366 by 768 touchscreen. This machine deserves better, and so do you.