Just how fast is your PC? Is your laptop's battery up to snuff? Benchmarking software can help provide answers. Once the province of PC builders and tuners, various benchmarking packages are now available to mainstream users as well—though it still helps to have some knowledge of your PC's innards to reap the greatest benefits.
The packages covered here can get the job done for free, and in many cases, you can get more by upgrading to a paid version. PCWorld uses its own lab-built benchmarking suite, Worldbench 8.1, but programs in the following list can offer benefits to folks who don't have access to professional tools.
PCMark 8: The benchmark to beat
PCMark 8 is the mainstream benchmark to beat. The new version (2.0) offers full Windows 8.1 support, and for mobile tech it adds a battery-testing module. This is on top of the gaming, content creation, mobile use, and home and office benchmarks that are also available (depending on the version). More than any other benchmarking suite, PCMark 8 paints a comprehensive picture of your PC.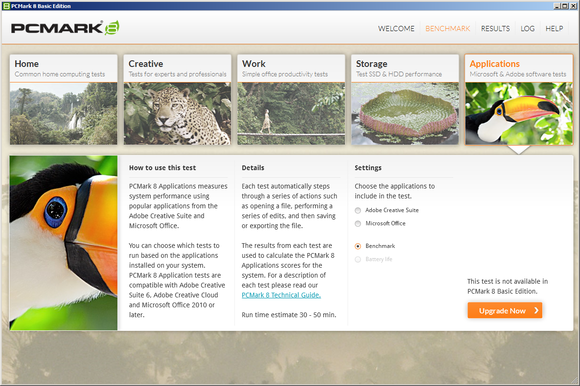 The free version give you access to the home, work and creative tests, while the $49.95 Pro version opens up the battery, storage and application tests, along with better control over individual testing options.
Both synthetic code and open-source productivity applications are used to derive results, so no matter where you stand on benchmarking methodology, PCMark has you covered. The applications test uses your preinstalled MSOffice and Adobe Creative Suite to perform real-world productivity tests. While this is impressive in terms of realism and relevance, it also means that you'll need to have those pricey packages installed to get a full set of figures. Fortunately, Futuremark allows partial installs to generate usable, if incomplete, results.
Note that big changes to the benchmark code mean that you can't compare results from this version with those of previous versions. A compatibility toggle exists in the paid version for historical comparison.
The two problems Futuremark didn't fix with version 2.0 are download size and run time. PCMark 8 is a whopping 3 GB download. On Wi-Fi-bound systems like Microsoft's Surface Pro, just getting the installation files on the SSD is a time-consuming chore.
At least tests are served up with estimates for the time required to complete them. Take heed: One of PCMark's shortcomings is its leisurely pace. A full run on a slower machine could take up the better part of a workday.
Catzilla: Benchmarking as good, clean fun
Catzilla may seem like a novelty benchmark, but it has an impressive pedigree. The development team sports some heavy hitters, including Platige Image, the studio behind the animation seen in The Witcher. JJ-Abrams-style camera tricks and hipster humor aside, Catzilla goes the extra mile and gives your system an honest workout while also entertaining you. The proceedings can't help but elicit a chuckle.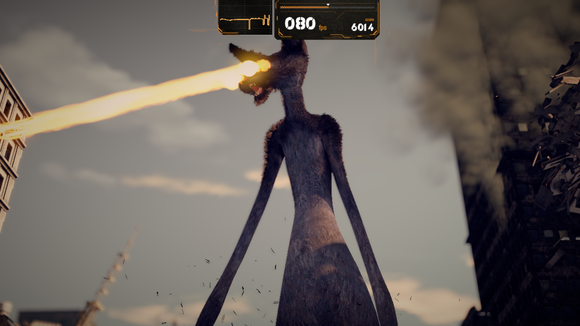 The interface is big on splash but also organized logically. Selecting tests is easy, with available benchmarks viewable at a glance.
Even hardware-hungry Catzilla makes some concessions for a mobile world, with a 1024×576 low-resolution mode especially suited for Ultrabooks. That such a performance-focused gaming benchmark takes pains to include modes for mobile graphics chipsets says a lot about where hardware design priorities are headed.
Catzilla has a tiered pricing structure. The lowest of the three levels is free with registration and includes 720p resolution and all of the important options. Custom settings allow adjustments to visual quality, number of threads, API, and audio.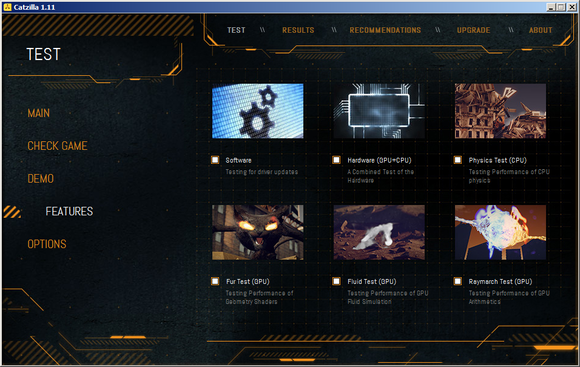 Basic and advanced levels increase the resolution and include online community ranking boards. Best of all, those versions are just a few bucks more than free (think phone-app pricing). The only shocker is reserved for the professional version: It includes scripting and technical support services, and it costs $899. I hope you like cats.
Hyper Pi: Solid stress test, minus some style points
Hyper Pi is primarily a mathematical test tool to figure the value of pi to a desired number of digits, but it moonlights as a CPU and memory stress test, making it a favorite with system builders.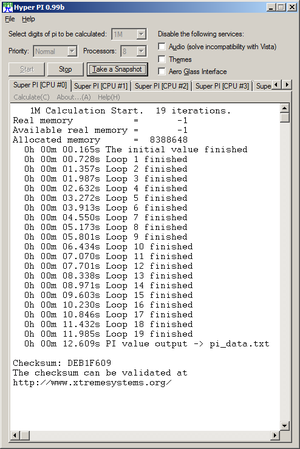 Using the Super Pi engine to perform calculations, Hyper Pi threads multiple instances, all the better to strain multi-core CPUs to their limits. It also hammers hard on memory access, which makes Hyper Pi the tool of choice when those high-speed DIMMS arrive.
What you won't get with Hyper Pi is style points. Hyper Pi's tiny size and run-anywhere ability make it well suited for laptop use, but the Windows-XP-style interface is stodgy. Feature names tend toward jargon, such as process priority and number of threads. Stopping the tests can take a moment, as the interface doesn't immediately respond to commands while the system is processing at full-tilt.
Like all stress-test-oriented benchmarks, you should take care when you let this code run free. Most CPU and GPU cooling systems aren't designed for the workloads stress-testing places on them. This isn't a problem for short-duration, score-style benchmarks, but longer-cycle stability tests could cause failure if components have inadequate or damaged cooling systems—and that includes a dust-choked fan or blocked case vent!
Phoronix Test Suite: Great for Linux lovers
Phoronix Test Suite is not a benchmark itself, but a framework that lets you to tap into a library of 130 benchmarks and 60 suites, along with external benchmark programs via an extensible scripting architecture. Third-party software like Unigine's Heaven, for instance, can be leveraged by Phoronix's automated process.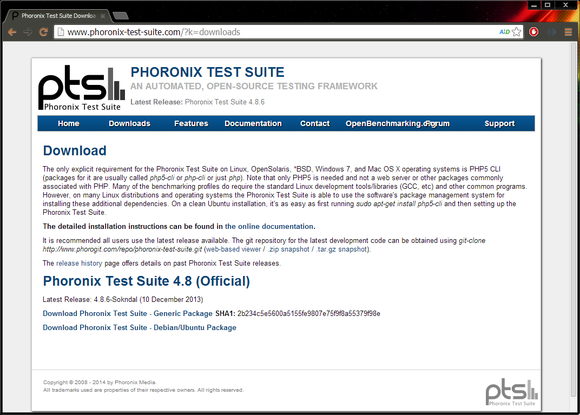 It's also distinctive for being primarily a Linux package (Windows executables are available), brushing off such niceties as an installer, comprehensive GUI or friendly documentation. There's nothing quite like it in Windows, however, so it's worth a peek if you enjoy tinkering with benchmarks or have an affinity with the Unix way.
This package takes itself seriously, and the feature list reflects that commitment. Full batch processing is the name of the game.
Phononix can see the writing on the wall, however, and mobile support is coming with version 5. Both iOS and Android variants will follow. Also coming with 5.0 (according to leaked screenshots) is an HTML5 web management interface that brings a bit of GUI goodness to a largely command-line package.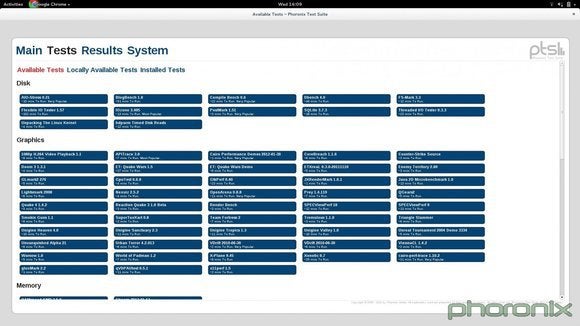 Phoronoix provides system-monitoring tools. A syntax of 80 commands allows complex, multi tiered benchmark scripts to be run across several networks simultaneously, and the results can boil down to a single set of reports. Visual and numerical results are supported for graphics tests. Just don't expect much handholding. Until version 5, you're pretty much on your own.
Passmark Performance Test: Mobile is missing
Passmark's Performance Test has come a long way from its prior version. It now has a more sophisticated interface, streamlined code, and a few new tests to keep up with the times, including full DirectX 11 and OpenCL compute benchmarks.
Old tests return with refined algorithms, and bugs from previous versions have been quashed. A rotating 3D motherboard displays a representational view of your components. Clicking on one produces a screen with the relevant information about the part.
Tests run quickly and reflect hardware changes well, making this a good tuning tool. Comparison data is diverse. Benchmarking modules cover the same areas as version 7, with most new additions in the 3D-graphics module.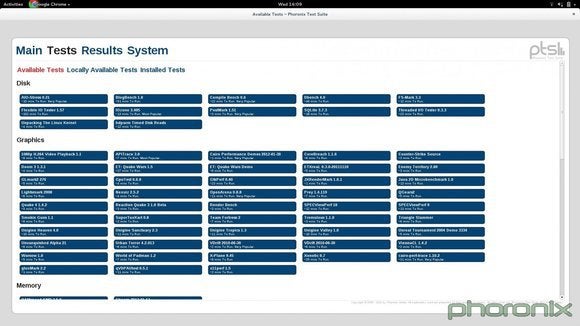 While some other benchmarks here look toward a mobile future, however, Passmark resolutely remains a desktop-oriented application. This leaves laptop users in the dark about battery life, voltages, and other issues—limiting the appeal of Passmark's offering.
Performance Test 8 retains value as a jack-of-all-trades utility and a supplemental source of benchmarking data. Passmark just needs to put some laptop love into the next version.
CPU-M: Free isn't always cheap enough
Sometimes when you tweak and tune, a quick, simple number is all you need for a performance reference. There are several good tools on the PC that work admirably in this role, but all share one problem: None of them is free.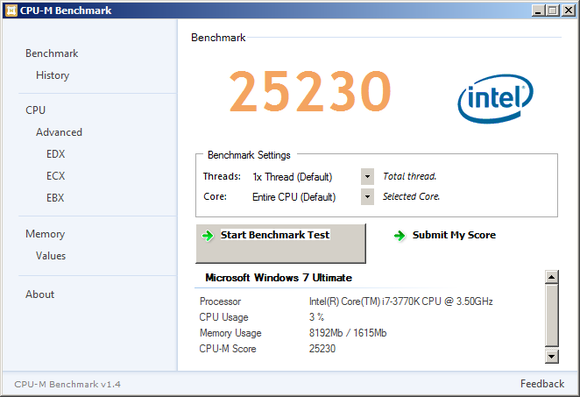 CPU-M attempts to horn in on this turf with its own lightweight tool, perfect for systems of all sizes and sporting the lowest price of all: free.
In attempting to recreate the lean, simple benchmarks of yore, CPU-M presents the user with a few easy access tabs and a one-click, CPU-dominated benchmark test. The vibe is right, but it fades fast. Button and interface glitches abound, and the sparse documentation feels like neglect rather than simplicity.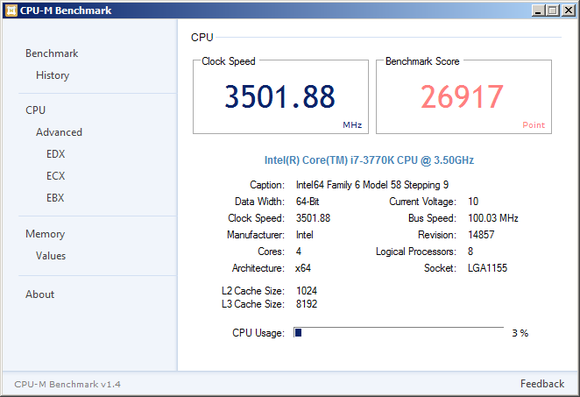 Moreover, access to that lone benchmark number sits behind no fewer than seven attempts at ad-ware and toolbar-style installation during initial setup. That was a record for me, hopefully one I won't see broken. For that alone, this one is a pass. How can you trust software that tries to rip you off before you even install it?
Benchmarks stay one step ahead—or else
Good benchmark software stays ahead of the hardware curve, so it's not hard to see what's coming down the road. Leading packages like PCMark 8 and Catzilla offer friendly (or even fun) interfaces, making them more appealing to mainstream users. And as laptops slowly replace desktops, even for gamers, you'll see more battery-life tests and other mobile-focused features. For most users, the best packages balance broad feature sets with a reasonable resource burden—and don't make you jump through a lot of hoops to get results.