At a Glance
Expert's Rating
Pros
360-degree hinged touchscreen
Pressure-sensitive Wacomn stylus
Rugged enclosure
Available docking station
Cons
Display choices top out at 1920 by 1080
So-so battery life
Thicker and heavier many of its competitors
Our Verdict
This business-oriented Ultrabook hybrid is a successful marriage of Yoga design and ThinkPad durability, features, and docking options.
The Lenovo ThinkPad Yoga isn't as slim or sexy as its colorful consumer-oriented sibling, the IdeaPad Yoga 2 Pro, nor does it have the Yoga 2 Pro's alluring 3820-by-1200-pixel display. But this hybrid Ultrabook checks all the must-have business feature boxes, as befits its place in the ThinkPad lineup. And it does so in typical Yoga style.
So what does the ThinkPad Yoga have that the "darn close to perfect" Yoga 2 Pro doesn't? Both models have touchscreens with 360-degree hinges, so they can be used in tablet, laptop, stand, and "tent" modes. ThinkPad Yoga adds business-oriented goodies such as a matte Gorilla Glass display, a tough magnesium-alloy case, a port for a desktop docking station, and that classic TrackPoint button in the center of its keyboard.
The ThinkPad Pro also has an innovative "Lift 'n Lock" feature that raises the frame surrounding its backlit keyboard so that it's flush with the keys when the laptop is in tent or tablet mode. This helps prevent damage from dirt and spills. Contrast that with the Yoga 2 Pro, which simply turns it keyboard off when it's flipped around.
Design and display
The Yoga comes in a pedestrian gray case with rounded corners, unlike the sleek tapered design of the Yoga 2 Pro. It's not ugly, but where is it written that business laptops can't have sexy looks or come in a color scheme other than gray or black?
The main attraction of the Yoga line is the backflip hinge, which lives up to its promise. I flew cross-country twice during this review, and the "stand" mode, where the screen is upright with the keyboard flat on the table behind it, proved to be perfect for such cramped quarters. It's much more stable in bumpy airspace than tent mode. I could watch videos or use the touchscreen to surf.
But the ThinkPad Yoga is too hefty—it weighs 3.52 pounds—for extended hand-held tablet use. Stand mode, on the other hand, works fine even in your lap. The Yoga's hinges are great, not too stiff, and they hold the screen securely at any angle in both tent and stand positions.
Despite its clever lift-up keyboard, I just couldn't bring myself to place the machine in stand or tablet modes on the kitchen table or anywhere liquid or crumbs might get into the downward-facing keyboard. Twist-around displays, including Lenovo's own ThinkPad Twist, allow pretty much the same usage modes without the keyboard ever facing down. Sony's VAIO Flip and Dell's XPS 12 Convertible avoid this problem, too. On the other hand, these designs are not as rugged as the hinges on Lenovo's Yoga laptops.
The ThinkPad Yoga's 12.5-inch touchscreen delivers resolution of 1920 by 1080 pixels. Its matte finish performs better in sunlight and doesn't show fingerprints as much as the glossy one in the Yoga 2 Pro, but they do still show.
But the ThinkPad Yoga's secret weapon is the excellent pressure-sensitive pen it ships with. You can draw or take notes on the screen and avoid the fingerprint issue altogether. The stylus proved essential when using the mchine in tablet mode, because many interface elements are just too small for accurate fingertip navigation. You can use the pen to annotate PDFs, sign documents, and even snap screenshots.
That venerable red TrackPoint button is there for long-time ThinkPad devotees. I'm firmly in the touchpad camp, and I found the ThinkPad Yoga's five-button glass touchpad to be just average. It simply doesn't feel as good as the best I've used. The keyboard, on the other hand, is top-notch: responsive, tactile and fast to type on.
The ThinkPad Yoga also has the de rigueur 720p HD webcam in the touchscreen bezel. It worked just fine with Skype, but it's not great in low light.
Ports and dock option
The ThinkPad Yoga is slightly thicker (0.76 inches compared to 0.61 inches) and about a half-pound heavier than the Yoga 2 Pro, but it offers considerably more expansion options than its consumer-oriented stablemate. There's a OneLink/power socket, a USB 3.0 port, and a headphone/mic jack on the left side. The right side has a second USB 3.0 port, a 4-in-1 card reader, a mini-HDMI port, and a display orientation lock.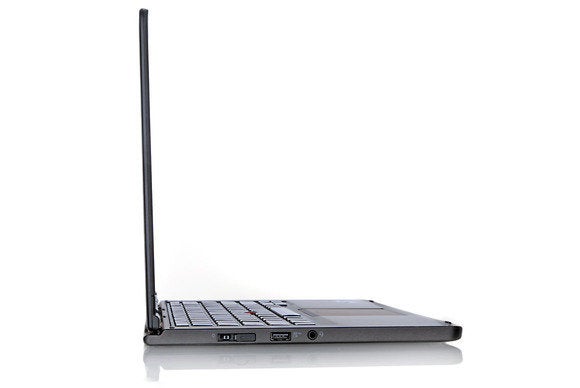 The OneLink port connects the laptop to Lenovo's optional OneLink Dock ($120), a vertically oriented port replicator with two USB 3.0 ports (one with always-on charging), two USB 2.0 ports, gigabit ethernet, a headphone jack, and an HDMI port.
The dock is a must-have for big-monitor junkies and peripheral collectors, and a major reason to choose the ThinkPad Yoga over the Yoga 2 Pro. Another reason is the option to outfit the ThinkPad Yoga with an Intel Wireless-AC 7260 card, as our eval unit was. The Yoga 2 Pro is currently available only with Intel's Wireless-N 7260 adapter. If you don't already have an 802.11ac router, one is likely in your future. They're considerably faster and deliver much better range.
Performance and battery Life
Our $1299 review unit was equipped with a fourth-generation Intel Core i5-4200U processor, 4GB of DDR3/1600 memory, and a 128GB SSD. It runs Windows 8.1 Pro. Other configurations are also available.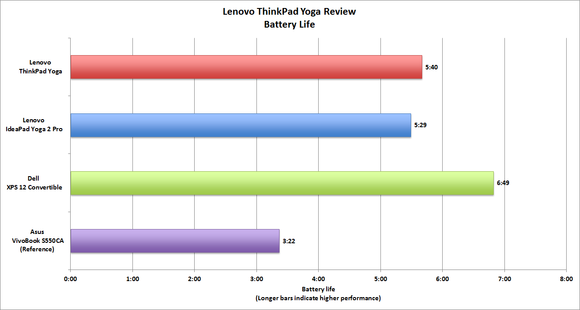 The ThinkPad Yoga delivered a Worldbench 8.1 score of 287, which is typical of this category. In fact, it's identical to that of the Yoga 2 Pro we reviewed (which was outfitted with the same CPU, memory, and SSD).
Battery life came in at a so-so 5 hours and 40 minutes, which is slightly better than the Yoga 2 Pro's 5:29, but more than an hour less than Dell's comparably priced and similarly equipped XPS 12 Convertible, (although the XPS 12 doesn't have that useful pen digitizer).
Business users will appreciate the ThinkPad Yoga for its rugged design, double-jointed hinge, versatile dock, better-than-average performance, and vaunted ThinkPad keyboard. Now if Lenovo could just shoehorn an ultra-high-res display into a more-attractive housing, they'd have a hybrid Ultrabook with flash as well as substance.