Watch out, Nintendo: Valve's quest to drag PC gaming into the living room is picking up steam. In September, the company announced it's Linux-based SteamOS, based on the Steam gaming service's Big Picture Mode, a Steam Controller that's supposed to emulate keyboard and mouse controls in gamepad form, and a slew of diminutive "Steam Machines" to bring the puzzle together.
The first wave of Steam Machines were officially unveiled at CES in January. But there was just one glaring issue. Most of the first wave of Steam Machines cost far more the Xbox One and PlayStation 4's $500 and $400 respective price tags, which is very likely an instantaneous show-stopper for the living room gaming masses.
That got us wondering: How much PC gaming power can you get for a console-esque price? With a (very) beta version of SteamOS already available, we decided to see if it was possible to build a worthwhile, small form factor Steam Machine for a sticker price competitive with current-generation game consoles.
Spoiler alert: It definitely is… with a few caveats.
Taking on the consoles
Let's briefly dig into the competition first.
Both the Xbox One and PlayStation 4 feature custom, octo-core AMD APUs, paired with 8GB of system memory and 500GB hard drives. Alongside the processer cores are integrated graphics processors with 896 (Xbox One) or 1,280 (PS4) stream processors, which are roughly equivalent to the Radeon HD 7790 or Radeon HD 7870. There are other architectural differences that make it impossible to build an exactly identical PC, but you get the gist.
We want our Steam Machine to compete favorably with one of the current-gen consoles. However, it's just not going to be possible to build an 8-core rig with that kind of graphics horsepower and 8GB of RAM for $400-$500. Pulling off something comparable requires some concessions, but we were able to build a diminutive rig that offers solid performance at a console-like price point.
Component selection
The SteamOS' system requirements call for a 64-bit processor, a minimum of 4GB of RAM, and storage totaling 250GB or more.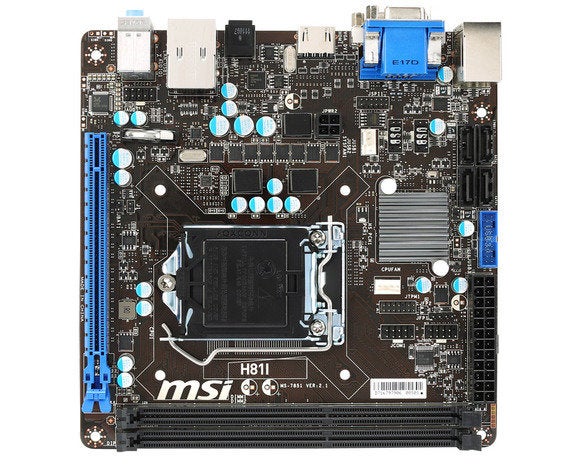 First on the agenda were the processor and motherboard. We wanted a relatively affordable processor that would easily outpace the 8 AMD "Jaguar" cores in the current-gen consoles and a mini-ITX motherboard to keep the form factor small. The cheapest Haswell-based Intel processor we could find as of this writing was the Core i5-4430 ($184.29). It features 6MB of cache and a base clock of 3.0GHz, with a maximum turbo frequency of 3.2GHz. With games starting to list quad-core processors as a minimum requirement, passing on cheaper dual-core Core i3 chips seems prudent.
As for the motherboard, overclocking's out of the question in a rig this small, but adding discrete graphics means the motherboard needs to be compatible with the processor and have a PCI Express x16 slot. While super cheap, off-brand LGA 1150 mini-ITX motherboards are available, we felt more comfortable with a known brand and selected an MSI H81i. The $59 H81i is built around Intel's H81 chipset and sports a number of goodies, like USB 3.0 support, 8-channel audio, and a gigabit network controller.
Next up: memory and storage. The fastest memory the Core i5-4430 officially supports (without overclocking) is DDR3-1600. And for optimal performance, it's best to run the memory in dual-channel mode. Ideally, we would have wanted to use as much memory as the motherboard could support—16GB is this case—but didn't have the budget. Instead, we opted for a 4GB DDR3-1600 kit from G.SKILL that was on sale for under $41.
Choosing storage proved to be a little more difficult.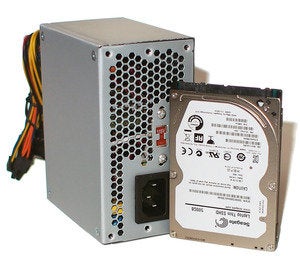 An SSD was out of the question considering our target budget. And since managing multiple drives in Linux is somewhat more difficult that in Windows—especially for novice users—we didn't think it was a good idea to pair up an SSD and hard drive. We also wanted to outdo the current-gen consoles if possible, which both include basic, 500GB hard drives. Ultimately, we settled on one of Seagate's Laptop Thin SSHD 500GB hybrid drives ($74.99), which mates 8GB of flash memory with a traditional hard drive to boost performance.
Since this box is being built for the living room, the graphics card for our Steam Box had to be capable of running games well at a full HD 1080p resolution. The GPU also had to be relatively small and low-power, somewhat affordable, and compatible with SteamOS. Currently, NVIDIA's Linux GPU drivers are a bit more polished than AMD's. Also, Nvidia is working closely with Valve on SteamOS, so we immediately gravitated to the green team and settled on an EVGA GeForce GTX 650 Ti 2GB card for $144.99.
The last two components we needed were a case and power supply. Having already spent just over $500, we went with the most affordable mini-ITX case and power supply that would accommodate our hardware choices. The SilverStone Sugo Series SG05BB-LITE fit the bill and was selling for only $39.99, so it was an obvious choice.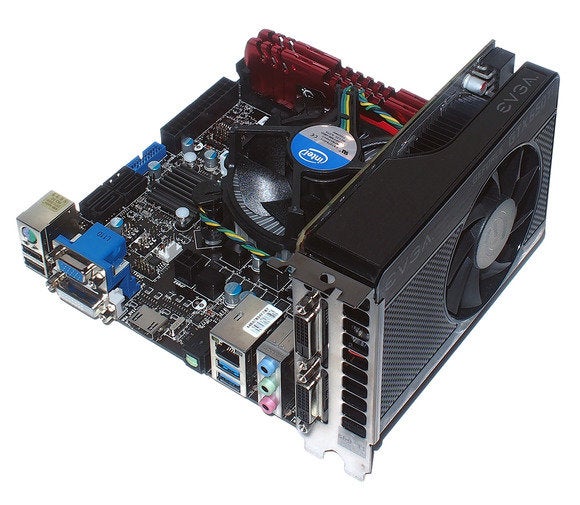 The SG05BB-LITE required a SFX-class power supply, so we snatched up an Athena Power 300W unit for only $19.99. 300W may not seem like much for a gaming system, but with our hardware choices, we knew there was no way the rig would come close to consuming that much power.
The final tally
If you're keeping track, the complete breakdown of components used in our Steam Box include:
CPU: Intel Core i5-4430 – $184.29
Motherboard: MSI H81I – $59.99
Memory: G.SKILL Ripjaws X Series 4GB (2 x 2GB) DDR-1600 RAM – $40.49 (after 10% off promo)
Storage: Seagate ST500LM000 500GB MLC/8GB Hybrid Drive – $74.99
GPU: EVGA GeForce GTX 650 Ti 2GB – $144.99
Case: SilverStone Sugo Series SG05BB-LITE – $39.99
PSU: Athena Power AP-MP4ATX30 300W – $19.99
Total cost: $564.73
At almost $565, were weren't quite able to put something together for the same price as an Xbox One, never mind the lower-priced PS4. We're in the ballpark, though.
If you don't already have a gamepad—most gamers likely do—a wired Xbox 360 controller will set you back another $30 or so. And since SteamOS is free, we did not include the cost of an operating system. Buying a copy of Windows would cost roughly $100.
Bringing it all together
Before starting, consider reviewing two articles that can help ensure you enjoy a smooth build: PC Building Best Practices – Hardware and PC Building Best Practices – Software.
Got it? Good! Let's dig in.
My first step was installing the CPU, CPU cooler, and memory onto the motherboard. Both the memory and CPU fit into their respective sockets/slots one way only, so installing them was just a matter of lining up some keys and securing everything in place. The CPU cooler included with the Core i5-4430 had thermal paste pre-installed, so it too just needed to be positioned properly over the socket and locked into place.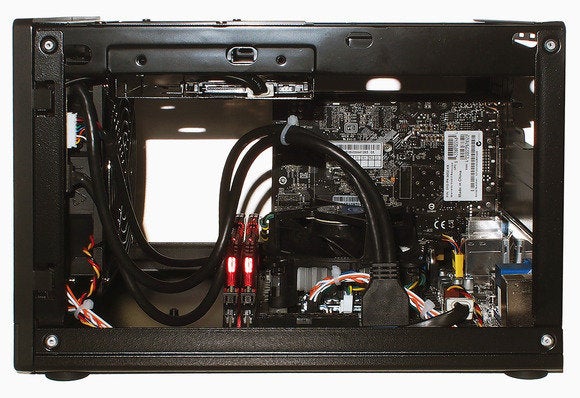 Next I opened up the case, untangled all of its internal cables, and checked the lay of the land to find the optimal position to mount our drive. There's a 2.5-inch drive bay in the top drive cage on the SilverStone Sugo case we used for this build, and a removable 3.5-inch cage just below that. Since I wouldn't be using it, I removed the 3.5-inch cage to free up some internal space and mounted the Seagate drive with its connectors facing the right side of the case. Doing so would allow for easier cable routing, out of the way of any other components within the system.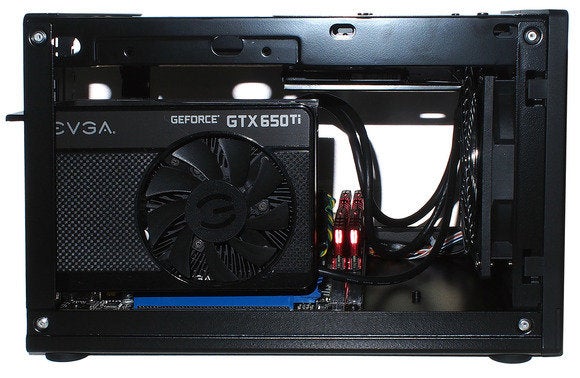 Next I snapped the motherboard's custom IO shield into the case, then positioned the motherboard properly inside the case and secured it place with four included screws. Then I connected the front panel cables and case fan to the motherboard and installed a SATA cable for the drive. I was lucky; there was a small channel between the motherboard and edge of the case where we could neatly route all of the cables, save for a bulky USB 3.0 cable that was too long and firm to easily secure anywhere. A couple of zip-ties later, though, and the inside of the system was neat and tidy.
I like to save the power supply for last because it makes routing cables a bit easier, since everything else is in its proper position. Installing the PSU required little more than holding it in position and tightening four screws. Then I connected up power to the motherboard, GPU, and drive and was ready to rock.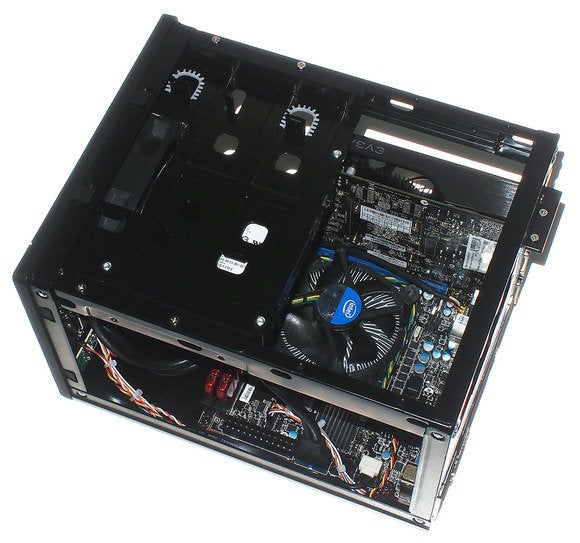 Establishing a baseline
Prior to installing SteamOS, I installed Windows 8.1 x64 and ran a handful of benchmarks, including PCMark 7, Cinebench 11.5, and a handful of games.
In PCMark 7, the system put up a respectable score of 4,976 after conditioning the hybrid drive. And in Cinebench, the system managed single- and multi-threaded CPU scores of 1.44 and 4.62, respectively.
In a low-res (1024×768)/low-quality Crysis CPU benchmark, the system put up 87 frames per second. Frame rates were all over the map using higher detail settings at 1080p resolution, however. In Batman: Arkham City, using high quality settings and 4X anti-aliasing, the system managed 55 FPS. In a medium quality Crysis 3 test, using 4X anti-aliasing, 30.54 FPS. And in Metro: Last Light, the system put up 20.33 FPS in high-quality mode, with depth of field disabled. Not killer numbers by any means, but decent enough.
With detail quality bumped down a hair, the system would be capable of maintaining a completely playable 30-plus FPS at 1080p with the vast majority of games currently available, as Metro: Last Light and Crysis 3 are far more punishing on a PC than most titles.
Taking SteamOS for a whirl
After testing the system in Windows, it was time to install SteamOS. All you need to do is download a file from the SteamOS repository (from a working system) and set up a bootable flash drive. You can find full, step-by-step installation instructions on the Steam website.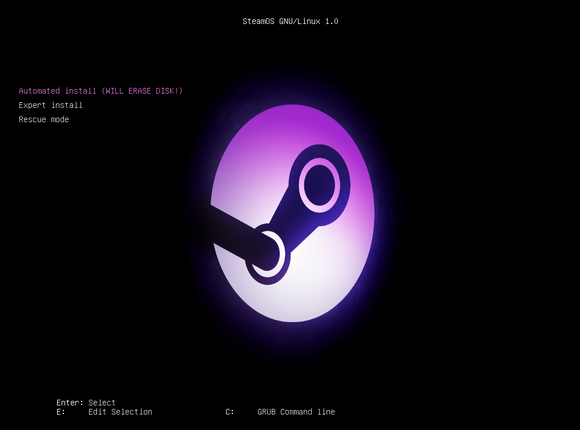 Expect to find some rough edges while you're using SteamOS. Currently, only Steam for Linux titles run natively on SteamOS. Valve's Steam in-home streaming technology will one day allow you to stream games from your Windows rig to your Steam Machine on a local network, but the feature only recently entered beta status. (It's already looking magical, though.)
Games that are available for both platforms don't always have the same menus, either. I initially planned to use Metro: Last Light on both Windows and SteamOS for comparison purposes, but the game has only a simple slider to adjust quality on SteamOS, and there were no explanations as to what was being changed when dragging the slider down. This made it virtually impossible to ensure an apples-to-apples comparison.
Regardless, I still ran a couple of tests to see how our homebrew Steam Machine performed. Things didn't go too well, unfortunately.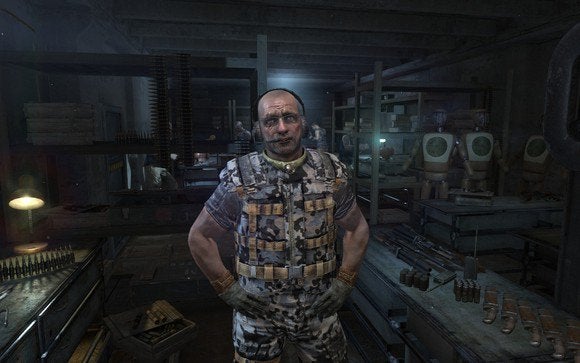 In Metro: Last Light, we recorded an average of about 24 FPS at medium quality settings at 1920×1080, but there were noticeable hiccups in the frame rate when gaming.
We also tested a popular game that's known to run well on Linux and a wide array of graphics cards, Valve's own Left 4 Dead 2. At 1080p, with 2X anti-aliasing enabled at high-quality settings, the Left 4 Dead 2 ran at only 22.88 FPS. I expected L4D2 to run much faster based on past experience, but it did not seem to behave properly on our rig. We suspect the frame rate issues stem from SteamOS's beta state, as well as the ho-hum (but improving) state of today's Linux graphics drivers.
While idling at the SteamOS desktop, the system consumed on 41 watts. While perusing the Steam games library the system consumed 65 watts. And while playing Metro: Last Light, it peaked at only 125 watts. That's perfectly acceptable, and only about 25 percent higher than an Xbox One.
Was it worth it?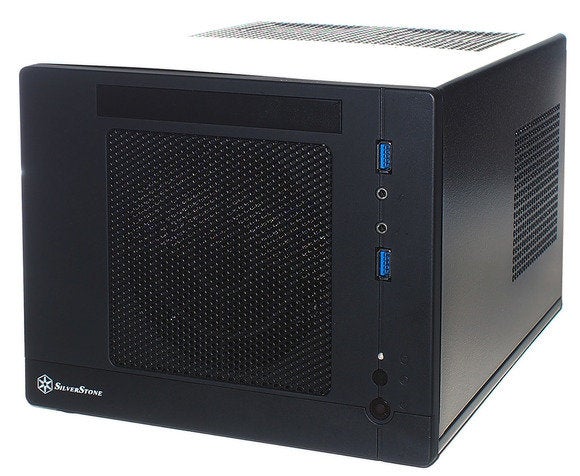 Now that we've done it, we think keeping the budget as close to a current-gen game console cut the system short. If money were no object, upping the specs to at least 8GB of system memory, a beefier PSU, and a more potent graphics card would really make this puppy purr. Spending even an extra $40 to $60 for a GeForce GTX 660 would likely have provided a big step up in performance.
To truly blow away the current-gen consoles, you'll want to run any game at 1080p without compromising image quality, and that's not quite something we can do with this rig. That said, our little experiment showed that it is indeed possible to create a perfectly satisfactory small form factor PC gaming rig for roughly the same cost as an Xbox One—though you're better off sticking with Windows until SteamOS is fully formed and polished.