The modern side of Windows 8 finally has an alternative to Internet Explorer, with a new "Windows 8 Touch" mode in the latest Mozilla Firefox beta.
The "Metro" version of Firefox has been a long-time coming. The first experimental versions launched in October 2012, but a final release has faced several delays in the last year. You can try it now by downloading the Firefox beta and clicking "Relaunch Firefox for Windows 8 Touch" from the options menu. (You must also set Firefox as your default browser to use Windows 8 mode.)
But don't rush to do so. In the nearly two years Mozilla has spent developing Metro Firefox, Microsoft has made major improvements to the Metro version of Internet Explorer. While Firefox has some redeeming qualities, Internet Explorer is miles ahead in terms of basic functionality.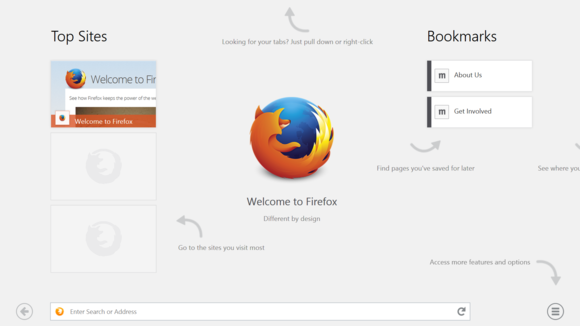 At launch, the Metro Firefox beta presents a new tab page, with columns for most-visited sites, bookmarks and recent sites.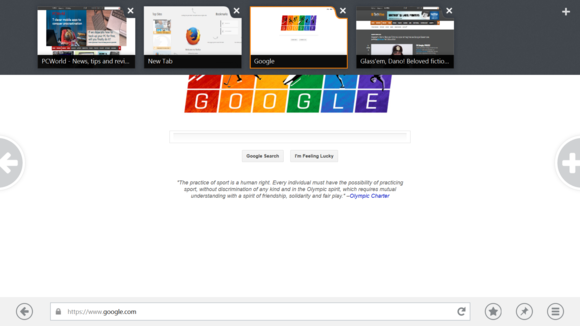 Right-clicking or swiping from the top or bottom of the screen shows a tabs list on top of the screen, and a joint URL/search bar at the bottom. Unlike Internet Explorer, there's no option to permanently display your open tabs and the address bar, so it's a hassle to constantly switch between tabs.
Metro Firefox respects Windows 8 features such as Snap and the Share charm. However, it does not support multiple windows like the modern version of Internet Explorer, so you can't run two instances of Firefox side-by-side. Firefox's Windows 8 mode doesn't offer private browsing like its desktop counterpart, either.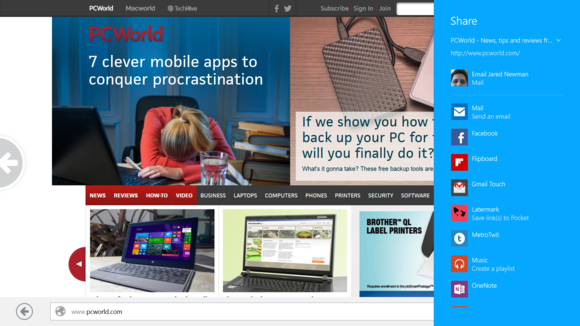 Even if you can deal with those missing features, there's no getting around the lag and choppiness that persists on most websites. Compared to Internet Explorer, the basic browsing experience is just unpleasant.
Bright spots
It's not all terrible. The large buttons for back and new tab that sit on the edges of the screen can be helpful for tablet users, and Firefox has a some options that Internet Explorer doesn't, such as the simple ability to view an image in its own browser tab.
Also, when you relaunch Firefox on the desktop, all of your open tabs carry over. That makes more sense than IE's approach of having a completely separate browser on the desktop, and it mirrors the behavior of Google Chrome's handoff when switching from the desktop to Metro. (Though Chrome isn't exactly a traditional Metro-style browser, as IE and the Firefox beta are.)
But overall, there just aren't many good reasons to check out Metro Firefox in its current state. The (very) basics are all in place, but here's hoping the Metro Firefox beta gets some serious spit-shining before launching in its final form.