A Microsoft Web page currently lists "Office Online" as one of three Office 365 options, a name that will apparently replace Microsoft's current Office Web Apps.
ZDNet and Livesino.net noted the Microsoft page, which lists the three personal options available to Office 365 subscribers: Office 365 Home Premium, Office 365 University, and the third, Office Online. Previously, that space had been filled by Office Web Apps—and a "learn more" link connects to the existing Office Web Apps page.
Office Online, like Office Web Apps, will include "online versions" of Word, Excel, PowerPoint, and OneNote, plus 7 gigabytes of online storage, presumably the recently rechristened OneDrive. While Office 365 Premium is priced at $9.99 per month and Office University at $79.99 for a four-year term, Office Online does not have a price attached to it—again, like Office Web Apps.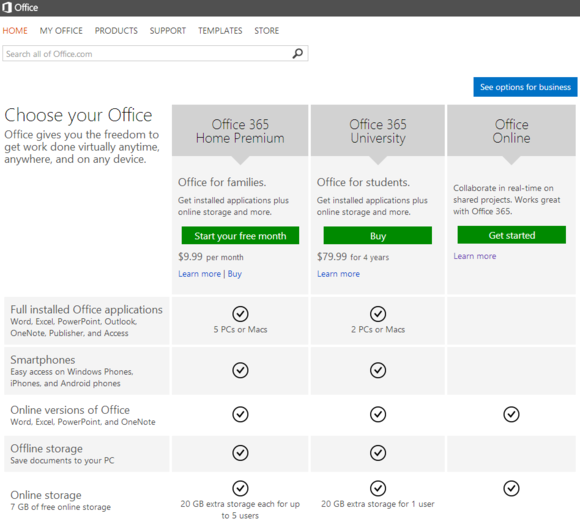 A Microsoft representative said via email that "at this time, we don't have any information to share."
At this point, Microsoft appears to be using Office Online as a shift away from possible confusion between online versions of Word, Excel, and others, and the relatively small number of plug-ins for the Office software itself. It also opens up the possibility, from a branding perspective, of offering a more comprehensive suite of services. What we'd say it does not do, however, is imply a more comprehensive suite of mobile offerings, which are expected for the iPad and Android tablets in the future. The suite of Office Web Apps hasn't really been upgraded since Microsoft added real-time collaboration last June.
The bottom line? Office Online will apparently replace Office Web Apps, and there's not much more to it than that at present. Just keep the change in mind and when and if it happens, upgrade your lexicon of Microsoft terminology accordingly.