That odd sound you heard over the weekend wasn't the wail of Olympians missing the gold, or Beatles fans collectively reminiscing about the band's U.S. debut 50 years ago. No, it was mobile gamers lamenting over the loss of Flappy Bird, a seemingly simple game for iOS and Android that was pulled from the App and Google Play stores on Sunday.
Despite the game's massive success—it ruled the top free app spot in the App Store, earned a reported $50,000 a day in ad revenue, and gained a ton of press—developer Dong Nguyen decided he didn't want to keep up with Flappy Bird's demand and announced his plans to remove the game via Twitter. Fans' reactions ranged from thrilled to bummed to outraged, but most of all the news was a big surprise.
Honestly, Flappy Bird's demise shouldn't be mourned: It was a horrible game, with bad mechanics and a nearly impossible course, repetitive to the point where it got really boring, really fast. Gameplay that unimaginative—not to mention clunky—makes for an unsustainable game in the long run. Sure, it was good for a laugh, and it was fun to compare top scores and try to beat your friends. (Or so I would assume—my top score is 6. SIX.) But the reality is that unless Nguyen added something to the formula, be it clear-cut levels or more varied obstacles, its audience was bound to get over the mania sooner rather than later. Even the nostalgic Mario-esque artwork couldn't save this game from its inevitable fall.
However, plenty of other one-tap, side-scrolling games out there are actually worth your while. These games have gorgeous graphics, fun strategy, and solid overall aesthetics. These games are so good, in fact, you'll be willing to drop that eBay bid for a Flappy Bird-yielding iPhone.
Badland
The most obvious replacement is Badland ($4; iOS and Android), which also stars a cute bird-like flapping creature that you must guide through a land with treacherous obstacles. Gameplay is very easy to master: Just hold down your finger onto your device's display to make your creature fly, and let go to make him sink.
The game itself, on the other hand, is not so easy. Though it begins slowly enough, Badland gradually escalates in complexity. Here, it makes you dodge falling masonry and floating mines. There, it demands you lead a coalition of clones down separate passages to ensure a clear path to the finish. Along the way, you'll use power-ups that will cause you to expand, contract, speed up, or slow down. At all times, you must ensure that your character remains onscreen; failure to do so will lead to an immediate return to the nearest checkpoint. All of this, coupled with intriguing graphics and a shroud of mystery, make Badland a game to return to again and again.
Jetpack Joyride
Come on, is there any part of the name Jetpack Joyride (free; iOS and Android) that doesn't sound fun? In this side-scroller, you help Barry Steakfries steal a jetpack and make a not-so-prompt escape from an experimental science lab, which contains a string of long, tunnel-like rooms.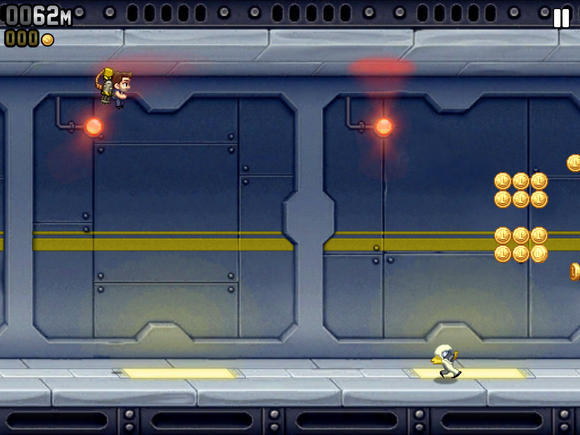 By default, Barry runs, but tap on the screen to activate the jetpack. You'll need it to avoid hazards like electrified barriers, lasers, and missiles from the lab's defense system. Collect coins and complete missions along your escape to keep things interesting. Jetpack Joyride masters the one-button approach, and it's challenging without being maddeningly so.
Ski Safari
A longtime favorite of ours, Ski Safari ($1; iOS and Android) involves guiding Sven the Skier down a slippery slope to escape an avalanche. Sven is in constant motion, and all you have to do is tap the screen to make him jump over rocks, ski jumps, and other obstacles. To mix things up, make him hitch a ride on an unsuspecting penguin, wolf, eagle, or yeti to boost ahead of the snow even further.
If that doesn't pique your interest, Ski Safari's challenges surely will: Make Sven catch an eagle while riding a wolf, for example, or smash through 20 rocks over a series of games, and you'll earn Sven power-ups while also keeping Ski Safari fresh.
Canabalt
Canabalt ($3; iOS and Android) is one of the longest-lived single-tap games on the App Store: It made its debut in 2009. But Canabalt's very simple 8-bit black-and-white graphics coupled with an eerie soundtrack make this game a classic.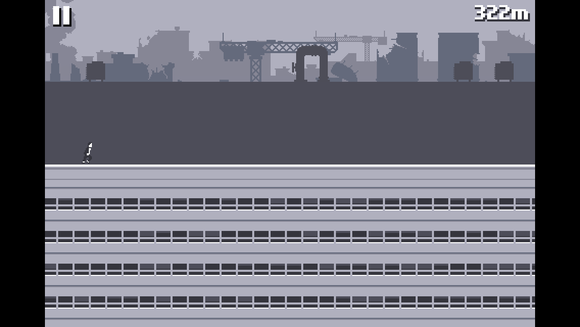 All you have to do is help the runner jump from crumbling building to crumbling building, while vaulting over obstacles like barrels, chairs, and broken glass. As this is a truly endless runner—there are no stages or levels to complete, so eventually your hero will meet his end. We don't know the runner's backstory, but you can try making up your own.
One Tap Hero
One Tap Hero ($1; iOS and Android) is actually a full-fledged platformer that still only requires single taps to play. Tap to jump, tap to climb, tap to collect stars, tap to change direction, and tap to do pretty much everything.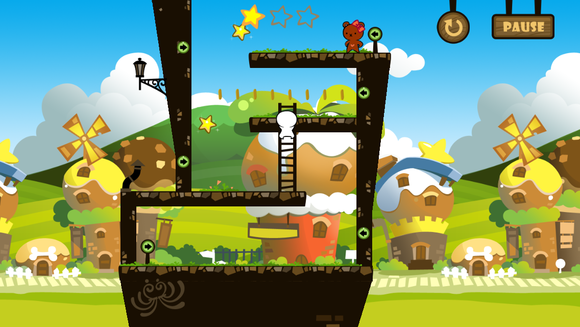 Levels are quick with a single objective: An evil witch has turned your sweetheart into a teddy bear, and you must collect stars to change her back. Each level is its own puzzle, so you must figure out how to collect all three stars through a series of taps and hurdles.
Flappy Doge
Okay, fine. If you must have some Flappy in your life, turn to your browser and play Flappy Doge.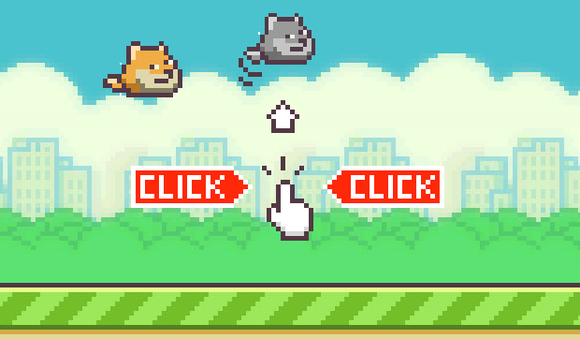 It is exactly the same, but features the Internet's favorite shiba inu. Wow.