While Android continues to dominate the overall smartphone market, research compiled by Good Technology indicates that, in business, it's Apple that holds the upper hand.
But a separate report compiled by Chitika Insights says that business users actually find the Microsoft Surface tablet is the most useful work tablet, based on the frequency that its users use it during the workday.
Neither report appears to be as comprehensive as the overall smartphone market report compiled Wednesday by IDC, which found that 79 percent of the 1 billion smartphones shipped during 2013 ran Android, leaving iOS and Windows Phone in the distinct minority.
Still, mobile security vendor Good Technology, sampling the 5,000 enterprise customers it serves, found the opposite: that 73 percent of all devices it tracked ran iOS, versus 26 percent for Android. That's up from 72 percent and 27 percent, respectively, versus a quarter ago. Of the mobile devices, 54 percent of those were iPhones, 19 percent were iPads, 24 percent were Android phones, 2 percent were Android tablets, and just 1 percent were Windows Phones.
Good did not say how many total devices were measured.
Document editing, custom apps and file access made up 86 percent of the total enterprise apps activated on the tablet form factor during the fourth quarter, Good found. But document editing also was the top app category for smartphones as well, proving that the small form factor wasn't turning off business users. The up-and comer? Business intelligence, proving that apps like PowerBI for Excel are winning converts.
Is Surface proving the most useful? Barely
A year ago, Microsoft shifted the focus of its Surface tablet away from entertainment to productivity, and has maintained that attitude ever since. Looking only at the tens of millions of North American tablet-based online ad impressions captured within its ad network, Chitika concluded that yes, Surface was being used the most frequently during the 9-5 working business day.
Nevertheless, the firm had to work hard to arrive at those numbers. As one might expect, the vast majority of tablet Web traffic flows through the iPad, making it the most popular tablet platform: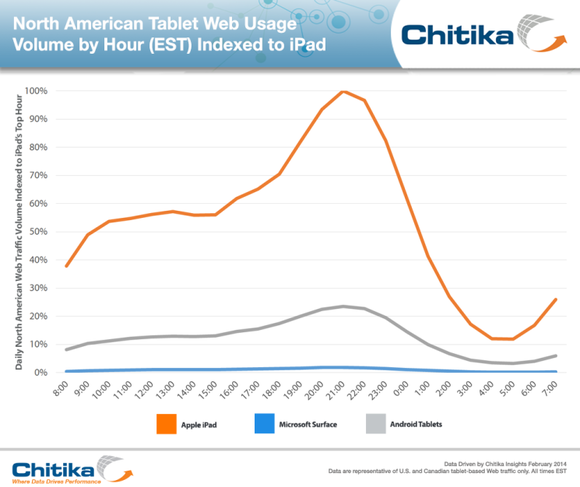 Peak viewing hours for all tablets cluster right around 9 PM, the firm found. And during the commute hours, more commuters are pulling out iPads to work the Web.
When compared against its own traffic, however, Chitika found that the Surface tablets were indeed being used slightly more than their competitors during the workday: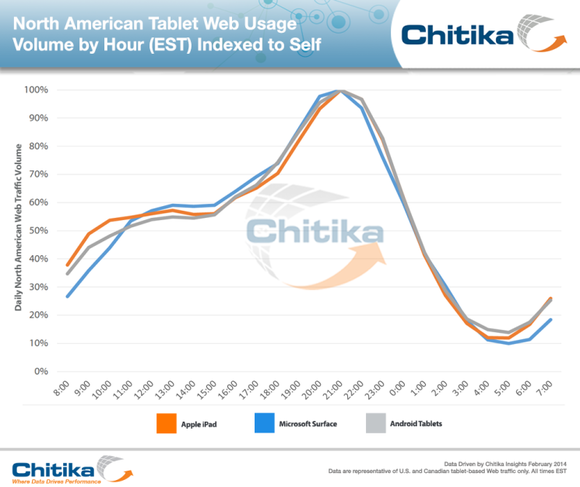 But, as the graphic shows, the race is almost a dead heat. And even though Surface owners appear to be adopting Microsoft's productivity message, the company's larger problem is merely selling more Surfaces — which Microsoft is doing, based on its excellent fourth-quarter results, which saw Surface revenue more than double.
"Despite the usage statistics presumably indicating some success for Microsoft in this area, the company has a long way to go before challenging Apple or Google in terms of raw usage volume during working hours," Chitika concluded.