If you've ever felt fried at the end of your work day yet couldn't account for how you got to that state, you're not alone. One task blurs into another leaving no record of how you spent your time. That's where a time tracker can help. Whether you just want to track your professional tasks to assess your productivity or you actually bill clients by the hour, these tools can help you reclaim lost time and develop more efficient work habits.
RescueTime
RescueTime runs in the background on Windows, Mac OS X, Linux, or Android systems, and monitors your activity. It tracks how long you're on websites or using different applications and generates a report that shows where you're spending your time. You can also set goals for yourself, for example, limiting time on email to less than an hour a day.
RescueTime Lite is free. For $9 per month, or $72 per year, you can get RescueTime Premium, which adds more detailed reports, alerts you when your goals are met, tracks time away from the computer, and enables you to block distracting sites for designated periods of time.
Manic Time
Like RescueTime, Manic Time runs silently in the background and tracks and logs your activity. You can tag specific blocks of time to associate it with a project or client or a non-computer activity such as a meeting or phone call. At the end of the day, Manic Time generates a report detailing where you invested—or wasted—your time.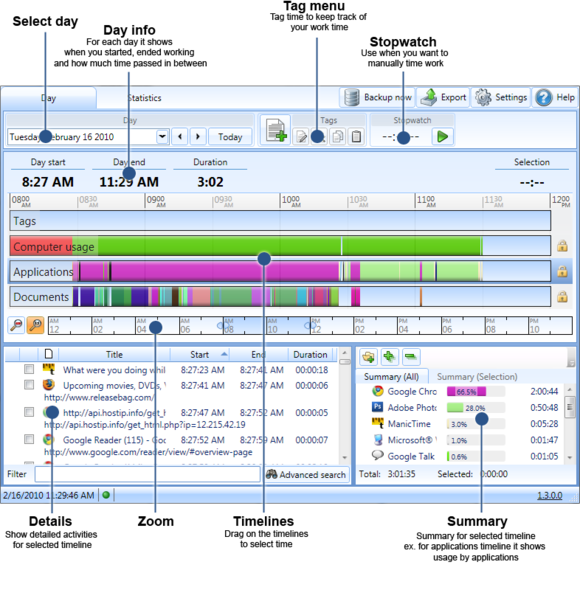 Manic Time is only available for Windows. There's a free version available with limited features, but if you want comprehensive time and activity tracking you'll need to get Manic Time Professional for $67.
Klok
Klok automatically tracks your time as you work on individual projects. But unlike other apps, which usually display time entries as bar graphs, Klok works like your calendar app, showing your project hours as blocks that fill up your days for a much more intuitive snapshot of how you spend your time. Klok's dashboard provides a wealth of intel, revealing trends like on which days of the week you spend the most non-billable hours or your month-to-month productivity fluctuations.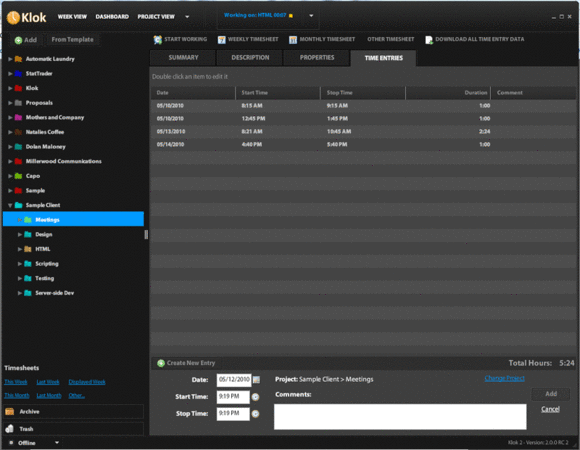 Klok works with Windows, Mac OS X, or Linux, and requires Adobe AIR 2.0 or higher. There is a free version with very limited capabilities. Klok Pro offers much more comprehensive features for only $20.
Freshbooks
If you need to track billable hours, Freshbooks "cloud accounting" tool has you covered. You create projects—including the client, tasks, and team members—to track time against. You can manually input project hours or track them in real time using Freshbooks' timer. Once the project is completed, Freshbooks can pull all your billable hours into an invoice.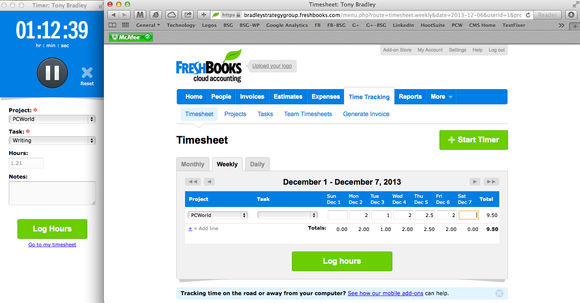 You can manage up to three clients with Freshbooks free version. Beyond that, the service starts at $20 per month for up to 25 clients. The paid service includes additional features such as the ability to remove Freshbooks branding from your invoices, and automatically import expenses from bank or credit card websites.
OfficeTime
OfficeTime's most important feature may not have to do with your productivity, but your idle time. In addition to time and expense tracking and invoicing capabilities, OfficeTime recognizes when you've been inactive and gives you an opportunity to deduct that time, or apply it to a different task. It also runs in the task bar for quick access to projects and features, and it can sync up with your calendar in Windows or Mac OS X.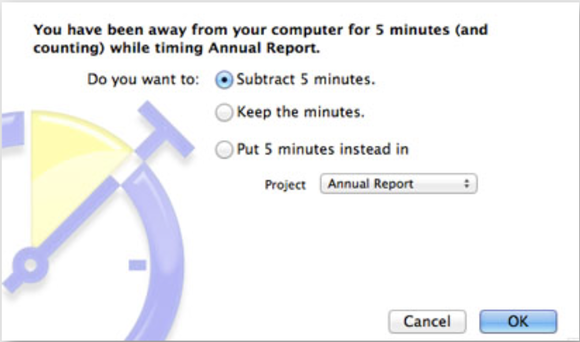 OfficeTime is available for $47 for Windows and Mac OS X. You can download a 21-day trial version to test it out first. There is also an iOS app available.
PayMo
If you want a service that goes beyond time tracking to include more robust project management, check out PayMo. It tracks start and end times of tasks (rather than just cumulative time), and handles invoicing, but you can manage your tasks, milestones, timesheets, and associated files as well from within the project management section.
PayMo also has a library of add-ons including a desktop widget, plugins for Safari, Firefox, and Chrome, and an add-on that connects with the work timer and visual display elements of Klok.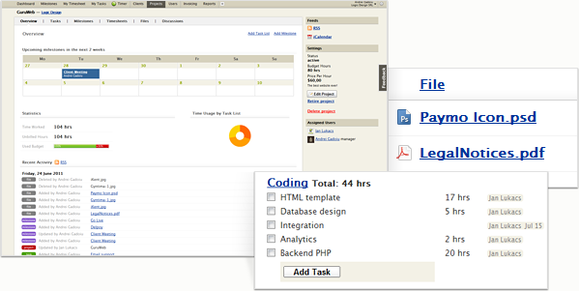 PayMo is free for one user. The free version allows for unlimited clients or projects, but you can only generate one invoice per month. PayMo Basic adds a user, and significantly increases file storage along with increasing the invoices to 30 per month for $10 per month. Or, you can sign up for PayMo Premium for $15 per month for three users with unlimited invoicing.
Chrometa
Like some other time trackers Chrometa monitors your activity, but it tracks it at a more granular level so you can see exactly how much time you spent reading a specific PDF file, versus how much time you devoted to responding to a client email. There's also an iOS and Android app that monitors the amount of time spent on phone calls or using your mobile device in general. And though Chrometa doesn't have its own invoicing capabilities, it does let you export time data to other billing applications like Freshbooks and Quickbooks.

Chrometa Basic is $20 per month for one device and limited capabilities and reporting. Chrometa Plus allows for two devices for $30 per month, and Chrometa Premium will track your activity across four devices for $50 per month.