There are a lot of great features in Windows 8.1 that make it well worth using, and Update 1 expected in the coming weeks sounds promising too.
But for traditional PC users with big hard drives one thing that may not be so great is how Windows 8.1 works with SkyDrive.
To make Windows 8.1's deep SkyDrive integration more usable on a tablet, Microsoft decided to store most of your SkyDrive documents in the cloud and only download them locally when you need them.
That makes sense if you only have 32GB or 64GB of storage on a slate, but with a laptop hard drive of 500GB or more, it's less of an issue. It also makes more sense to keep a local copy at all times if you're doing regular backups to an external hard drive at home.
How to make SkyDrive files available offline in Windows 8.1
If you want to make sure all your SkyDrive files are always available locally and sync back to the cloud, there are two ways you can do it.
The first is to open File Explorer and then right-click the SkyDrive icon in the left-hand navigation column. In the context menu, select "Make available offline." That will force SkyDrive to download all of your cloud-stored files to the local machine. (Warning: It might take a while if you're stashing a lot of stuff in SkyDrive.)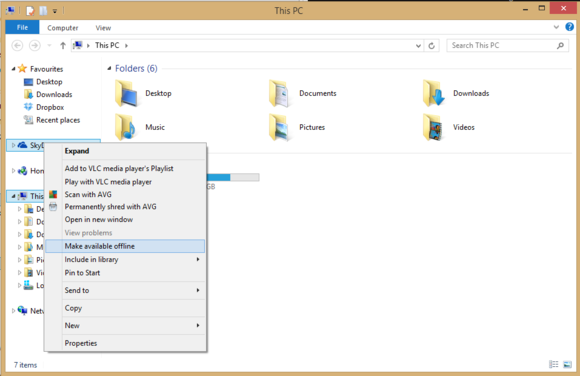 If you only want a specific set of files or folders available offline, you can also right-click them individually and select to make just those available offline. To tell which of your files are already available offline, look for the "Availability" column in the main window of File Explorer when perusing your SkyDrive data.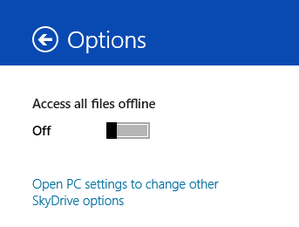 The second way to pull down your documents from the cloud is to open the SkyDrive modern UI app and then tap the Windows logo key + I to open the Settings charm. Next, select Options and click or tap the on/off slider to "On." There should be only one slider, but just to be clear the slider is labeled "Access all files offline."
Either way you choose, all your SkyDrive files are now available to you on your local drive.