Cable operators Comcast, Time Warner Cable and Charter Communications have joined forces and formed WifiForward, an organization that will work to protect existing unlicensed frequencies and get lawmakers to free up more spectrum.
WifiForward is a group of "like-minded companies, organizations and public sector institutions" which also counts Google, Microsoft, chip maker Broadcom, retailer Best Buy and industry organization CEA (Consumer Electronics Association) among its members.
Missing are carriers such as Verizon and AT&T, but that shouldn't come as a surprise as they are increasingly competing with the cable companies. The two groups have always competed on broadband access, but the carriers have also started going after TV, which is a major threat to the cable operators.
For example, Verizon Communications signed a deal in January to acquire the assets of Intel Media, developer of the OnCue Cloud TV platform. Verizon also acquired EdgeCast Networks in December and the assets of upLynk in November to strengthen its video distribution capabilities. On the mobile side, LTE also opens the door for more new TV offerings.
"That is a fantastic opportunity for them because they have the infrastructure in place," said Kester Mann, an analyst at CCS Insight.
A technology that could play an important role here is LTE Multicast, which Verizon Wireless tested during Super Bowl. It allows carriers to broadcast content more efficiently by sending data to many users at once rather than sending it in a separate stream to each one.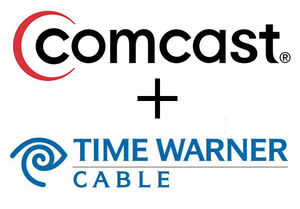 The cable operators can't sit idly to see how this TV push pans out. Comcast and Time Warner Cable are already in the news because of the former's offer to acquire TWC for about $45 billion in an effort to cut TV costs.
With carriers going after their bread and butter, cable operators seem to want to do the same, and move wireless broadband access away from mobile networks. Wi-Fi has the potential to let them do that. The frequency bands used for Wi-Fi today, and the regulatory conditions that cover them, make them best suited to covering a small area around each access point, which increases the cost of building big networks that can compete with mobile networks.
But if WifiForward can get the U.S. government to free up new lower frequencies for Wi-Fi, which is one of its main goals, the cable operators and others would be able to build more cost-effective wireless broadband for urban and rural areas, the organization said. That, in turn, would allow for more direct competition with the mobile operators.
More spectrum is also needed to improve performance: Wi-Fi connections are becoming "overwhelmed by the deluge of data from the number of devices we're using," according to WifiForward. The FCC has initiated several proceedings that have the potential to deliver more Wi-Fi, but making policy statements and starting proceedings are not enough, the campaign group said in an FAQ on its website.