Google's plan to bring an upgraded, 10-Gbit Google Fiber capability to its existing customers is a terrific idea. It's also one that its rivals have already begun working on, or even already deployed.
In fact, if you work in Manhattan, chances are that your building is already on it.
Google hasn't said much about its plans, aside from its aim to bring the technology to market in three years, or about 2017. "That's what we're working on," Patrick Pichette, the chief financial officer of Google, told the Goldman Sachs Technology and Internet Conference, according to USA Today. "There's no need to wait."
Google offers its gigabit ethernet package in Austin, Tex., Provo, Utah, and Kansas City, charging about $70 per month for a basic Internet package. Adding TV services can take it up to $120 or so per month.
Google Fiber is designed for homes and some public organizations. Businesses, even small businesses with a few employees, are specifically excluded.
"From the beginning, Google Fiber was meant to help make the web faster for individuals and families," Google wrote in its Google Fiber blog last October. "We'd noticed frustration from users about their home Internet speeds—nobody likes to put their lives on hold as videos buffer, photo albums upload or movies download. We chose to bring a Fiber to homes first, to help make the web there faster, and we'll have a small business product in the future."
Businesses testing 10-Gbit connections
But Google's rivals aren't standing still. Three years ago, for example, Verizon successfully field-tested its own 10-Gbit up/10-Gbit down fiber network, squirting a 2.3-Gbyte movie file in just four seconds across its own XG-PON2 technology, to a business in Taunton, Mass.
"Don't expect to see TV ads tonight for a new 10 gigabit FiOS Internet service in your neighborhood," Verizon said then. "The market for speed just hasn't evolved to that level yet. But, it does give us an idea of what can be achieved with the new technology."
The City of Santa Monica also offers offers 100 Mbit/s, 1 Gbit/s, and 10 Gbits/s fiber optic connections, from its own City Net On-net buildings to ISPs connected to the network in downtown Los Angeles. Granted, this is a far cry from direct 10-Gbit connections to homes. Lightpath gets closer, providing individual 1-Gbit/s connections to up to 5,000 metropolitan buildings in Manhattan. But connections to those buildings can also burst up to 10 Gbits/s, meeting the 10-Gbit goals.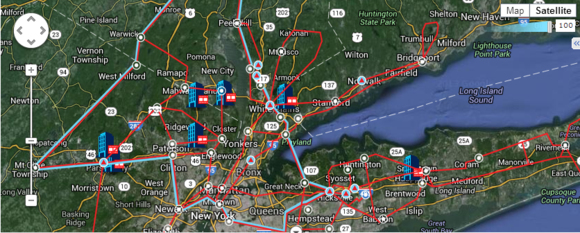 And, of course, there's the new DOCSIS 3.1 specifications, released a short time ago from CableLabs. Rather than build out a pricey new optical network, DOCSIS 3.1 will ride your cable modem to provide 10-Gbit connections to your home—although, if history serves, you won't see the new cable technology deployed for several years, either.
The subtext, however, is that Lightpath, and Verizon, and most likely eventually Google, will probably bring the faster speeds to businesses, where the additional bandwidth will be shared among numerous employees. Honestly, one can probably argue that a gigabit of bandwidth is way more than one individual needs, even someone who is streaming video, using cloud gaming services or downloading every Linux distro in existence using BitTorrent.
The bottom line: Yes, 10-Gbit connections are coming. But not immediately, and probably not to your home.