First, the good news: Microsoft has extended the end-of-life date for PCs that come pre-installed with Windows 7. Now for the bad news: It won't matter to you unless you're willing to splurge on a business machine, as the stay of execution only affects computers pre-loaded with Windows 7 Professional.
Computers packing the consumer versions of Windows 7—Windows 7 Home Basic, Home Premium, and Ultimate—still have a date with the chopping block on October 31, as we reported last year.
Microsoft officials said erroneous information about Windows 7's death sentence was posted online in December, but most of the details about the system remain the same in the end-of-sales chart updated today on Microsoft's website (and first reported by ZDNet). Allowing Windows 7 Professional PCs to stick around for a yet-to-be-established amount of time is Microsoft's only new tweak.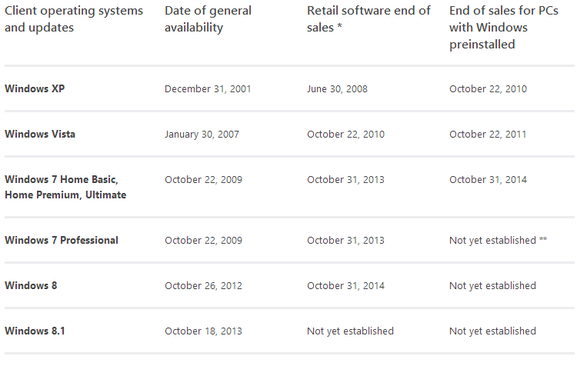 The shift doesn't mean much for everyday people in the market for a Windows 7 machine. For all of HP's talk of bringing Windows 7 back by popular demand, the vast majority of Windows 7 PCs available today are already business-focused machines.
Kill your darlings
The extended deadline for computers packing the business-level version of the operating system comes as little surprise. While Microsoft has managed to sell 200 million copies of Windows 8, business users fleeing from the XPocalypse due to befall upon the world when Windows XP hits end-of-life status in April are largely turning to Windows 7. Extending the end-of-sales date for Professional PCs alone lets Microsoft assuage IT fears while still shepherding everyday users towards Windows 8 (which itself is becoming more desktop-friendly by the day).
Shad Larsen, Microsoft's senior business program manager, told ZDNet's Mary Jo Foley that the extension was unrelated to Windows XP's demise, however. Office 2003 will be officially abandoned on the same day as Windows XP, April 8.
The end of mainstream support for Windows 7—read: no more general patches and fixes—is still scheduled for January 14, 2015. Once that date hits, Microsoft will continue to provide security fixes for Windows 7 through 2020. Sales of boxed copies of Windows 7 technically bit the dust in October 2013, though you can still find plenty on retail sites like Newegg and Amazon. Sounds like you'd better stock up if Windows 8 isn't your thing.