Microsoft unveiled several useful apps for Windows Phone on Tuesday, including an improved fitness tracker and recipe app, with one thing in common: They finally talk to Windows.
In all, Microsoft published three new Windows apps to Windows Phone: Health & Fitness, Travel, and Food & Drink. The company also updated Bing Finance, Sports, and News.
Microsoft's updates don't raise the bar for other wearables and apps developers—in fact, it may be a bit of a surprise to discover that Microsoft's Bing apps didn't talk to their Windows counterparts. And while Microsoft's new apps are a welcome addition to the Windows Phone app portfolio, they don't go far beyond the status quo.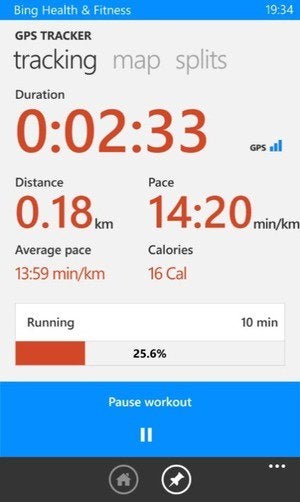 Oddly, that's not necessarily a bad thing. Take the new Health & Fitness app. On Windows 8.1, recent runs and strength exercises would have to be entered manually. With the new app, Microsoft has added a GPS tracker to compute the distance you've run or walked and the calories burned. That information is then stored within the corresponding Windows app. (Windows Phone actually has a surprisingly robust library of fitness apps, from Active Fitness to Endomondo Sports Tracker; however, data from those apps is often recorded within the app itself, or within networks like RunTracker.) Health & Fitness also has a separate cardio tracker, list of exercises, a diet tracker integrated with the FatSeeker database, and even a symptom checker for the paranoid.
The New Food & Drink app on Windows Phone has a searchable database of 600,000 illustrated recipes, a similar database of cocktails and wines, as well as a shopping list.
Monitoring flight status and departure times is one area where rivals like Google Now shine. With the new Travel app, users still have to enter a flight number manually, but the result can be "pinned" to the home screen to track its status. Users can also track flights via the app, and book hotels and flights though the app as well.
Microsoft also updated its Finance app with financial news and a way to track portfolio accounts. Its Sports apps adds "live" event coverage and the ability to pull information on specific players. Finally, it added the Wall Street Journal and the New York Times to its list of news sources.