Nvidia introduced all-new GPUs based on its Maxwell architecture today, but its fastest products remain based on its Kepler platform. To build the GeForce GTX Titan Black, Nvidia packs in a few extra CUDA cores—2880 versus 2688 in the original Titan—and gooses its stock clock speeds to 889MHz; 980MHz at boost speed (versus 837- and 876MHz respectively).
The Titan Black is not a major departure from the original Titan, which was introduced about one year ago. Cards based on this GPU will address 6GB of GDDR5 memory over a 384-bit memory interface, and they'll require one 6-pin and one 8-pin power connector (the GPU has a TDP—thermal design profile—of 250 watts). The cards will have two dual-link DVI ports, one HDMI output, and one DisplayPort 1.2 connector.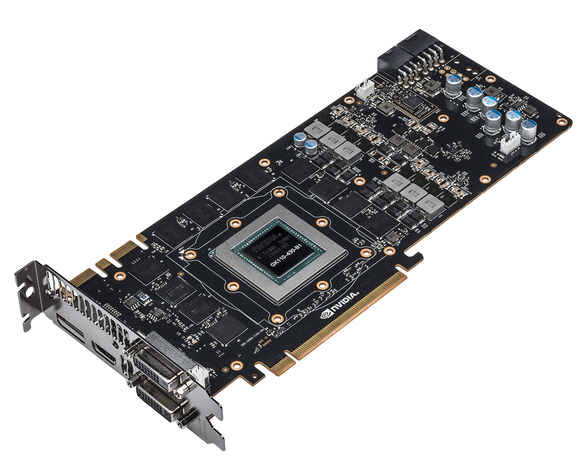 The Titan Black also retains its double-precision computational accuracy, an important feature for scientific computations (the original Titan was used to build the Titan supercomputer at the Oak Ridge National Laboratory in Tennessee). New video cards based on the GeForce GTX Titan Black are expected to be priced at about one thousand dollars.
If you have the cash, you can run up to four Titan Black cards using Nvidia's multi-card SLI technology. This monster will undoubtedly star in over-the-top gaming rigs from the big names in boutique PC building. Origin has already announced that it will offer the card in their Chronos, Genesis, and Milllennium systems.