Destroy it. All of it. The bills and tax documents you don't want to keep, but that you also don't want in the hands of nosy neighbors or dumpster divers. Nor do you want old credit cards and CD backups falling into the wrong hands. You'll need a shredder—a good one—to rip everything into bits little enough to confound even the most obsessive-compulsive puzzlemaster.
We tested the pulverizing potential of five professional shredders. All are cross-cut models intended for heavier use—small offices where shredding is more or less a daily chore. Occupying a middle ground in the market, these machines can feed more sheets and shred for longer periods than the typical, low-volume home shredder you'll find at your local big box store. They aren't designed for large offices that shred constantly, though.
Street price: $500
44 lbs; 7.8 gallon waste capacity
The GoECOlife GXC205Pi sets the pace for destructive potential. While surprisingly quiet, it plows through just about anything without complaint, including CDs and credit cards, and up to 20 sheets of paper per pass. I was rarely able to jam the shredder, even with thick junk-mail envelopes and misfed sheets (and it took far more than 20 sheets of paper to create a jam). A handy front LCD gives you status updates, a rare feature for shredders, and the 20 minutes of continuous run time should be plenty for most operations.
Another noteworthy aspect is its feeding slot, located on the side of the device instead of the usual vertical slot on top. To feed the beast, you slide papers into the shredder in a direction parallel to the ground, instead of pushing them into the machine from the top. It sounds like a small thing, but in many environments this will free up some space by letting you keep the shredder under your desk instead of next to it. While it's a hulking device (the largest in this roundup), casters make it easy to maneuver.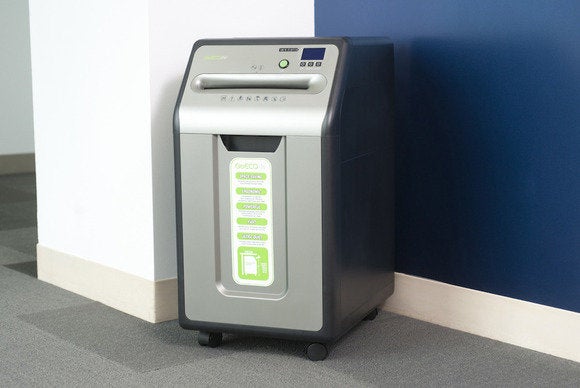 The unit includes a dust cover and has a handy compartment built into the top of the shredder for storing odds and ends. It's also certified CarbonFree by Carbonfund.org.
Street price: $480
28 lbs; 8.7 gallon waste capacity
Ativa is Office Depot's private label, so you'll find this shredder on sale only there. The design is a traditional, vertical top-feeding system, and the shredder includes a small flap that covers the feed slot as a sort of safety catch. The unit is quiet and unobtrusively small, despite a sizable 8.7-gallon waste bin.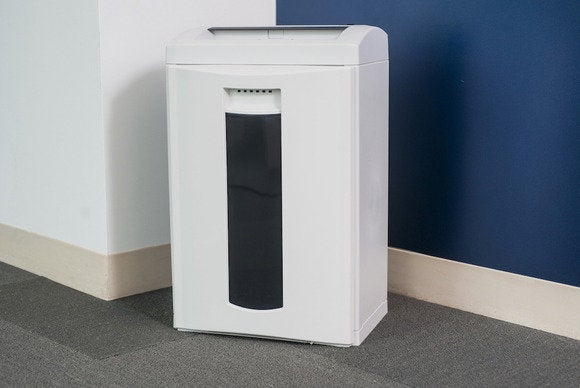 The vast majority of shredders require "cool down" intervals (often after only a few minutes of sustained use), but not the V141C. Rated for continuous use, it can theoretically run forever without a break.
Forever will seem longer, unfortunately, given the machine's 14-sheet feeding capacity. That's on the low side compared to the other machines here, but worse, it didn't bear out in my testing. It was virtually impossible to shoehorn 14 sheets through the very narrow feeding slot—8 to 10 sheets seemed to be its actual limit. Fat envelopes also jammed the unit regularly. It can shred credit cards, but not optical discs.
I spent more time trying to wedge material into the shredder's tiny feed slot and wrestling with jams than I did actually shredding anything. I'd give this machine a pass.
Street price: $500
27 lbs; 7 gallon waste capacity
Swingline's pint-sized shredder has a killer unique feature: You can fill up the shredder's autofeed tray with up to 100 sheets of shreddables and simply let 'er rip. The Stack-and-Shred plows through the detritus unattended until the stack has been rendered to bits. If you've got a large amount of relatively standard sheets of 8.5 x 11-inch paper to shred (no piles of mail or stacks of CDs, alas), this is one of the easiest ways to get rid of it.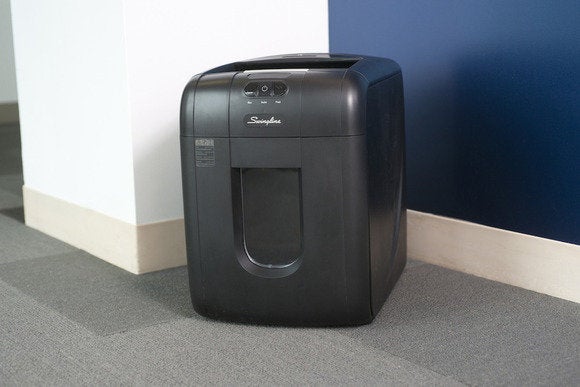 Otherwise, Swingline's 100X is a relatively simple, quiet shredder that's best reserved for light use. If you're not using the autofeed tray, the additional manual feed slot can handle only six sheets of paper at a time, and it chokes easily if you try to push past that level. That's unfortunately easy to do with even a smaller junk mailer, which means you'll likely have to open envelopes and shred their contents piecemeal, a huge waste of time. That feed slot (which features a special conduit just for credit cards) is also difficult to work with, thanks to its narrow opening and somewhat odd alignment.
The smaller bin and short duty cycle (a barely acceptable 5 minutes) aren't deal-breakers (in fact, the compact bin makes this shredder the easiest to empty), but the manual feed slot's measly capacity remains this shredder's Achilles' heel.
It's a solid choice for shredding standard paper in bulk, but more casual users will likely find it cramping their style.
Street price: $250 (after $50 rebate)
44 lbs; 8 gallon waste capacity
The bruiser of this bunch, Staples' privately branded device is an imposing Death Star of a shredder. What it may lack in sophistication it makes up for in raw power.
The Staples 24-Sheet Cross-Cut Shredder is relatively standard in design, with a vertical slot for feeding paper, credit cards, or compact discs. The slot itself is both surprisingly thin and barely wide enough to accommodate a standard sheet of paper unless you line it up perfectly, but no matter. You can shove just about anything into this shredder and it chews it up without complaint, whether pages are properly aligned or not. It's also an incredibly tough unit to jam: While other shredders choke on just one envelope of junk mail, the Staples unit can easily handle a stack of two, provided you can wedge them into the slot.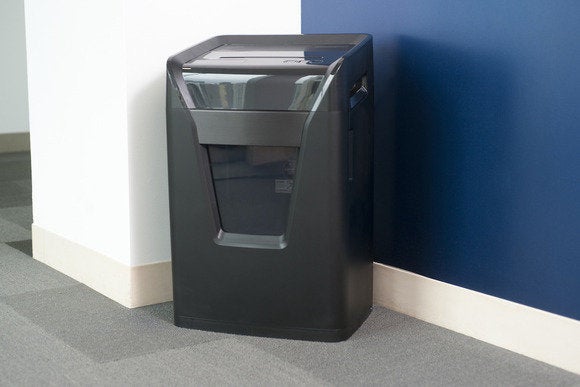 Other nice features include (user-installed) casters and a lighted waste-bin area that makes it easier to see how full the unit is—which sounds silly but turns out to be surprisingly useful. The 20-minute duty cycle is also acceptable. My only (minor) complaint: This shredder is slightly louder than the others in this roundup, though it's hardly deafening.
Finally, not to be ignored is the incredible fact that this shredder is currently available for half the price of most of the other shredders in this roundup. Considering it has virtually nothing to recommend against buying it, why not get his and hers models?
Street price: $300
38 lbs; 9 gallon waste capacity
From one of the biggest names in shredding, the Powershred 99Ci is Fellowes' mid-level unit designed for small- and home-office use.
The design is largely typical of top-feeding shredders, though the feed slot is positioned so that pages go in aligned from side to side instead of the usual front to back. This makes the unit quite a bit narrower but rather deeper than the typical setup. To feed optical discs or credit cards, you flip a slightly odd flap over the feeding slot, which is designed to help guide plastic materials into the waiting jaws.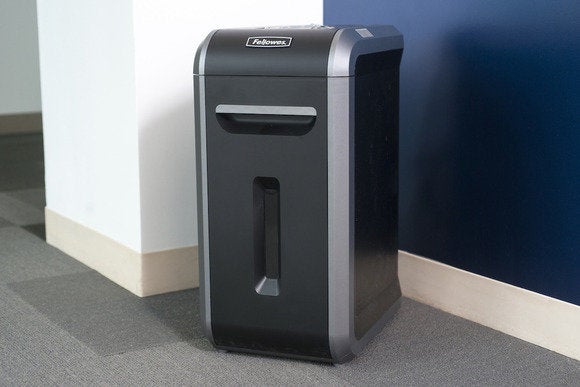 The Powershred is rated to chew through 17 pages per pass, and this was just about accurate in my testing. The Powershred's sensors will detect an overload and refuse to start the motor, preventing jams before they start. Once the Powershred is running, it's relatively jam-free, though not quite "100% jam proof" as promised on the box. Clearing jams that do occur can be rather arduous.
The big waste bin, 25 minute cycle time, and preinstalled casters are all helpful features, though the 99Ci was on the loud side in comparison to other shredders I reviewed (despite the so-called "SilentShred" technology inside). My biggest complaint: The strange shape of the waste bin makes it considerably difficult to empty without spilling confetti.
All in all, the 99Ci is a serviceable shredder worth considering, particularly given its accessible pricing, though bargain hunters should probably consider the Staples shredder first.