The Google Fiber race is on again.
Having successfully brought its gigabit Google Fiber service to Austin, Provo, Utah, and both Kansas Cities, Google said Wednesday that it will bring the service to nine more metropolitan areas across the United States—including one of the largest tech hubs, the San Francisco Bay Area. In total, 34 cities are eligible.
However, there's a catch: Google hasn't committed to bring Fiber to any of those cities, and the company didn't say how in how many it would deploy Google Fiber. In fact, Google characterized the process as one where it would "explore" the opportunity with the regions: "It might not work out for everyone," Milo Medin, vice president of Google Access Services, wrote in a blog post.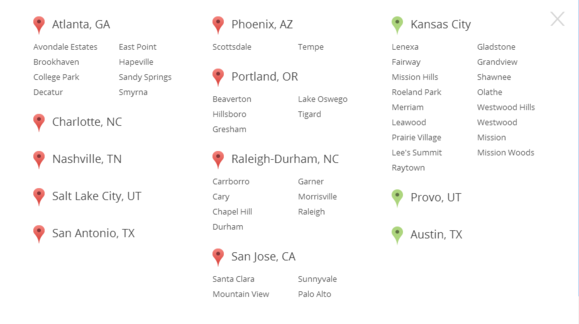 So what are they? As the accompanying graphic shows, the list is clustered around nine regions: San Jose, Calif; Portland, Ore.; Salt Lake City, Utah; Phoenix, Ariz.; San Antonio, Tex.; Nashville, Tenn.; Atlanta, Georgia; Charlotte, N.C..; and Raleigh-Durham, N.C. All of them, in general, are both tech hubs. And naturally, Google's headquarters of Mountain View, Calif. (as well as nearby areas like Santa Clara) are all among the possibilities.
But so far, Google is playing coy about the process.
"We aim to provide updates by the end of the year about which cities will be getting Google Fiber," Medin wrote. "Between now and then, we'll work closely with each city's leaders on a joint planning process that will not only map out a Google Fiber network in detail, but also assess what unique local challenges we might face. These are such big jobs that advance planning goes a long way toward helping us stick to schedules and minimize disruption for residents."
Google said that it would construct a "detailed study of local factors that could affect construction, like topography (e.g., hills, flood zones), housing density and the condition of local infrastructure". It asked the candidate cities, meanwhile, to provide Google with maps of the city's existing conduit, water, gas and electricity lines to help with the planning process.
Google offers its gigabit ethernet package in Austin, Tex., Provo, Utah, and Kansas City, charging about $70 per month for a basic Internet package. Adding TV services can take it up to $120 or so per month. Recently, Google's chief financial officer told a Goldman Sachs conference that it is working on a 10-Gbit/s service, most likely for business.
It's not the only game in town, though. Rather than build out a pricey new optical network, the recently-announced DOCSIS 3.1 standard will ride your cable modem to provide 10-Gbit connections to your home, although probably not for a few years.
Still, we can virtually guarantee that the multimillion-dollar shacks in the Santa Clara Valley will be wired up with Google Fiber in the next few years. As for the rest of us? We'll have to wait.