At a Glance
Expert's Rating
Pros
Sedately stylish
Good performance
Extremely easy to service
Cons
Slippery eraser-head tracking stick
It's a fingerprint magnet
Our Verdict
The HP EliteBook 840 G1 has down-to-business looks, a great design, robust performance, and all the correct options for a business laptop. But you should try its eraser-head cursor control before you buy.
Sometimes it's clear from the very first look that a laptop's designers understand their market. The HP EliteBook 840 G1 is calmly handsome in a way that will appeal to business users. It's also rugged, fast, ergonomically sound, and a breeze to upgrade and repair. If you work in an office, you'll like it—unless you're an eraser-head fan.
The EliteBook 840 G1 is styled in silver and gray, with a matte top surface that looks nice when it's clean, but that readily shows fingerprints. Keep a wipe cloth handy if you care about such things. The chassis is magnesium and the keyboard is fabricated from aluminum, making the unit tougher than most and endowing it with a sturdy feel. HP says the laptop has passed a number of MIL-STD 810G tests, including drop, dust incursion, and vibration.
The 840 G1 is by far the easiest laptop to repair and upgrade that I've ever used. Flip the unit over, unlock the latch, slide the bottom service cover off, and you have direct access to everything: hard drive, memory, battery, Wi-Fi, RTC/CMOS battery, and the wireless WAN slot. IT types who spend a lot of time repairing laptops be warned—examining the 840 G1 might make you giddy.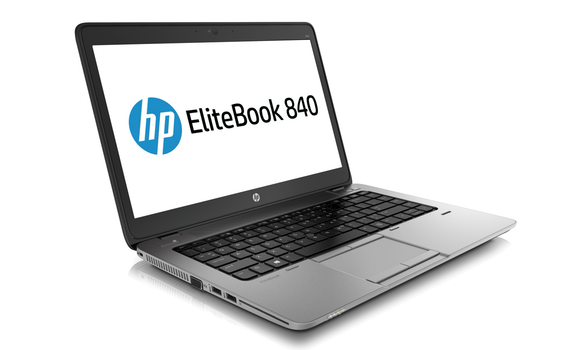 The keyboard deck design is minimalist. Aside from the keyboard and touchpad, there's only a power button (in plain sight!) and Wi-Fi and audio on/off switches. Clean. Nice.
HP delivers non-touch 840 G1s with a matte display surrounded by a largish flat-black bezel, rather than the glare-prone, glossy setups that many consumer models employ. Matte doesn't look quite as nice, but it's a bit easier on the eye. You can order yours in either 1366 by 768 or 1600 by 900 flavors (we reviewed the former). A touchscreen is also available, although—like most—it's very reflective.
I was impressed with the 840 G1's keyboard. The short-throw keys provide merely decent tactile feedback when typed lightly, but scooted up against the magnesium chassis, you get a nice bounce and excellent aural feedback when you apply more force. The touchpad is silky and HP provides two sets of buttons, one above the touchpad for when you're typing, and one below for when you're using the pad for navigation.
As I mentioned earlier, this laptop's eraser-head track stick is its one truly sour ergonomic note. HP persists in rendering it from a slippery material that even with a pebbled and concave top allows your finger to slip off. It's an uneasy feeling and a brain-dead moment in an otherwise well thought-out laptop.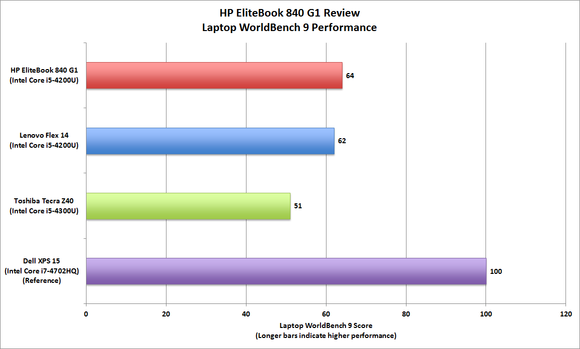 The 840 G1 has ports aplenty: Two USB 3.0 ports (one provides always-on charging), a legacy VGA port, and a smart card slot on the left side. A headset jack, two more USB 3.0 ports, a full-sized DisplayPort, a super-slim docking port, and a drop-jaw gigabit ethernet port on the right side. Drop-jaw means that the lower portion expands to accept an RJ-45 connector, then contracts to about the height of a USB port when you unplug the cable. The bottom has a port to connect with the auxiliary battery slice.
Our test unit, priced at $1064, sported an Intel Core i5-4200U CPU, 4GB of DDR3/1600 memory, and a 180GB Intel SSD (SSDSC2BF180A4H). It also has a 720p webcam bordered by dual-array microphones and Bluetooth 4.0 wireless connectivty. Wi-Fi was limited to 802.11 a/b/g/n, with 802.11ac available as an upgrade. You can also add features such as vPro support, TPM (Trusted Platform Module), biometrics, larger hard drives, and so on, which will boost that price tag.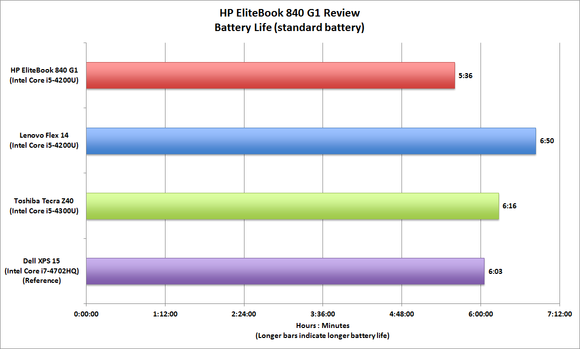 The laptop garnered a laptop WorldBench 9 score of 64, which is right around where a Core i5 laptop with an SSD should sit. Note that WorldBench 9 scores will be significantly lower than those for WorldBench 8.1, because our new laptop baseline is a Dell XPS 15 with an Intel Core i7-4702HQ CPU, 16GB of DDR3/1600 memory, and a 500GB SSD.
The EliteBook 840 G1 weighs in at 3.48 pounds. An optional 5400 mAh battery slice adds another 1.35 pounds and a half-inch of thickness, but it more than doubles the laptop's usable life away from an electrical outlet from a respectable 5 hours 36 minutes to a whopping 12 hours 47 minutes.
.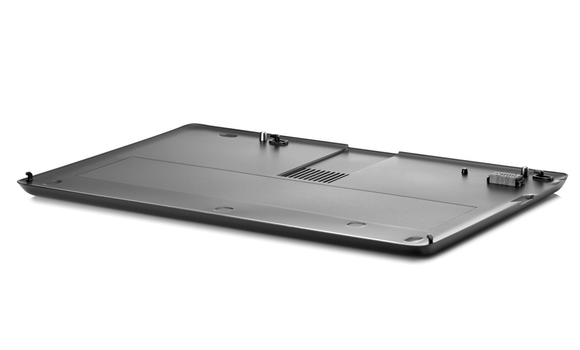 Given the lack of a discrete GPU, the 840 G1's mediocre gaming scores were expected. The Intel HD 4400 graphics doesn't cut it for most top-shelf games past 800 by 600 resolution, although it managed just over 30 frames per second on Grid 2 at 1024 by 768.
Video at 1080p resolution played smoothly as you could wish, and the audio through the speakers was quite nice thanks to the DTS Studio Sound enhancement utility. At least when movies were playing. With the system sounds, there seemed to be a bit of distortion. Through headphones at normal volume levels, everything is sonically hunky-dory.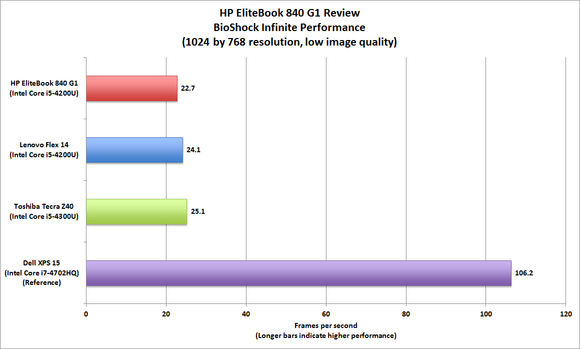 Our Elitebook 840 G1 came with only a one-year warranty, but there are a variety of more reassuring plans available up to 5-years with free pickup for approximately $400.
HP touts its Sure Start self-healing BIOS, which is basically a backup of the BIOS that can be restored in if the BIOS is corrupted by malware. Motherboard vendors such as Gigabyte have been using a similar scheme for years. There's also a software component called Trust Circles which is secure group content sharing.
Approximately 18 months passed between the release of the 840 G1 and it's 8470 predecessor, which is a decent lifespan. HP promises to keep parts on hand for at least five years.
The 840 G1 has distinguished, get-down-to-business looks, a great design, robust performance and all the correct corporate options. My only caveat is that if an eraser-head is your preferred cursor-control tool, be sure you try before you buy.