Apple launched the iPad four years ago, igniting a tablet frenzy that altered personal computing at home and at work, but Microsoft has yet to release an Office version for touchscreen devices.
Much is made about the absence of full, native versions of Office for iPads and Android tablets, but Microsoft hasn't even readied one yet for its own touch-optimized Windows 8 OS, released in October 2012, thus depriving its own Surface tablets of a great sales incentive.
As the clock ticks and users wait, rivals continue shipping new mobile productivity apps and perfecting existing ones that for many people provide functionality that is acceptable and, in the absence of Office, does the trick.
So with each passing day, Office's risk of irrelevance increases as a tablet productivity software suite, which in turn endangers the growth and future of one of Microsoft's most important businesses.
No straight answers
Compounding the delay is the reticence of Microsoft officials to speak clearly regarding the company's plans and timetables. In September and October, former CEO Steve Ballmer said on a couple of occasions that Office versions for iPad and Android tablets were in the works, and would ship after the "touch-first" version for Windows 8.
However, marketing chief Tami Reller was much less clear about the plans during a public appearance last week. Asked for comment about a touchscreen version of Office, a Microsoft spokesman said via email this week that "we don't have any specifics to share" but reiterated Ballmer's statements that the company is working "on touch-first enabled versions of our core Office applications—including Word, Excel and PowerPoint."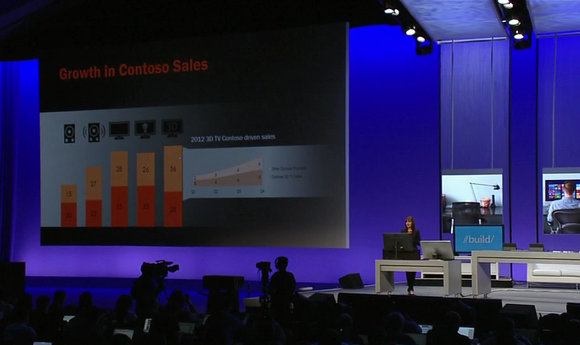 "We can tell you that people's needs are always changing when it comes to productivity applications and Office continues to change with them, whether that means enhancing existing applications, shifting to cloud services, extending Office to mobile devices or adding entirely new applications to the Office suite," the spokesman said.
Has the train left the station?
At this point, the timing of these products may be a moot point. They're late.
"It's taken way too long. Work on an interface for touch-based Office should have started shortly after the iPad was released, at the latest," said Michael Silver, a Gartner analyst.
Critics have theorized that Microsoft deliberately dragged its feet on prepping a version of Office for the iPad out of fear it would hurt Windows and help iOS. It's also understood that adapting Office for touchscreens is a tall order.
Whatever the reasons, time is of the essence, according to IDC analyst Melissa Webster.
"It's critical. Without a touch version of Office, Microsoft will become a dinosaur," she said via email. "There's a whole generation that thinks touch first."
"Certainly, we still have a long way to go in terms of the optimum user interface for touch. For those of us who can touch type, touch screens can be frustrating still. But make no mistake, touch is the future, whether assisted with voice, or something else," she added.
For more than 20 years, Microsoft pursued the goal of making Office as feature rich as possible, and this was the right strategy because the suite lived in PCs, which were people's only computing device, ruled by a keyboard and mouse. However, PCs now share the workload with tablets and smartphones, so that the creation, assembling, editing and fine-tuning of a document may be done at different stages on all three types of devices.
So what should enterprise IT leaders do? Guy Creese, a Gartner analyst, said it would be best for them to assume Office for the iPad will not ship and instead focus on asking their users what they're currently using for office productivity on tablets and why. "Support a varied set of productivity suites based on that feedback," he said via email. "IT has waited long enough for Microsoft to deliver Office on a wildly popular device."
Rethinking Office
Yes, Office runs on Windows 8 PCs and tablets, but with its traditional interface designed for use with keyboard and mouse. For tablets, the Office interface needs to be deeply reimagined.
"The streamlined interface of tablets built for fingertip control is the exact opposite of the feature-rich interface of legacy Office designed for fine-grained mouse control—and right clicks," Creese said.
The work to adapt Office for touchscreens is no cakewalk. There's a lot of functionality and capabilities that need to be translated into a touch environment, and it's not clear what will work and what won't.
"There's no playbook or road map for that," said TJ Keitt, a Forrester Research analyst. "How do you touch-enable the creation of an Excel pivot table? How does that look like? It's not a matter of making the cursor your finger and having drop-down menus. It's more complicated."
Ultimately, the goal for Microsoft and for other providers of productivity software should be to make their products available to people in all scenarios. "They have to ensure they're on all devices and providing contextually appropriate services for the computing experience people have over the course of their day, week and month," Keitt said.
Because Office is such an established product, Microsoft has to get this touch version right from the start, which puts the company at a disadvantage compared to products with lower expectations and may be adding to the delay.
"Microsoft has to ship something that is rock solid and will be well received. They don't have the luxury of putting out something that's imperfect and promising to improve it later, due to the criticality of Office for Microsoft and the criticism of their previous moves and all the close attention being paid to this," said Phil Karcher, a Forrester Research analyst.
Mobile missteps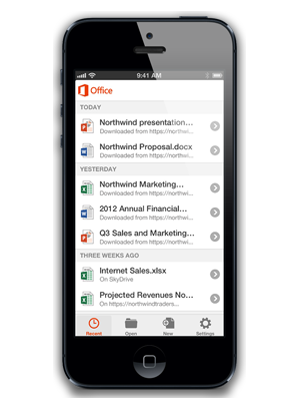 Microsoft released a version of Office for iPhones called Office Mobile but it hasn't generated a lot of enthusiasm. Smartphone screens are too small, and the feature set of this suite is limited, so there's only so much that can be accomplished with it. Plus, it requires a pricey subscription to Office 365, the cloud-hosted version of the suite.
Microsoft has also designed the Office Online browser-based version of the suite to work better in iPads specifically. But Office Online doesn't have all the apps and functionality of the full Office suite, and it requires an Internet connection.
"I think people would be pretty disappointed in a touch-based Office that looked like Office [Online]. Making icons larger and spacing them out is a band-aid. Microsoft needs to take this as an opportunity to do something innovative," Silver said via email.
"If you were designing a touch-based productivity product from scratch, you would never come up with something that looks like Office," Silver added. "You would try to understand the functions people really want to use without a keyboard and design a finger-friendly application for them."
One more face in the crowd
In a recent Gartner survey of 500 users, respondents listed more than 30 different products they use for office productivity tasks on tablets.
Rivals include Apple's iWork apps for iOS like Pages, Numbers and Keynote; Google's QuickOffice and Drive/Docs; Evernote; Documents To Go; and many others.
Microsoft has released iPad and Android tablet versions for some of its Office apps, including OneNote, Lync and OneDrive, the cloud storage service known until recently as SkyDrive, but Word, Excel, PowerPoint and other suite apps haven't been ported.
For Silver, a touch edition of Office should have been out a year or two ago.
"It's understandable that Microsoft is cautious, but the longer they wait to ship iPad and Android versions, the less relevant they are. Over time, people will get used to inexpensive 'good enough' products," he said. "With the Office franchise already at risk, they need to make some decisive moves."