Intel is sharing new information about Merrifield, its next-generation Atom chip for smartphones, at Mobile World Congress this week, and if the processor conforms to historical precedent, it won't sell well. Both Merrifield, a dual-core chip, and Moorefield, a quad-core iteration, are optimized for low battery life and Intel's complementary LTE radios, and include a sensor package for handheld applications.
Neither Merrifield or Moorefield have any obvious flaws. Yet the physical gap between the Atom Z34XX and the Z35XX chips, as they're also known, and the separate XMM 7260 LTE radio may make all the difference in Intel's effort to appear inside more mobile devices. Chip rivals like Qualcomm integrate their radios and application processors in a single package, and this helps phone manufacturers save battery power and board space. But Intel won't be rolling out this integrated design approach until the end of 2014, with the Intel SoFIA chip. This will likely cost Intel some potential OEM design wins throughout the year.

Intel's smartphone effort has been focusing on two goals: delivering exceptional performance for larger devices (such as tablets and phablets), and consuming as little power as its ARM-based rivals. But Intel's would-be partners may add a third requirement: Minimize the space each chip requires. That limitation has confined Intel's earlier mobile chips to several larger phablets, such as the Lenovo K900, in Asia.
Pat Moorhead, principal analyst at Moor Insights and Strategy, said he believes Intel will be more successful as it shrinks its chips, especially in the 14-nm generation. "This could give them a cost and performance advantage," he said in an email.
According to Intel executives, the lack of integration in the larger, 22-nm Merrifield and Moorefield chips hasn't held Intel back. (The previous Clover Trail+ Atom chips used a coarser 32nm process.) Speaking on the lack of integration, "it's not been an impairment" to securing design wins, said Pierre Herve, the director of product planning with Intel's Mobile and Communications Group, in a teleconference in advance of Mobile World Congress.
XMM 7260: LTE-Advanced should drive sales
Intel's smartphone hardware is made up of two pieces: the XMM LTE radio line, and the Atom chips themselves.
In 2010, Intel bought the wireless chip unit from Infineon for $1.4 billion, a business that had lost money for Infineon. Intel's vision was to run the unit separately from its other businesses, preserving the relationships that Infineon had forged while it worked on its integration strategy. According to Thomas Linder, senior director of the Mobile and Communications Group, that strategy has paid off: In 2014, Intel believes it can be the second-largest LTE vendor in the world, in every major market.
Last summer, Intel shipped the XMM 7160, its first multimode LTE chip for smartphones that can roam globally. A voice-over-LTE-capable chip followed shortly, and Intel will announce a version of the chip in the M.2 form factor for ultrabooks and tablets. Intel claims that multiple laptop OEMs will adopt the chip, which has been tested for interoperability with major carriers.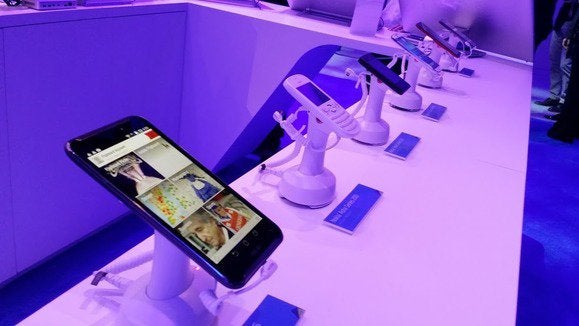 The next step? An XMM 7260 LTE-Advanced version, designed for 300-Mbit transmissions, with carrier aggregation up to 40 MHz. (What is LTE-Advanced? Read our FAQ.) The technology is already moving into smartphones, powered by other providers; Samsung, for example, committed to an LTE-A version of the Galaxy S4 last year. Like the 7160, the XMM 7260 is designed for phones that can be shipped globally, with over 22 bands supported. The chip will be on the shelf during the second quarter of 2014, Linder said.
Merrifield: Atom, looking in
When it comes to phones, consumers still look to processors—assuming they care anything at all about what silicon runs inside their next puchases. Qualcomm's Snapdragon chips and Samsung's Exynos line dominate the market, with Nvidia's Tegra moving into tablets and cars.
Conscious that would-be hardware partners will be carefully scrutinizing performance-to-battery drain trade-offs, Intel carefully makes a case for its new mobile line: Powered by a next-gen PowerVR G6400 graphics core, the Merrifield Z34XX promises twice the performance of its predaccesor (the Clover Trail+ Atom), and comes in the form of a 2.13 GHz dual-core CPU. The 64-bit CPU—representing the new direction of the tablet market—is powerful enough to encode and decode the VP8 codec used by WebRTC, Google Hangouts, and Chrome, plus the new VP9 codec used by YouTube. The chip can address up to 256 Gbytes of onboard flash, and control a 13-megapixel camera capable of 1080p/60 fps recording, plus drive a 2560×1600 display.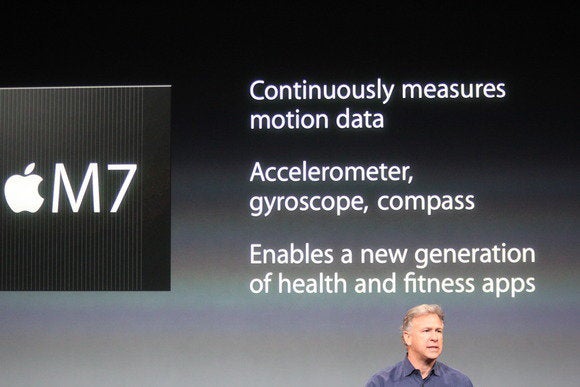 Intel has also added support for a "low-power sensor solution," a package that can deliver "contextual information to apps with motion & gesture sensing, audio sensing, location sensing and contextual analyses with out draining the battery." On the surface, it's similar to the M7 chip found within the latest iPhone.
According to Intel, the Merrifield (Z3480) chip delivers 16 percent faster Web browsing than the iPhone 5s using the WebXPRT benchmark, and more than double (116 percent) faster than the Qualcomm 800 used in the Samsung Galaxy S4. And a reference phone based on Merrifield delivered 19.2 hours of battery life, compared to 14.5 for the Galaxy S4. With Moorefield, it only gets better, executives said.
It all seems to imply that Intel's on the right track. Executives think so: "The pieces of the puzzle are coming together," Herve said.
A year ago, Intel cited the lack of LTE as one of the reasons for its lack of success. Now, it's winnowing down it's available excuses.
Will Intel be forced to sit out until the SoFIA chip arrives on the market later this year? Not necessarily. But Intel may, by necessity, be forced to compete in the larger phablet and tablet market until it does. On the other hand, that's the direction the puck is headed—larger phones are all the rage these days.
But Qualcomm, Samsung, and its rivals aren't just sitting still, either. Intel may in fact use the 64-bit transition to help itself to a nice slice of tablet pie. But the pickings in the smartphone market will probably be a lot thinner.