Mining for digital dollars is all the rage these days, and the thirst for hardware uniquely adept at processing cryptocurrency has sent the prices of AMD's Radeon graphics cards skyrocketing. Standard PC cases weren't built for scads of graphics cards, however, forcing many miners to resort to cobbled-together DIY setups.
Enter DopaMine.
The latest creation by Red Harbinger, the team that wants to transform your entire desk into a killer, mod-inspired PC case with its Cross Desk, DopaMine was designed specifically for scalable cryptocurrency mining. Its unique design could prove useful to PC gaming enthusiasts looking for a powerful, test-bed-like setup, as well.
The hulking chassis can house a pair of power supplies, motherboards ranging from mini-ITX to extended ATX in size, and—most importantly—up to a whopping six high-end graphics cards. Mining (or gaming) using that many cards running at full bore tosses off a ton off heat; DopaMine keeps things cool by orienting the cards vertically, with 1.5-inch gaps between each card, and a trio of 120/140mm fan mounts at the bottom of the case. The fans draw cool air in from the bottom and the case exhausts the already-rising warm air up and out of the open chassis.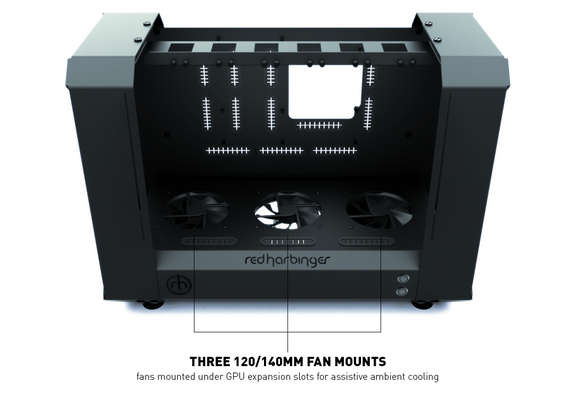 The DopaMine chassis is stackable, so you can pile several units atop one another—though you'd think heat may become an issue if you load the case up with high-end graphics card and block the air flow up top. A power supply shroud and baked-in cable management should give systems built in the DopaMine a much cleaner look than the DIY madness found in many mining rigs.
DopaMine's inspiration
DopaMine is Red Harbinger's second case, after the aforementioned Cross Desk.
"We noticed a trend a while back in the mining scene towards strictly utilitarian 'cases' (I use the term loosely) and we began doing a bit of research," says Shawn Rabensburg, Red Harbinger's VP. "We bought a few of the different mining cases that are currently available out there to test out and see what we liked and didn't like, and spent some time designing a case from the ground up. The result is DopaMine."
The team spent time tweaking DopaMine to ensure it's useful for more than mining, however. Like the Cross Desk, DopaMine is designed to appeal to enthusiast PC users.
"We've gone through about 5 or 6 different designs before arriving at what you see in our images, and in each of the designs we have increased the versatility of the case," Rabensburg continued. "So while it has the word 'mine' in the product name and its origin was the idea that it would be used strictly for mining, we were able to also make it just as attractive as an open-air gaming PC or a test bench with support for a wide range of hardware."
Testing the market
While PC makers have dipped their toes in the cryptocurrency waters—witness ASRock's Bitcoin-friendly motherboard, or iBuyPower's Mine series—there have been no major attempts at introducing a mining-friendly case thus far. As such, Red Harbinger is funding DopaMine through Indiegogo to ensure there's a market before entering production. Will hardcore cryptominers pony up for sturdy case over whatever they're using already, given their natural predisposition to counting pennies?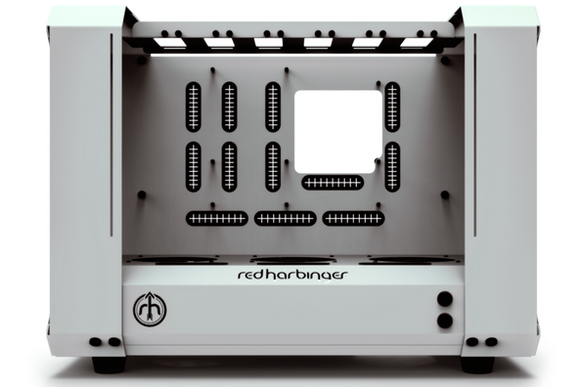 It's looking promising thus far. The DopaMine campaign has raised $7,565 of its $20,000 goal in its first three days, with the campaign scheduled to end April 4. Early backers can lay claim to a chassis, in black or a limited-edition white, for $200. Once 25 of each sells out, the price raises to $250. Tack on another $50 for shipping if you're outside the U.S.
If you're feeling spendy, Red Harbinger will build you a fully equipped PC with six graphics cards inside the case for $5,000. Really big spenders can drop $10,000 to nab a built-out DopaMine along with an all-expenses-paid trip to Miami to pick up your rig and hang out with Vanilla Ice and UFC champion Jens Pulver.
No, really. Red Harbinger has been working with Vanilla Ice on a project for his HGTV show.
Assuming DopaMine meets its funding goals, shipments are projected to occur in July and August. The lessons Red Harbinger learned from nailing the Cross Desk's comparatively small manufacturing batches seem to have stuck.