HP announced a colorful new consumer laptop at Mobile World Congress Sunday. It's called the Pavilion x360, and it looks an awful lot like Lenovo's storied Yoga series.
Like the Yoga, the Pavilion x360 is outfitted with a hinge that allows its 11.6-inch touchscreen to fold back nearly 360 degrees so that the Windows 8.1 machine can be used as either a conventional notebook or a tablet. But the entry-level Pavilion x360 is priced $199 less than the comparably equipped Yoga 2 that Lenovo announced at CES.
In an embargoed briefing last week, Mike Nash—VP of HP's Consumer & PC Solutions unit—told me the Pavilion x360 is "aimed at millennials" who "prefer hybrids that meet the needs of blended life, work and play. They want products that match their lifestyles. They want custom finishes and different colors."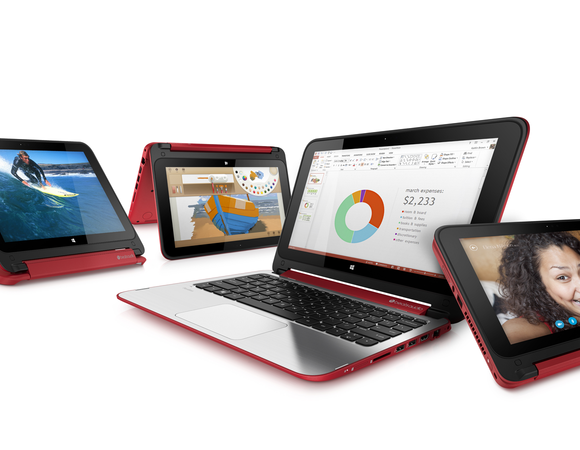 To that end, the x360 will feature a brushed aluminum keyboard deck, and will be available initially in "brilliant red," with a "smoke silver" finish available sometime after launch. Considering the price tag, it should come as no surprise that the rest of the chassis will be fabricated from plastic. It has a "soft-touch finish that resists fingerprints," according to HP. The convertible, which measures 0.86 inches thick and weighs 3.08 pounds, will be available for sale on February 26 in configurations starting at $400.
For that price, the Pavilion x360 comes outfitted with a quad-core Intel Pentium N3520 processor (Bay Trail class), 4GB of memory, integrated graphics, and a 500GB hybrid hard drive. Its LED-backlit, 11.6-inch HD SVA, 10-point touch display delivers native resolution of 1366 by 768 pixels.
The convertible has three USB ports (two USB 2.0; one USB 3.0), a full-sized HDMI port, a 720P webcam, and stereo speakers with Beats Audio. Networking support comes in the form of an 802.11n Wi-Fi adapter with Bluetooth support.
Whether this a case of imitation being the most sincere form of flattery, or just the simple fact that 360-degree hinges are the most logical means of building convertible laptops, HP is squeezing Lenovo hard in terms of price: $400 for the Pavilion x360 versus $599 for the Lenovo Yoga 2. Buy a Yoga 2 with a less-powerful Intel Celeron N2920 processor and you're still spending $150 more than you would if you picked the HP.
Innovative designs like the Yoga helped Lenovo bump HP off its pedestal as the world's number-one PC manufacturer in 2013. It will be interesting to see how Lenovo reacts to this HP copycat.
Updated on February 25 with a video from Mobile World Congress.
Correction, March 3: The x360 has an HD SVA display, not IPS as previously reported.