On the eve of Mobile World Congress in Barcelona, HP announced plans to expand its DataPass mobile broadband service to the U.S. and several other countries in the summer of 2014.
The service, which will be bundled with select HP notebooks and tablets, provides 3G+ connectivity so that users will have Internet access when Wi-Fi isn't available.
First launched in the U.K., Sweden, and Denmark in September 2013, DataPass provides subscribers with 250MB of data per month for 24 months. An app running on the device warns you when you're running low on data, and you'll also receive periodic email notifications. You can purchase additional buckets of data at any time; but if you run out in the midst of an online session, you'll be cut off until you "top up" or switch to a different form of connectivity.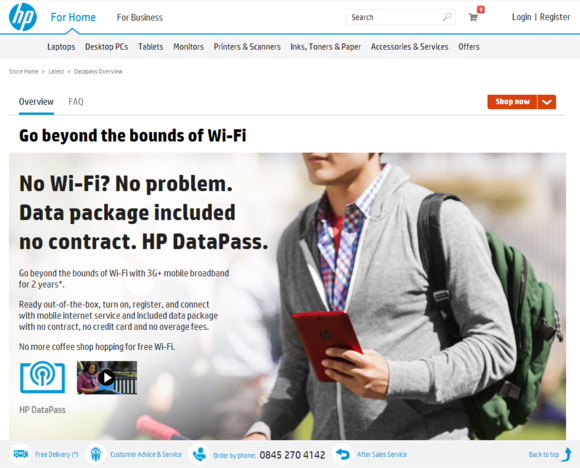 A client app informs you when you're using your 3G connection, but it's up to you to switch to free Wi-Fi if it becomes available. DataPass will be available only with a new laptop or tablet purchase. You can't add the required SIM card to an existing machine, even if it has a SIM socket.
HP says DataPass is a contract-free service, and that subscribers don't need to have a credit card on file to use it. This link to HP's DataPass website in the U.K. provides some additional details about how the service works and which systems it comes bundled with there, including the HP Chromebook and Spectre x2 detachable notebook, as well as the Slate 7 HD and Slate 10 HD tablets.
HP did not announce any details on U.S. pricing or with which laptops and tablets DataPass will be bundled with in the new markets it's expanding into.