BARCELONA—The Windows Phone market share in the U.S. is so bad, it had to pick on poor BlackBerry to make itself feel better. At least, that's what happened at a Sunday event before Mobile World Congress. In a darkened event space at a swanky hotel, a Microsoft video boasted, "We've overtaken BlackBerry." The packed crowd of journalists roared, and even Microsoft exec Joe Belfiore couldn't help but smile with slight embarrassment.
Belfiore recovered and talked further about how 2013 was "the year we ate our vegetables." Last year's goal for Windows Phone was clear, he said: "We had to build volume." This year's goal? To find more traction beyond U.S. soil.
The Windows Phone volume that occurred in 2013—91 percent year-over-year growth per IDC data, said Belfiore—is actually impressive once you study the numbers. It includes 59 percent growth in Western Europe, and 76 percent growth in Central Europe. Most striking, however, is the growth in emerging markets: 148 percent in Latin America, and 758 percent in the Middle East and Africa.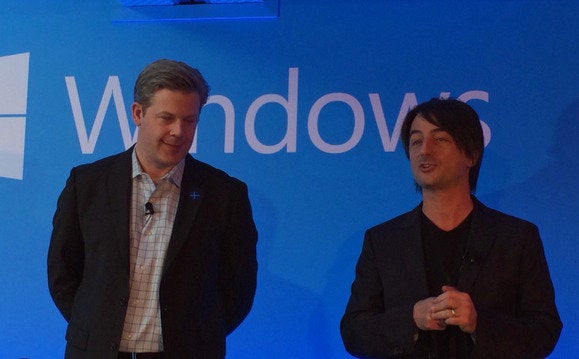 And then there was the measly 9 percent growth number from Microsoft's home country. "The U.S. remains a challenge," Belfiore said.
Microsoft's response to the U.S. snub is healthy, though: It's taking its toys and looking for other friends to play with. In detailing new developments for Windows Phone, the company clearly has its eye on the needs of the emerging markets. Belfiore noted, for instance, the success of the low-cost Nokia Lumia 520 in those regions.
Belfiore also plugged the Windows Phone app store, noting it had 245,000 apps and counting, with about 500 added daily. One of the apps coming soon will be Facebook Messenger, and Belfiore promised more name-brand apps to follow.
Windows Phone update coming this spring
But the next Windows Phone update said far more about Microsoft's new direction. First, it would be inclusive, with all Windows Phone 8 devices "technically available to get" the upgrade this spring, Belfiore said.
As part of what Belfiore called "a high-volume focus" (i.e., more and cheaper phones), he detailed plans to support three Qualcomm SoCs: the Snapdragon 200, 400, and 400 LTE. The company will also support more cellular standards—such as TD-SCDMA, TD-LTE, and SGLTE—to cover emerging markets. And Microsoft will also allow softkeys and dual-SIM design, apparently in response to requests from hardware partners who wanted to reuse Android devices for the Windows ecosystem. The Windows Phone camera button, for instance, once required, would instead be optional.
Belfiore also announced the launching of a new site for Windows Phone developers called the Windows Hardware Partner Portal. Intended to be a one-stop shop for drivers, development tools, licensing and other processes, the site is live now but not fully populated, he noted.
Finally, the upgrade would fill some networking holes on the enterprise level, adding support for VPNs and enterprise Wi-Fi, for instance.
As a segue to fellow executive Nick Parker's part of the presentation, Belfiore waved the Windows phone he'd been using to control his slides. "I'm using a Qualcomm reference design. It's not a phone that will come to market, but it is dual-SIM." It looked like a Windows Phone, but was it, perhaps, the low-cost "Normandy?" As journalists raised their cameras to snap photos, Belfiore cautioned, "Don't ask me for a demo. There's other stuff on here I can't show you." (See more from Belfiore on all of these developments in his blog post from earlier Sunday.)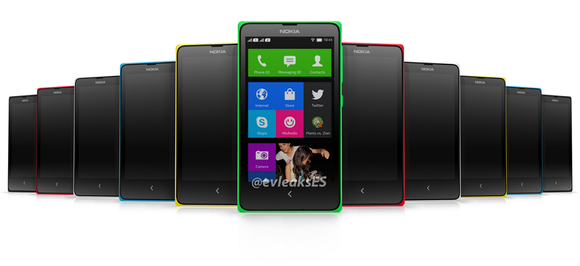 Parker, who heads up the OEM division for Microsoft, declared the company "open for business" on Windows Phone. He said new partners would include "white labels" who would brand the Windows Phone UI as their own, or operators who want to make their own phones.
The list of new partners Parker flashed on the screen was distinctly Asian. Recognizable names included HTC, Huawei, LG Electronics, Samsung, and of course Nokia (which is Finnish). Lesser-known partners included Longcheer, Lenovo (which sells phones, but not in the U.S.), and Xolo, as well as Foxconn.
But what we all really want to know, of course was where Android fit into all of this—especially if the phone came from Nokia. Belfiore, holding his mystery phone tightly, noted that Microsoft had not completed its acquisition of Nokia. "What they do, some things we may be excited about," he responded, "and some things we are not as excited about." Parker, possibly wishing to downplay Nokia's importance, added that the company works with many OEMs.
Belfiore summed it up perfectly in his closing response: "We need to grow where we can, and improve the ecosystem." And what the U.S. market wants is no longer Microsoft's biggest priority, apparently.